Now that the travel restrictions are being lifted, many are feeling some nostalgia for the good old days of Okanagan wine touring.  If you are heading to the southern Okanagan, be sure to stop into the 'new' kid on the block, Nostalgia wines in Oliver.  Why 'new'?  Well, until earlier this year, the winery was known by its former name, Oliver Twist.
Oliver Twist has been around since 2006 when it was opened by Bruce and Denice Hagerman.  Visitors to the winery are familiar with the vintage cars seen in the parking lot and the whole feeling of nostalgia inside the tasting room.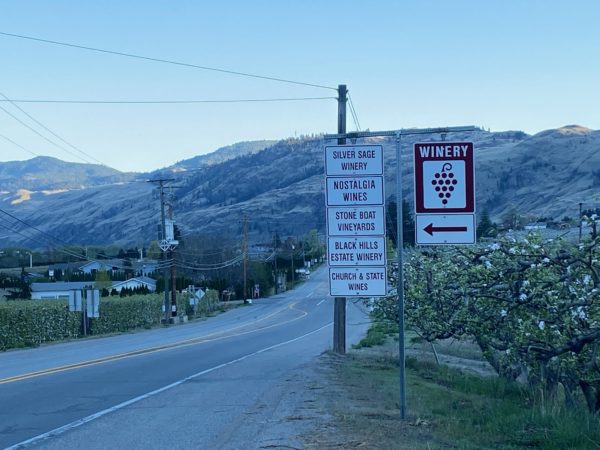 The winery sits on 17 acres on the idyllic Black Sage bench, which is home to well-known wineries such as Bartier Brothers, Black Hills, Burrowing Owl, Church & State, Dessert Hills, French Door, Le Vieux Pin, Phantom Creek, and Stoneboat among others.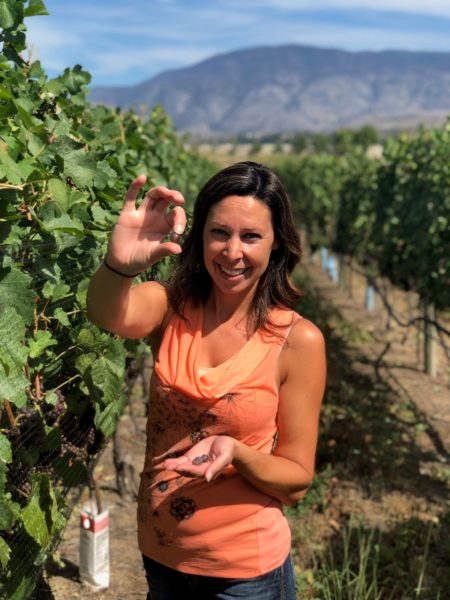 Gina Harfman, a fourth-generation farmer from Osoyoos, worked at Cassini Cellars for two years as an assistant winemaker.  While there, Adrian Cassini taught her a lot about making big bold red wines.  She also worked in the same role at Oliver Twist, not far away on the other side of the valley.  In 2012 she decided it was time for a change.  Gina has farming deep in her Portuguese roots, that go back three generations on her mother's side and four on her father's.
One day, during bottling, Bruce and Denice suggested Gina buy the winery.  It was likely the perfect intersection of them seeing her talent and passion and deciding it was a time for change themselves.  The timing was perfect.
She sold the farm she owned and bought the 14-acre winery.  Christine Leroux, her instructor at Okanagan Community College, had been one of her mentors and continues to be a consultant.
Initially, the only change at the winery was to create a second label, Nostalgia.  Gina took the classic car theme and ran with it adding pin-up girls to create the new Nostalgia wines.  She continued with that theme playing 50s and 60s music in the winery and filling it with a lot of old family artifacts.  In a previous life, Gina learned the art of pinstriping cars and has a life-long passion for the 50s and 60s culture.  She discovered the art of San Diego designer Ralph Burch and commissioned him to create her new labels which have proven to be a big hit with visitors.
Sheila Whittaker is also from Osoyoos and has been a close friend of Gina's since kindergarten.  She went to university in Toronto to study journalism and then headed to Europe and Japan. When Sheila came back she studied wine for 10 years doing WSET courses, French and Italian wine scholar programs and became a certified sommelier.  Sheila then worked for an import agency and moved to Montreal.  Eventually, she decided it was time to move back home to be closer to her parents and buy a house.  She contacted her friend Gina and asked if she could recommend any jobs.   Gina seized on the opportunity, and in 2019 offered Sheila a job as General Manager, including front-of-the-house operations.  Together, they make a perfect team.  Australian trained, Brendan Mui is their new assistant winemaker.
At Nostalgia, they use sustainable practices as much as possible and the land is mostly dry-farmed, using drip irrigation only when needed.  Cropping is limited to only three tons per acre which allows for intense varietal character to shine through in their wines.  The focus at Nostalgia wines is on pinot gris, chardonnay, viognier, merlot, and syrah.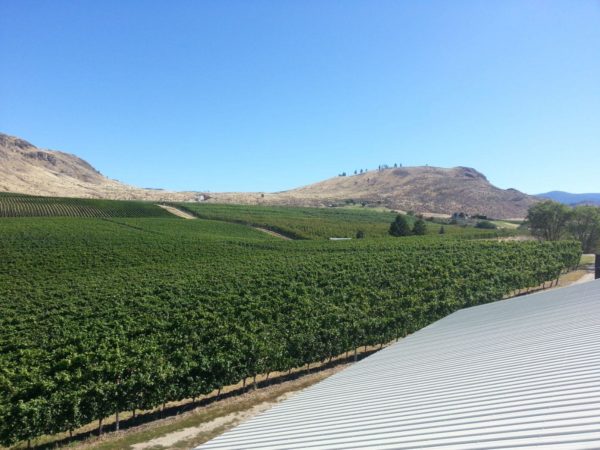 Nostalgia has 14.5 acres planted with 9 varieties at the winery. In addition, Gina's father has 16 acres of vineyard on the east side of Osoyoos, right along the border where he grows cabernet sauvignon, merlot, pinot noir and syrah.  They also have the steep, terraced Gableman (1.5 acres) vineyard where they source malbec and viognier.
Perhaps one of their more interesting wines, Kerner only comprises a mere 1% of their vineyard.  It is a cold-hardy, aromatic variety that was developed in Germany in 1929, a cross between Trollinger and Riesling.  This is why Gina chose Kerner to make Nostalgia's sparkling wine, Chantilly Lace.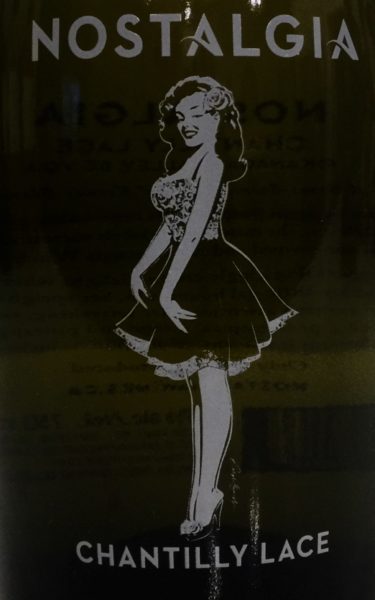 Here are my comments on the wines I tasted: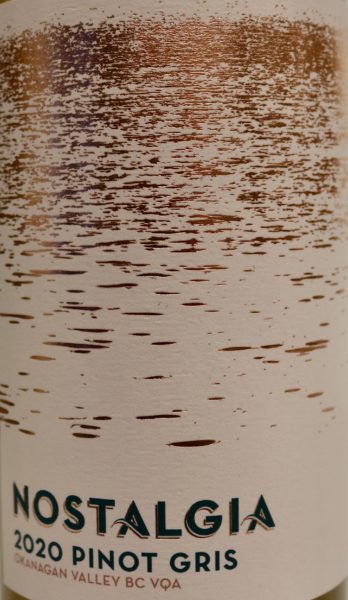 2020 Pinot Gris
$21.99
The grapes for this wine come mostly from their home vineyard with a little addition of grapes from Cassini vineyards and an Osoyoos source.  The three lots were fermented separately and then blended prior to bottling, each bringing different flavours and aromas to the wine.  Straw coloured with medium-minus intensity.  The nose is tight with aromas of lemon cream, pear, apple, pineapple upside-down cake, honeysuckle, and citrus.  Well balanced with a creamy texture.  Intense fruit on the palate with honey, lemon/lime, pears, nectarine flavours.  A creamy, rich, medium-long finish with lingering flavours.  Be sure not to serve this wine too cold.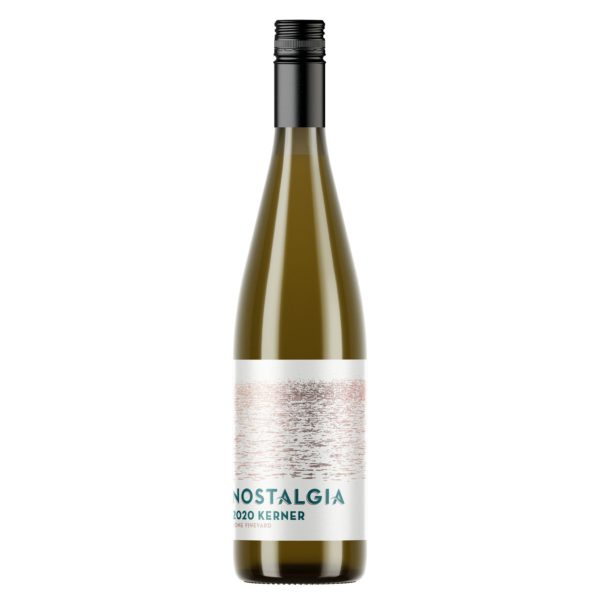 2020 Kerner
$21.99
At first sniff, the nose would make you expect some residual sugar, but it is dry with an intense core flavour.  Green straw with medium-light intensity.  Apple, lemon, honeysuckle, and passion fruit on the nose.  Well balanced.  Honeysuckle, peach, lime, and pear on the palate followed by a creamy medium-plus finish with lingering honey notes.  Serve chilled, not cold, and preferably on a sunny day or when you need to be reminded of sunny days.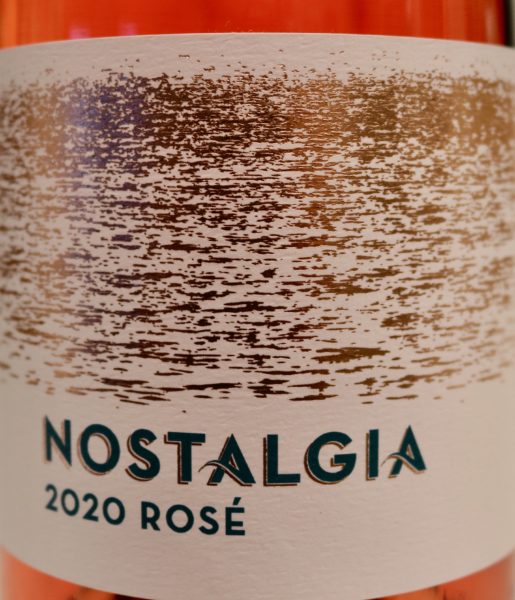 2020 Rosé
$23.99
One of two pink wines made at Nostalgia.  This one is a five-grape blend from a variety of sites in Oliver and Osoyoos.  This medley is led by cabernet sauvignon (24%), merlot (23%) and syrah (23%) followed by malbec (17%) and cabernet franc (13%).  All were fermented separately then blended prior to bottling.  Cherry red with medium intensity.  Cherries, strawberries, watermelon, rose petals, red currants, and bramble undertones on the nose.  Good balance with the medium-plus body.  Concentrated on the palate with flavours of cherries, honey, strawberries, plum, and cinnamon followed by a medium-plus finish.  This is a powerhouse rosé.
I found these first three wines shared a common trait – laser-like focus.  A core of intense dry fruit with almost zero residual sugar.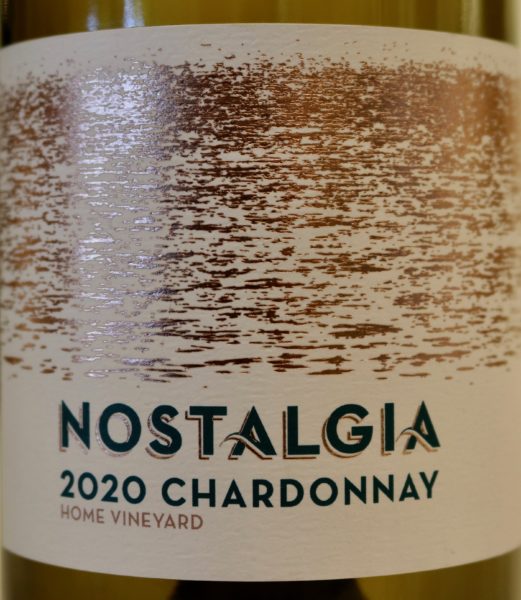 2020 Chardonnay
$24.99
Pale straw with medium-light intensity.  Ripe yellow apple, butter, lemon curd, nectarine, a hint of pineapple, and vanilla.  Well balanced with a creamy texture.  Butter, toast, honeydew, citrus, dominate the palate with a splash of spice.  Flavours linger on the medium-long finish.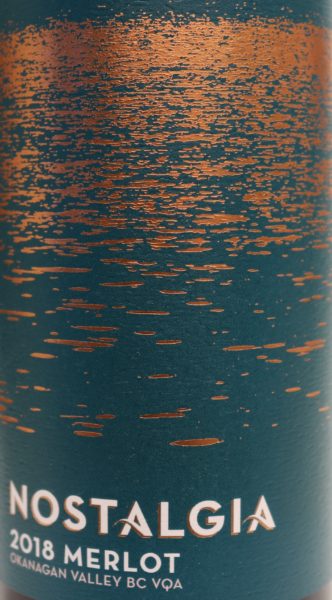 2020 Merlot
$32.99
Made with 95% merlot from Nostalgia Home Vineyard, with 3% cabernet sauvignon (Harfman Vineyard, Osoyoos) and 2% Malbec (Gablemann Vineyard, Oliver). Garnet red with medium-deep intensity.  The nose is layered with aromas of blackberry, black currant, cherries, earth, plum, raspberry, spice, leather, cocoa, and pencil shavings.  Well balanced.  Flavours of earth, musk, rhubarb, cherries, beetroot, and forest floor on the palate.  A medium-long finish.  This wine is a keeper.  If consuming now, be sure to give it plenty of time in a decanter.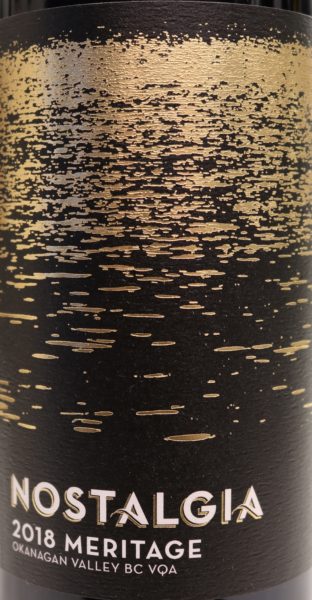 2020 Meritage
$37.99
From the family collection.  Garnet red with deep intensity.  The nose shows aromas of cherries, blackberries, raspberries, cranberries, mulberries, cocoa, and pencil shavings with just a hint of spice.  Very good balance with full, ripe, somewhat grippy tannins.  A fruit bomb on the palate with cherries, raspberries, blackberries, black currants, raspberries, plum, dust, and cocoa flavours.  A medium-plus finish with some drying tannins.  Lots to grow on here.  Needs time to come into its prime.  If drinking now, allow for lots of time to decant.  Only 196 cases were produced.
Nostalgia offers three tiers of wine – Family Collection (1 wine), Nostalgia Series (6 wines), and Pin-Up Series (5 wines).
In addition to the wines above, they also make 'Cherry Baby' a cherry port-styled wine made from three varieties of 50% hand-stemmed and pitted, cherries and 50% merlot, with grain alcohol to bring it up to an appropriate after-dinner level.
Of particular note for me is the exciting news that Nostalgia is experimenting with a Madeira-style wine that is currently ageing in a barrel.  A nod to her family's roots in the Portuguese island of Madeira, located off the northern coast of Africa.
Nostalgia now produces about 5000 cases of wine a year (small producer) and is almost an all-women-run winery.
For more information, please see their new website:
https://shop.nostalgiawines.ca/
(All photos, except as noted – Sam Hauck)