Here at last – the new Whitewater Cooks Together Again!
It's time to make more room on the cookbook shelf – Whitewater Cooks author Shelley Adams has released her latest book, 'Together Again' to add to your collection.
Just in time for holiday entertaining (now that we can) with fabulous new share recipes, salad recipes, mains and yummy desserts. Such a beautifully done cookbook – everything about it is impressive!
Not surprising that this wonderful cookbook reached #1 on the BC Best Sellers List!
Chock full of delicious recipes that you have come to expect from Whitewater Cookbooks. Here is a sample, just in time for Mushroom Week: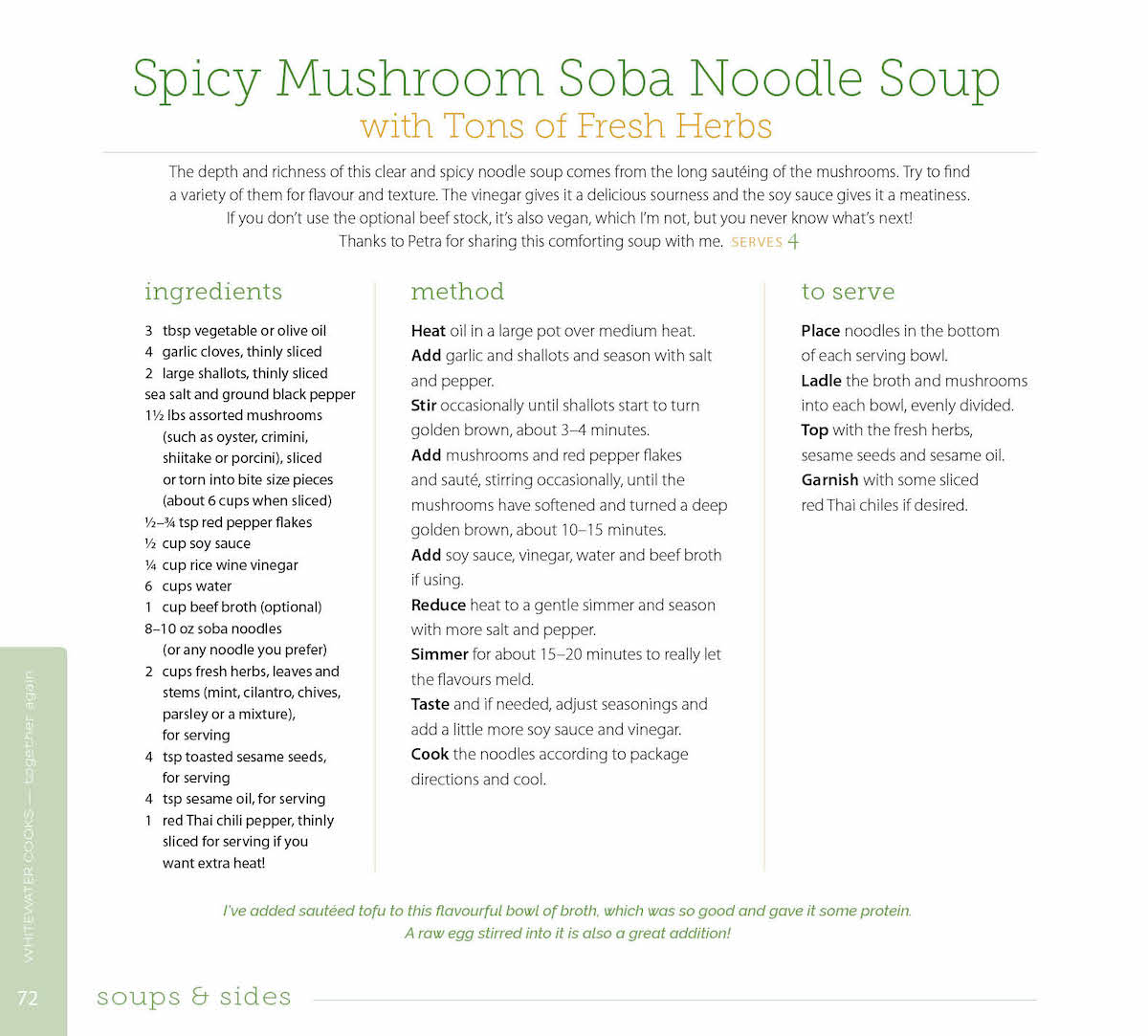 As with her other Whitewater Cooks books, the recipes are accompanied by mouth-watering full-page colour photos and the recipes are simple, healthy and fool-proof. Ingredients and method are simply presented and Shelley has been sure to add helpful hints when needed.
Whitewater Cooks Together Again
ISBN 9780981142449  $36.95 pb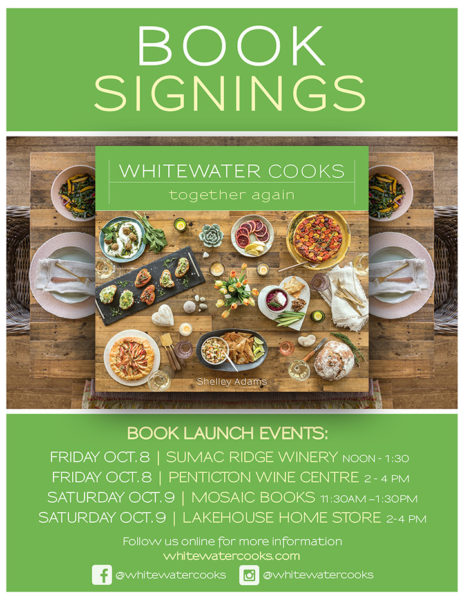 About the Author, Shelley Adams
Shelley Adams is the chef and driving force behind the best-selling Whitewater Cooks series. After starting her career as a caterer to the movie industry in Vancouver, Shelley became the creative director of the Fresh Tracks Café and owner of Whitewater Ski Resort in Nelson, B.C. She soon became celebrated for her innovative and delicious menu options. Shelley's first cookbook, Whitewater Cooks – Pure, Simple and Real Creations from the Fresh Tracks Cafe was soon followed by three other national bestsellers, Whitewater Cooks at Home, Whitewater Cooks with Friends, Whitewater Cooks with Passion and the latest Whitewater Cooks More Beautiful Food. The Whitewater Cooks series of cookbooks has sold over 200,000 copies since 2015.
In 2017, Shelley launched a series of four Whitewater Cooks sauces, the addictive Glory Bowl dressing, Honey Curry Vinaigrette, Miso Ginger Marinade and Maple Balsamic Dressing.
Shelley is a force of nature thriving on non-stop activity and on creating amazing meals for friends and family. Shelley and her husband Mike's two children, Ali and Conner, create great meals for their friends at university with their dog-eared copies of their mother's cookbooks. Shelley and Mike live on the shores of Kootenay Lake with Pants, their elusive cat.
I received a complimentary copy of "Together Again" to facilitate this feature.