Celebrate Penticton Beer Week
October 15-23, 2021
The City of Penticton has officially proclaimed October 15-23, 2021 as Penticton Beer Week. The third annual Penticton Beer Week is a great opportunity to say cheers to craft beer in Penticton. This week celebrates Penticton's vibrant and exciting craft beer industry.
Kim Lawton, who manages the collective of Penticton breweries explained, "We launched Penticton Beer Week to celebrate craft beer. With seven, soon to be eight, craft breweries in Penticton, this celebration brings all of our craft breweries together to showcase our dynamic craft beer scene."
All of Penticton's breweries got together at Neighbourhood Brewing to make a special collaboration beer. Mike Coghill, owner of Neighbourhood Brewing explained, "This limited release beer is called Do Good, which is a Golden Sour with Honey and Citrus. It was brewed in collaboration with all of Penticton's craft breweries to celebrate Penticton Beer Week and the community we live in. A slightly tart and sweet creation, Do Good is a perfect beer to celebrate what makes Penticton so great."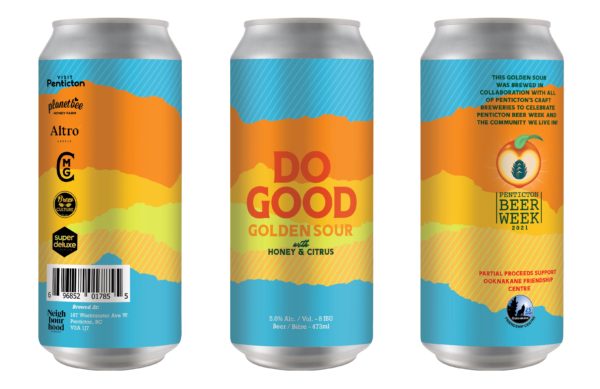 Do Good is also a fundraiser beer, and a portion of the proceeds will be donated to the Ooknakane Friendship Centre, an Aboriginal not-for-profit society that is committed to providing holistic, culturally-driven programs and services designed to support, educate and strengthen people of all nations. They will use the funds from this collaboration fundraiser beer to support the work they are doing on their food service program to help those in need in the community.
Do Good is available in 4-packs of 473ml cans at select private liquor stores throughout BC so people can enjoy a taste of Penticton wherever they are in the province. It will also be on tap at the breweries and select restaurants. You can view the list of locations to enjoy the Do Good here: https://www.visitpenticton.com/do-good-golden-sour-where-to-buy/
In addition to the Do Good collaboration beer, there will be a number of COVID-appropriate events and theme days at breweries and restaurants throughout the week.
The Penticton Beer Week events and theme days include:
October 15: Freshie Fresh Fresh Release at Neighbourhood Brewing
October 15: Happy Hour at Tin Whistle Brewing
October 15: Fall Menu launch and Hot Rockin' Bingo at Slackwater Brewing
October 16: Penticton Beer Run
October 16: Joe Veltri Live at Slackwater Brewing
October 17: Return to Ale-Catraz at Cannery Brewing
October 19: Trivia – Beer Edition at Slackwater Brewing
October 20: Brewmaster's Dinner at Slackwater Brewing
October 21: Fancylike Wine Beer Releases at Neighbourhood Brewing
October 21: Work Boots, Beer & Bacon at Barley Mill Brew Pub
October 22: Hot Rockin' Bingo at Slackwater Brewing
October 23: Will Schlackl Live at Slackwater Brewing
October 23: Oktoberfest at the Barking Parrot
Lawton continued, "For those that would like to visit Penticton during Penticton Beer Week, or anytime in October, which is BC Craft Beer Month, there are some great craft beer themed sip and stay packages available at local hotels.  (Visit: https://www.visitpenticton.com/package/?orderby=&filter_type=489. This is a great opportunity to discover for yourself why the Lonely Planet named Penticton as Canada's Craft Beer Capital in 2020."
Super Deluxe Creative is the presenting sponsor of Penticton Beer Week. Additional sponsors are Visit Penticton, Planet Bee Honey Farm, Country Malt Group, Brew Culture, and Altro Labels.
Check out the Penticton Beer Week page at VisitPenticton.com for more information, a list of Penticton Beer Week hotel packages, a list of locations where you can find the Do Good collaboration beer, and detailed events listings. For additional information, follow Penticton Beer Week on Facebook and Instagram.
Additional information on Penticton's craft beer scene:
The Lonely Planet named Penticton Canada's Craft Beer Capital in 2020:
https://www.lonelyplanet.com/articles/penticton-british-columbia-craft-beer?
Visit www.PentictonAleTrail.ca for information, a suggested itinerary, and a trip planning guide to help plan your visit to Penticton's craft breweries.
Media release and  images provided by Kim Lawton, Cannery Brewing.