Rocky's Halloween Family Dinner
Kitty cats, super heroes, wizards and orcas, take note that a very exciting Halloween Family Dinner is coming up on Sunday, October 24 at Rocky Mountain Flatbread in Vancouver. Rocky's annual Halloween event includes a variety of safe and fun Halloween themed activities for children and a relaxing dinner for parents. Halloween fun will be presented at each table while pizza making requires the kids to mask up for safety. The evening will include:
• Halloween pizza making
• Creepy crawly candy shoot
• Drinks & potions trolley
• Halloween table activities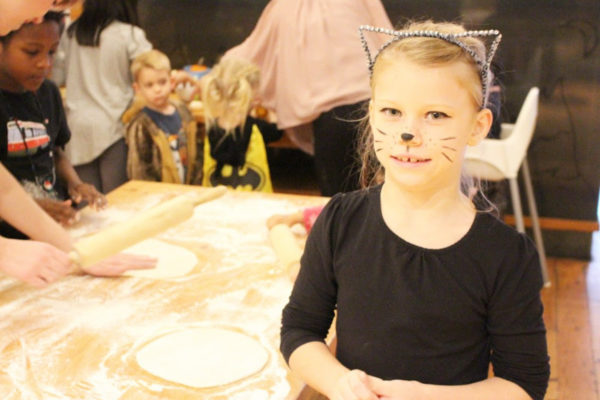 Rocky Mountain Flatbread is an award-winning pizza restaurant known for their farm-to-pizza food philosophy using local and organic produce, Ocean Wise seafood and free-range organic meats. The restaurants are 100% nut-free and offer gluten-free, vegan and vegetarian option. All required COVID-19 health and safety protocols are in place to keep everyone safe.
What: Rocky's Halloween Family Dinner
When: October 24, 4:30 – 7:30 pm
Location: Rocky Mountain Flatbread (Kitsilano & Main Street locations)
What to wear: Costumes are very encouraged! For pizza making, kids are asked to bring their own masks.
Halloween Menu: The kids dinner includes a personal pizza (pizza making), drink and Halloween treats. The adult dinner includes salad or soup and a small pizza.
Cost: The cost is $18 per child and $20 per adult (plus tax & 18% gratuity).
Tickets by Reservation. Reserve a table by emailing [email protected]rockymountainflatbread.ca  or call: ​
Kitsilano location, 1876 West 1st Ave, Vancouver. Ph: 604-730-0321
Main Street location, 4186 Main St.​, Vancouver. Ph: 604-566-9779
About Rocky Mountain Flatbread
Rocky Mountain Flatbread takes pride in providing sustainably produced, local food that connects the farm, family and community. Visit our two Rocky Mountain Flatbread restaurant locations in Vancouver, the newest addition in Calgary, or the original restaurant that started it all in Canmore, Alberta. For more information, visit rockymountainflatbread.ca.
Media release and image provided by Lori McGrath, Lori McGrath PR.