Harvest 2021 Update,
Oktoberfest Fun,
and Case Sale!
Mayhem 2021 Harvest is a wrap!

October 12th we officially finished the 2021 harvest, bringing in Merlot from our Anarchist Mountain home vineyard. The fall was superb, with cool nights and warm days allowing phenolic ripeness yet preserving the natural fresh acidity that Okanagan wines are known for. With an extremely hot summer, brix (sugar) was higher this year, harvests were early, and we expect intense aromas and flavours.
While the ferments are bubbling away under Ajay's watchful eye, check out our Instagram stories #makingmayhem  to watch our talented winemaker in action. The 2021 white wines will be bottled end of March, ready for the next club offering, and the reds will keep developing flavour in barrel until next fall or spring of 2023..
Oktoberfest Was a Hit – Prost!
Our first Mayhem Oktoberfest was held Oct 2nd and after a cold rainy start, the day cleared up and made for a super-fun outdoor event. Even a little chicken dance broke out. We can't wait to do it again next year! We've included the recipe below for the traditional Curry Ketchup that was served with Chef Patrick's Mayhem Riesling-infused Bratwurst.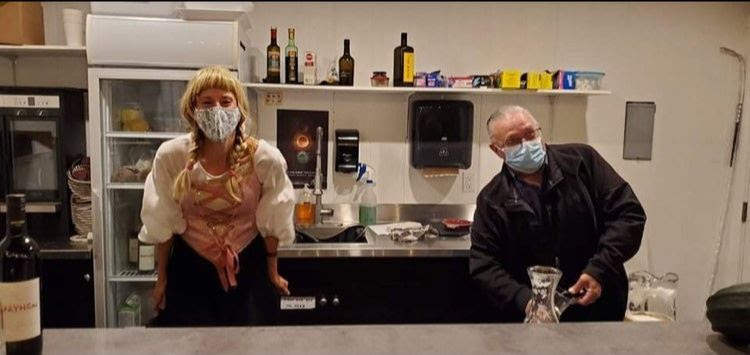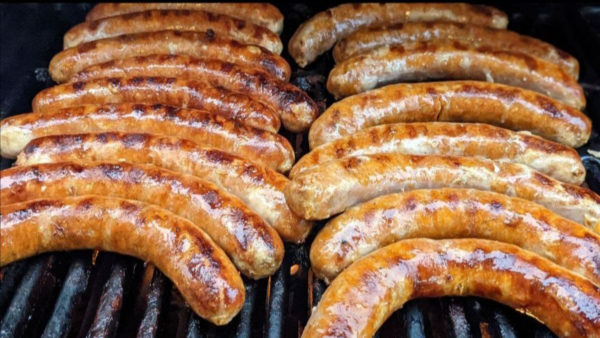 End of Vintage 2018 Riesling Case sale
For those fans of Riesling, we have a few cases of 2018 left, and are blowing them out at the 2019 price of $18 ($15.65 + tax)! Wow! Grab a whole case or add more of your favourites to get free case shipping.
Sale price ends when it's sold out (won't take long at that price!)
No additional discounts are applicable
Mayhem Riesling-infused Bratwurst with Curry Ketchup
from Chef Patrick Doré's Oktoberfest menu
Curry Ketchup
2 cups ketchup
½ cup very finely chopped onion
1 tbl very finely chopped garlic
2 tbl oil
¼ cup curry powder
1 tbl worchestershire
1tbl ground coriander
1 tbl cumin powder
2 tbl lemon juice
1 tbl ground pepper
Saute onion and garlic until transparent, add curry powder and cook for 1 more minute, allow to cool slightly
Combine all ingredients, cover and refrigerate. Allow to sit overnight for best results
Braise your favourite Bratwurst (Chef Patrick Doré used Two Rivers North Shore Bratwurst) in water and Riesling in a 300 degree oven for 15-20 minutes. (If you want to use less wine and have a Sous Vide cooker, use that instead and drink the rest of the bottle!) Cook on medium high grill until sausages are browned crisp and starting to split.
Serve hot with Curry Ketchup, sprinkle a little curry powder on top and add a side of fries for traditional Currywurst.
We hope you are enjoying Mayhem wines with whatever is on your harvest menu, and, as always, if there's anything we can help with, give us a call or email .
Information and images courtesy of the winery and Terry Meyer Stone, President Mayhen Wines.