Molson and J.P Wiser's create a quintessentially Canadian whisky flavoured lager — introducing Molson Common Bond®
To celebrate the friendship that should have happened centuries ago, you can win a classic old-style portrait of yourself and a friend to commemorate your very own Common Bond.
With over 400 years of Canadian brewing and distilling traditions, Molson and J.P Wiser's have come together to launch Molson Common Bond® — a lager brewed with the rich flavour and sophistication of a dignified Wiser whisky, paired with the approachability and familiarity of a classic Canadian beer.
"Since 1786, Molson has been bringing Canadian beer lovers together," said Andy Preston, Brewing Innovation Specialist and Lead Brewer for Molson Common Bond®. "So, it only made sense to include the whisky lovers, too! Molson Common Bond is not only a unique union of distinctly Canadian flavours, but a partnership between two proud and historied Canadian companies."
This limited-edition lager is a taste of the legacies and expertise left behind by John Molson and J.P. Wiser. "After a great deal of experimentation, we found a special way to infuse the beloved Wiser whisky hops into a classic Canadian lager, creating a product that brings forward flavours both beer and whisky lovers enjoy," commented Don Livermore, Master Blender for J.P. Wiser's. "With notes of toasted oak and vanilla, Molson Common Bond is a taste of history and represents a lasting legacy that you can cheers to, today."
John Molson once said, "an honest brew makes its own friends". While John and J.P. didn't cross paths, one can only assume that the pair would have enjoyed a Common Bond in every sense of the term.
Knowing that friendships get better with age, Molson Canadian and J.P. Wiser's are offering Canadians a chance to win their very own old-fashioned style portrait to commemorate a friendship near to their heart. To participate, users on Twitter and Instagram are encouraged to share a photo of themselves and their best friend tagging @MolsonCanadian, @jpwisers and #CommonBond.
While one lucky Canadian will win a full-sized oil painting in honour of their best friendship, Molson and Wiser's will be selecting a handful of lucky entrants to transform into digital portraits over the duration of the contest. The campaign will be running until the end of this week.
Celebrate friendships, old and new, by entering the Lasting Bond contest and picking up a Molson Common Bond® from local beer or liquor stores across the country — best enjoyed over a virtual happy hour with a friend.
For more information, follow along with @molsoncanadian and @jpwisers on Instagram and Twitter.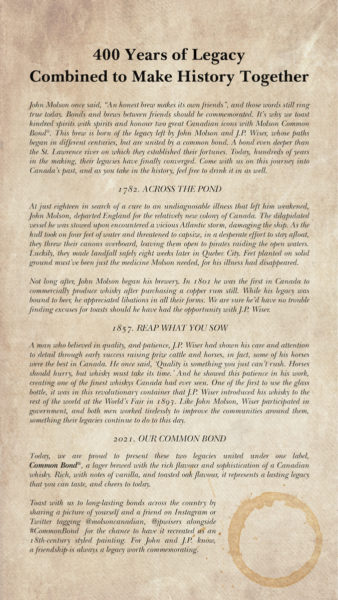 About Molson Canadian
The Molson brewery was formed in 1786, when John Molson didn't just thirst for a better beer, but also a better community. Molson Canadian continues his legacy today by finding ways to bring people together. Molson Canadian continues to be brewed in Canada today, with 2,000 Canadian employees, across 5 breweries, using the best of Canadian ingredients.
Media release and images provided by Maryann Nasello, Citizen Relations.