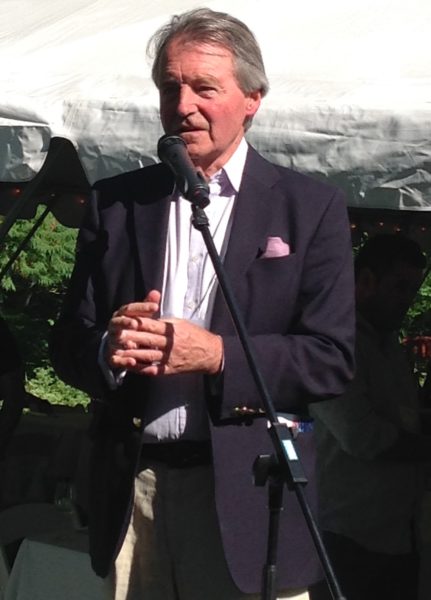 Steven Spurrier died on March 9th, just a few months before his 80th birthday.
Spurrier got his start early when his grandfather decided he was, at 13, old enough to try a glass of wine. His first sip was of Cockburn's 1908 Port.  It 'wowed' him so much that he began reading all about wine shortly after – where was it grown, how it was made, the varieties and the regions.  Needless to say, he was well-schooled in wine by the time he went to work for the well-established Christopher and Company wine merchants in London.  Seven years later, he was off to Paris to open his own shop.  Being a wine merchant in Paris in the 1970s, he was always on the lookout for new and interesting wines.
Steven was always interested in educating his clients and encouraged them to taste wines before purchasing them.  He also established the L' Académie du Vin, France's first private wine school where he often conducted blind tastings to level the playing field and frequently included wines from around the world.  He was rather shocked at the time that the Parisians only drank French wine and proceeded to introduce many of his customers to Port, Sherries and Madeiras.
In 1976 Steven travelled to California after hearing that they were making some interesting wines.  He selected a few to be included in a blind tasting in Paris, this time for the French trade and media.  Included in the white Burgundy flight was Montelena's chardonnay and in the red Bordeaux selection, a bottle of Stag's Leap cabernet sauvignon.  Steven expected that the 'foreign' wines would help to open people's eyes, but he was as surprised as anyone when they placed so well.
The results rocked the wine world and soon became known as 'The Judgement of Paris', which was later depicted in the film Bottle Shock, (of which he was not fond, saying that there was hardly a true word in it).  Meanwhile, TIME magazine also picked up on this surprising competition and ran a feature on it, which raised Steven's status immeasurably in the world of wine.
Years later, he returned to England and became one of the top contributing writers for Decanter wine magazine.  With over 300 articles, he has been personally credited with raising the prestige and recognition of the magazine.  In 2004, he established the Decanter Wine Awards and served as its chairman for more than a decade.  In 2017 Steven was named Decanter's Man of the Year.  He also established Christie's Wine Course.  He has authored and co-authored several wine books and picked up many awards for his wine writing.
In 2009 he established his own winery in Dorset, on his wife, Arabella's (Bella) farm.  They called it Bride Valley and it specialized in sparkling wines.  He first harvested grapes in 2011 and had his first wine release in 2014.   It was warmly received.  The winery gave Spurrier first-hand knowledge of all the trials and tribulations of being a grape grower and a winemaker.
Steven was well known for promoting wine regions around the world.  At different times he has championed the wines of Argentina, Australia, Chile, Croatia, Portugal, Slovenia, South Africa, Tasmania, and Uruguay.
He was once asked what he would have done had wine not captured him so early on.  His answer was art, admitting that he spent far more money on his other passion than he ever did on wine.
In 2015, Steven was first invited by the BC Wine Institute to participate in a 'Judgement of BC' event as BC wanted to see how its wines would compare in blind tastings with other international wines.  Here is a partial list of some of the wineries/wines he enjoyed on his two trips to BC.
Chardonnay
Meyer Family Vineyards
50th Parallel
Nk'Mip
Tantalus
Monte Creek
Culmina
Blue Mountain
Mission Hill
Quails' Gate
Haywire
Riesling
Cedar Creek
Hubertus
Tightrope
Culmina
Upper Bench
Martin's Lane
Pinot Noir
Arrowleaf
Sperling
Meyer Family Vineyards
Tightrope
Quails' Gate
Cedar Creek
Syrah
C. Jentsch
Nichol
Le Vieux Pin
Jackson Triggs Sunrock
Orofino
Laughing Stock
Tightrope
Stag's Hollow
TIME
Painted Rock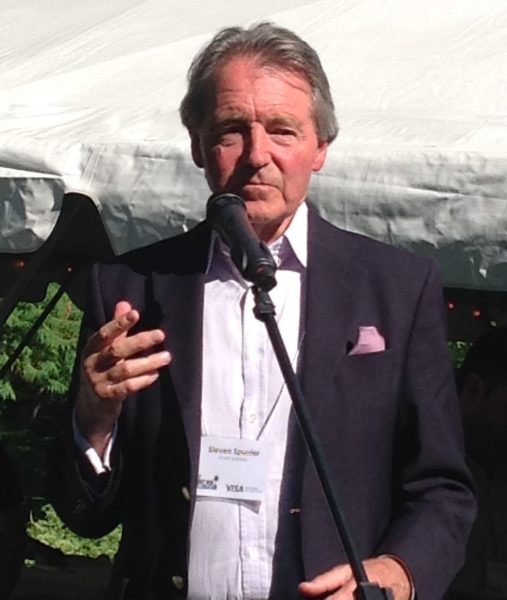 That same year, Steven Spurrier was also a guest at the BC Pinot Noir Celebration held at Linden Gardens in Kaleden.  After the main tasting event and just before the sit-down dinner, he spoke to the group and I was initially rather surprised at what he said – (not verbatim) You people in BC don't get it. You really don't fully understand what you have here.  (A hush fell over the audience).  You have some of the finest soil in the world for chardonnay and pinot noir.  Your wines are very good and in a few years, as you hone in on which sites are best for which grape, you will rival many of the best Burgundy in quality.
By some fluke, I got to sit across from him at dinner and chatted with him afterwards.  There was nothing flashy about him at all.  He was very down-to-earth and within minutes I felt he was a good friend.
Eventually, the Judgement of BC events came to an end as the quality of BC wines became clearly established and validated in competitions around the world.  Quite an accomplishment considering that the quality of wine around the world improved concurrently over the last 25 years.
While tributes tend to be complimentary and at times glowing, it is fair to say that Steven Spurrier was one of the most knowledgeable and respected gentlemen in the world of wine.  There was nothing pretentious about him.  He was kind and encouraging to those in the trade. He had a noticeable fondness for BC wines and helped get them recognized overseas.
*With background information from John Schreiner at http://johnschreiner.blogspot.com/
(All photos – Sam Hauck)