"In this series we bring you our #FavouriteThings Holiday Gift Suggestions which we personally recommend"
Here is a holiday favourite – Haywire by Okanagan Crush Pad. Think Haywire Chardonnay with your holiday turkey or ham, it's a perfect choice. It is always a good time ahead with the Haywire The Bub sparkling. Keeping it intimate this year #PartyLikeIts2020
Haywire Secrest Mountain Chardonnay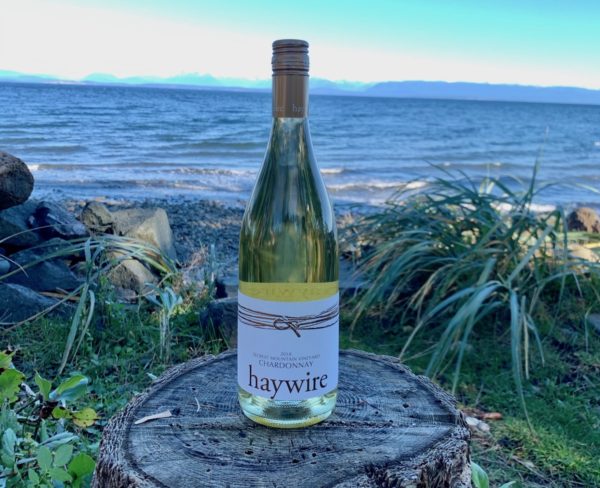 FARMERS Duncan Billing
OWNERS Christine Coletta & Steve Lornie
LOCATION Oliver, Okanagan, British Columbia
VINEYARD Secrest Mountain Vineyard is a 50-acre site, home to a 38-acre (15ha) vineyard situated on a flat south-west facing bench in a high mountain setting 487 meters (1,600ft) above sea level. This cool site has flat alluvial soils studded with coarse gravel and sandy loam with limestone layers. The vineyard was planted in 2000 with Chardonnay, Gewürztraminer, Pinot Blanc, Pinot Gris, Gamay Noir and Pinot Noir. Since 2010, it has been farmed under the direction of Okanagan Crush Pad and a conversion to organic farming practices was started in 2014. In 2018 when Brad and Dave Wise decided to retire, the winery purchased the property from the family and will carry on with the work that the Wise family has done for the past 18 years.
WINEMAKERS Matt Dumayne
WINEMAKING The wine was whole bunch pressed into two egg-shaped concrete tanks for a long, slow native ferment followed by malolactic fermentation. It was left on gross lees to build texture and richness for ten months before bottling unfiltered.
WINE PROFILE The Chardonnay delivers a clean fruit driven style backed by a creamy, textured mouthfeel framed with mouth watering acidity.
The Bub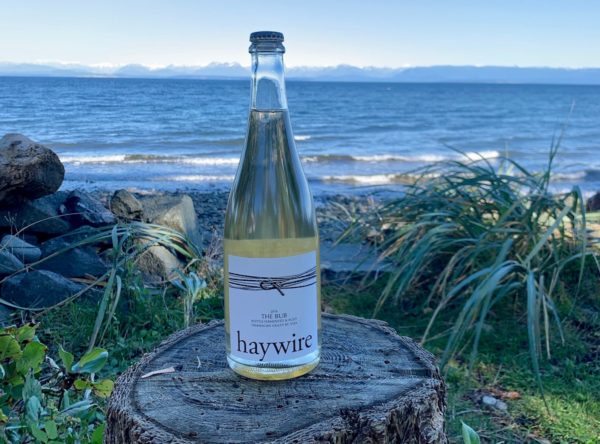 FARMERS
Theo Siemens, Ron Watkins, Brad & Dave Wise
VINEYARDS
Secrest Mountain Vineyard, Oliver, Okanagan, British Columbia
Watkin Family Vineyards, Summerland, Okanagan, British Columbia
WINEMAKERS
Matt Dumayne, Jordan Kubek
WINEMAKING
This BC made sparkling wine uses Pinot Noir and Chardonnay grapes which were harvested in late September from two uniquely different sites. Fermented in stainless steel tanks, before bottling in December 2014. Disgorged January 2015 with zero dosage.
WINE PROFILE
This is a bold, austere bubble; crisp and fresh, with citrus and toasty notes and a texture of light effervescence.
Haywire offers pure, lively, wines that reflect the unique cool climate terroir of Canada's Okanagan Valley. Founded first as a virtual wine brand in 2009, "haywire" is an old Canadianism that refers to wire used for baling hay. Haywire tended to tangle and be unpredictable making it an apt description of Christine and Steve's impromptu decision to forgo retirement and journey into wine making.
With home vineyard Switchback and sister properties Garnet Valley Ranch and Secrest Mountain now organic certified, Haywire is internationally recognized as making some of the most game-changing wines from the region.
Over the years Matt Dumayne has worked with consultants Alberto Antonini and Pedro Parra along with David Scholefield to define a house style for Haywire. Hallmark traits are wines rich in texture with a lush mid-palate, balanced acidity and lively and bright berry flavours. The entire team is committed to farming wines that are textbook Okanagan. They let the natural, spectacular beauty of the region shine through.
Tasting notes courtesy of the winery. I received a complimentary bottle of wine to facilitate this feature. Any opinions are my own. If you would like to be featured on MyVanCity.ca please connect with your pr agency or email myvancityval@nullgmail.com for full details. Wine samples accepted for review.