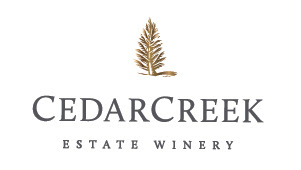 RESTOCK YOUR CELLAR WITH OUR ESTATE WINES
The Best Way to Fill Your Cellar After The Holiday Season.
One of the commitments we are most proud of at CedarCreek is to producing wines of quality across all our tiers, and achieving a level of consistency which is one of the highest in BC. Commonly in the wine industry, wineries and winemakers spend a lot of time thinking about premium wine and viticulture, how to farm the grapes and what they can do to raise the quality of the wine in the winery. This often results in wines of great quality in the expensive bottles and wines of average quality in the more reasonably priced bottles. At CedarCreek, all of our vineyard blocks are farmed to the same standard of quality – the differences in the wines really come down to soil and vine age. In the winery, we take the same approach – all wines receive special treatment. We have made a commitment to attention to detail with every wine and every bottle, and we take that commitment seriously.
This week, we have put together a selection of our favourite Estate wines, which we feel can showcase a bounty of terroir and growing season character, and reflect our hands-off winemaking approach at the same time. For example, our Chardonnay and Pinot Noir are both fermented 100% with Wild yeasts – only yeasts in the vineyard or floating through the air in the winery are gaining access to these ferments. This results in elegant and complex wines fermented by the yeasts that live in the same vineyards the grapes are grown. This sense of place and complexity is preserved by avoiding unnecessary additions of fining agents or other products. All of our red wines are produced without the use of any fining agents (think fish bladders, egg whites, etc) and without filtration. We are simply emptying the barrels the wine has matured in, and bottling it without any filtration. And it is the accumulation of little decisions and details like these in our winemaking and viticulture that add up to exceptional quality in all of our wines.
As we exit the holiday season and get back into our regular routines, some healthy, low intervention, organically farmed wines are the perfect way to restock your cellar.
In addition, enjoy complimentary shipping on orders of 2 bottles of wine or more.
SAVOUR THE TASTE OF HOME BLOCK RESTAURANT WITH OUR
NEWLY-CRAFTED TAKE AWAY MENU AND MEAL KIT OFFERINGS
We are excited to announce the return of our Home Block take away menu and meal kit offerings. Enjoy Executive Chef, Neil Taylor's newest creations from the comfort of home by ordering today. Click the button below to view menu offerings.
To place your order, phone 250 980 4663
Available from 12:00pm-7:00pm Daily.
For pick-up, please allow 30 minutes from the time of order.
Add your favorite CedarCreek wines to any order!

CedarCreek Estate Winery
5445 Lakeshore Rd Kelowna, BC
(778) 738-1020
VISIT US ONLINE  | EMAIL US
Information and images provided by CedarCreek Estate Winery. If you would like to be featured on MyVanCity.ca please connect with your pr agency or email myvancityval@nullgmail.com for full details. Wine samples accepted for review.