Deck the Halls with Okanagan Crush Pad!
Celebrate the holidays with some merry offerings
The holidays are upon us and so is a string of festive offerings from Okanagan Crush Pad.
The winery is bringing back the highly requested Winter Wine Experience, with bookings available in both November and December.
Can't make it to the winery? You can still get in the holiday spirit from the comfort of your home with virtual wine tastings (perfect for corporate parties or family gatherings) or a special "Crush-mas" advent calendar.
Visit okanagancrushpad.com for all the info on these limited-time specials and read below for details.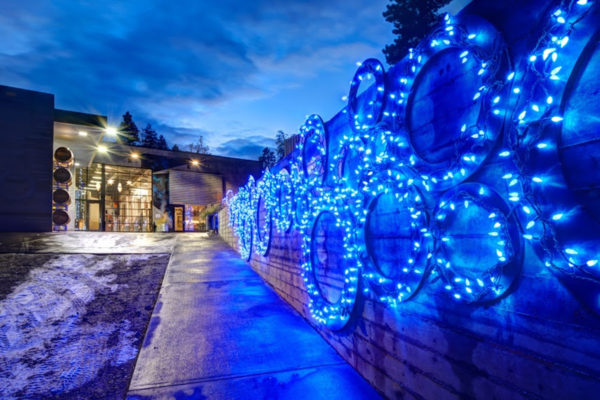 The Winter Wine Experience at Okanagan Crush Pad (OCP) is a relaxing way to spend time with friends and family. The vineyard and cellar have been decorated to offer a cozy, intimate setting to enjoy an exceptional wine tasting.
Attendees can choose from one of three festive wine flight boards featuring six wines, accompanied by a small charcuterie board for your table to enjoy. Each spot is $25 per person; all reservations are 90 minutes and allow a maximum of six people. This is a 19+ event.
Reserve your spot at okanagancrushpad.com from Friday, November 26 until Saturday, December 11.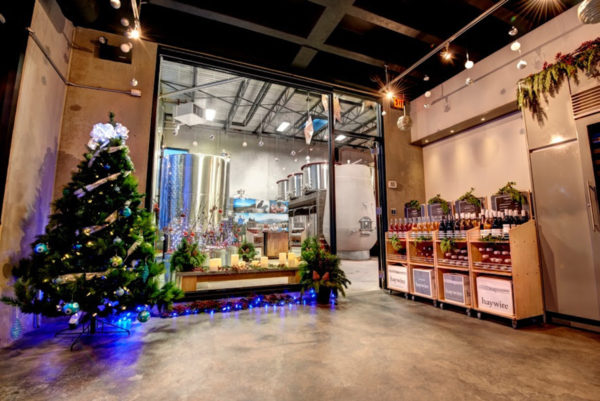 Live too far away or your schedule is too packed to visit the winery? The holidays are a hectic time of year, so instead, relax and gather your group to enjoy an OCP wine tasting at home. Book your virtual wine tasting at okanagancrushpad.com.
There are four unique tasting packs each containing four wines: a sparkling, rosé, white and red, with prices from $105 to $165. Each package is accompanied by an instructional video led by Andrew Raines, wine educator and ambassador at Okanagan Crush Pad Winery. At this time, the winery cannot accommodate customized packs for groups of less than six.
Book a personalized tasting experience
Invite one of our wine experts for a live teaching and tasting experience for an additional $150. Sessions are 45 to 60 minutes long, taking you through each of the wines in your chosen pack. Along with serving tips and tasting notes, learn what makes Okanagan Crush Pad's wines unique with the use of concrete fermentation tanks, low intervention winemaking techniques, and organic wine-farming practices. Tastings are available between 4pm to 8pm Pacific Standard Time. A great group or corporate activity!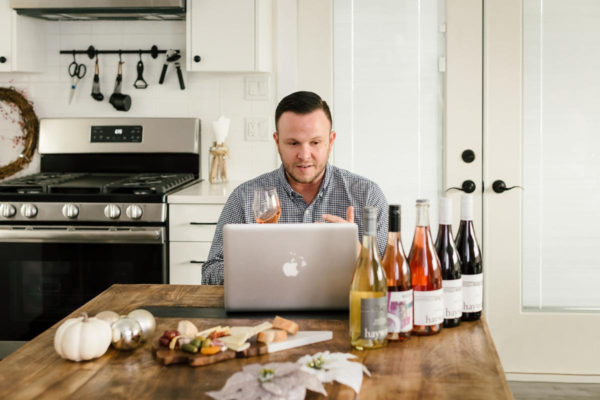 Adults can enjoy the excitement of a holiday advent calendar with OCP's 12 Days of Crush-mas. When you order an advent case of OCP wines, all bottles are individually wrapped and labelled 1-12 so you can count down the days.
Each box includes two sparkling wines, four white wines, three rosés, and three red wines and costs $345.80. This is a limited offering so place your order today at okanagancrushpad.com.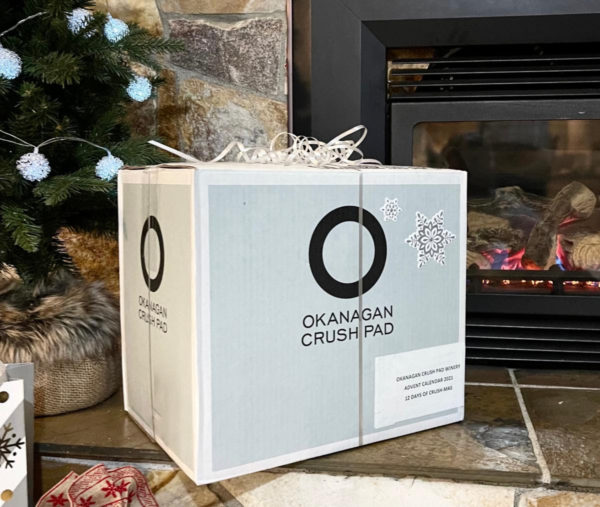 About Okanagan Crush Pad Winery
Respectfully Farming. Pure Okanagan Organic Wines.
Okanagan Crush Pad has developed a reputation as a leading producer of pure Okanagan organic wines. With chief winemaker Matt Dumayne at the helm since 2013, the winery offers four unique wine portfolios: Haywire, Narrative, Free Form and Bizou + Yukon, guaranteeing a wine for everyone's taste and budget. The winery utilizes a host of fermenting and aging vessels; concrete tanks, amphorae, large format oak and stainless steel, all crafted in a state-of-the-art facility that is a draw for wine enthusiasts. Dumayne's wines reflect the region's unique high mountain, northern desert setting noted for its intensely hot, short growing season with hallmark cool evenings. The winery also owns 320 acre Garnet Valley Ranch (Summerland), a rare piece of land, which is respectfully farmed with nature in mind. On the ranch are 50 acres of organic vines, and 8 acres of organic vegetables, leaving room for hayfields, a lavender farm, and places for wildlife to roam. Located in Summerland, BC, on Switchback Organic Vineyard, Okanagan Crush Pad is open seasonally to the public but offers a way to stay connected year-round through its online wine club, THE [email protected] More at okanagancrushpad.com
Media release and images provided by Leeann Froese, Town Hall Brands. Feature image: Okanagan Crush Pad's Winter Wine Experience. Photo credit: Okanagan Crush Pad