"In this series, I will be sharing my take on which BC Wine pairs well with some inspirational recipes"
This has to be a classic pairing – Roast Chicken with Sauvignon Blanc. It's one of those "if it ain't broke, don't fix it" scenarios. This is perfect!
With summer dinners tending to be more casual this Roast Chicken was pretty basic, but equally delicious! No stuffing, no gravy! Just an easy prep and the BBQ result in a great family dinner.
Suggested BC Wine Pairing:
Church and State Foundation Sauvignon Blanc 2018
The colour is a beautiful pale straw. The nose expresses a blend of fresh pastry, marzipan and ripe tropical fruits like mango & passionfruit. The palate is round with ripe orchard fruit, followed by fresh citrus zest. The finish is full, bright and long.
Fresh grass, tropical scents, a little pineapple , lychee, lemon meringue, unbaked pastry. Heavenly and hinting of split wood. 
Tart perfection with the  pronounced acidity. Lingers on the tongue and in your mouth. Absolutely sippable! Beautiful, glimmering clarity with just a suggestion of colour. One of the most drinkable samples of Sauvignon Blanc at its finest.
Exactly, a classic! So delicious, crisp and delicious.
BBQ Roast Chicken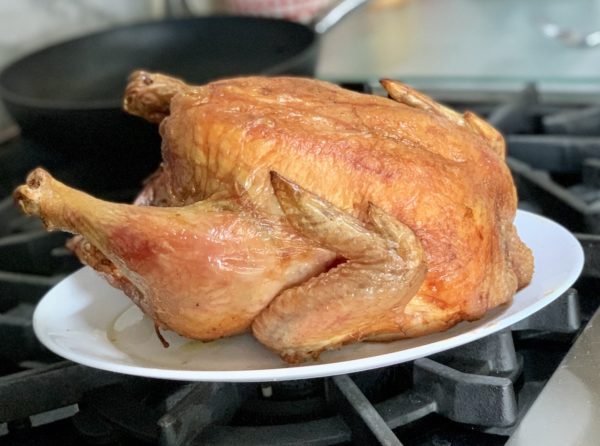 This is dead easy! Start with a local, free run bird. This one was a whopping 7 + pounds. Stuffed with fresh rosemary sprigs, sweet onion quarters, and whole garlic cloves (no need to peel, just crush a little bit to release the flavour). Salt all over and coat with softened or melted butter.
Start on a high heat for about ten minutes, then turn down to a temperature of 325 to 375 and roast until golden and the legs break off when pulled.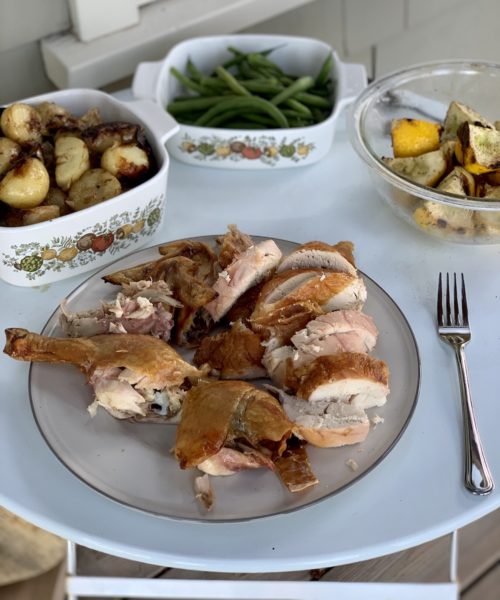 Serve with yummy new, organic, nugget potatoes, grilled patty pan, corn on the cob done on the bbq. If you have a garden I would bet you have an abundance of green beans!
Try pan-boiling the potatoes and finish them in the bbq while the chicken rests. Just remove the grill from the pan you used for the chicken and toss salted potatoes in the chicken juices in the bottom of the pan. So good!
Wine notes courtesy of the winery. My notes (in bold italics) all opinions are my own. I received complimentary wine to facilitate this feature. To read more posts on Church and State wine click here.