"In this series, I will be sharing my take on which BC Wine pairs well with some inspirational recipes"
Now that fall has arrived the Butternut Squash is superb and readily available at farmer's markets or the grocery store. This is a simple version that can easily be prepared for a weeknight dinner. It takes about 10 minutes of prep and 20-25 minutes to bake the squash.
There is no question that pasta dishes prepared with squash, or pumpkin, are very rich and filling. Roasting the squash and garlic brings out the flavour and sweetness. By using a Rigatoni pasta noodle you catch all the rich goodness in one bite.
So how do you choose a wine for a simple, easy to prepare, weeknight dish? By going big and bold!
Suggested BC Wine pairing:
2018 Cabernet Sauvignon
TASTING EPISTLE
The nose dances out of the glass with intense, olive tapenade, cedar, leather and cigar with dark berries. The palate is smooth and expressive with medium tannins and acidity greeting you with fresh dark berries.
There is nothing better than a rich, deep red wine to enjoy on a stormy Fall evening. This was the perfect choice to balance the super richness of the garlicy, sweet Butternut pasta dish. Intensely bold with ripe, dark fruits. Some spice and pepper giving the wine a beautiful balance of flavours that linger in the mouth. Medium tannins, silky smooth. 
Although normally decanting is recommended, sometimes with a weeknight dinner you may not have planned ahead. This dinner was more last minute so the wine was aerated with a handy little device into the decanter and back again into the bottle and finally a third time into the decanter. The result did not disappoint. 
Miso Butternut Squash Pasta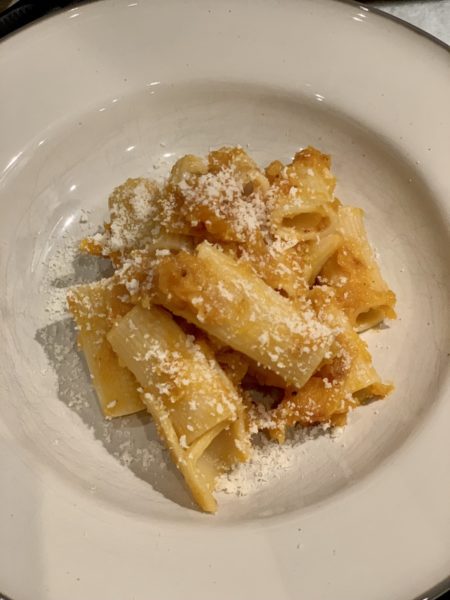 Ingredients
Rigatoni pasta
Miso 2 teaspoons
Butter 2-3 tablespoons
Olive Oil 1-2 tablespoons
Butternut squash 1/2 cup per person *
Garlic clove(s) to taste, mashed, stem removed
salt and pepper
finely grated Parmesan cheese 1/4-1/2 cup
pasta water
Method
Peel and chop the Butternut squash into small pieces (this helps it roast quickly). Cream the miso, butter and olive oil together in a large bowl. Add the squash and garlic to the bowl and toss until even covered with the butter mixture. Season with salt and pepper. Keep in mind the pasta water will be salty.
Place on a parchment covered sheet pan and roast at 450 for 20-25 minutes or until soft and golden. Meantime bring a large pot of salted (2 heaping tablespoons) water to a boil. Cook per package instructions.
Try to time the pasta to coincide with the finished roasted squash mixture. Add the cooked pasta (using a slotted spoon) and squash mixture back into the bowl. Add pasta water to create the sauce and stir to combine. The more pasta water you add the creamier (and salty) the dish will be. Serve in pasta bowls and top with the finely grated parmesan.
*This dish can also be made with pumpkin from your leftover Jack-O-Lantern. #sustainable or try this Baked Pumpkin Pasta recipe.
Tasting Epistle courtesy of the winery. My notes (in bold italics) I received complimentary wine to facilitate this feature.