"In this series we bring you our #FavouriteThings Holiday Gift Suggestions which we personally recommend"
Returning again this year welcome back Township 7 to #FavouriteThings Holiday Gift Suggestions. What could be more festive at holiday time than two sparkling wines to share with friends.
Here are our suggested picks:
seven stars Polaris

NEW VINTAGE RELEASE
In honour of the North Star so prominent and bright in our sky, which has guided ships at sea for centuries, Polaris is the basis for our sparkling program, guiding the other members of the seven stars collection. Crafted in the traditional Méthode Champenoise style, the wine undergoes a secondary fermentation or prise de mousse, where we literally "capture the sparkle" in the bottle. This time-honoured process adds aromas of fresh baked biscuits, and enhances the bright fruit scents already present in the wine of Granny Smith apple, peach and lime. The mousse is creamy, imparting a delightfully full bodied character, that is well-balanced with a crisp, clean finish. Polaris is ideal for celebrations as well as sipping with hors d'oeuvres, oysters, a creamy Bleu d'Avergne or Cambozola cheese.
seven stars Equinox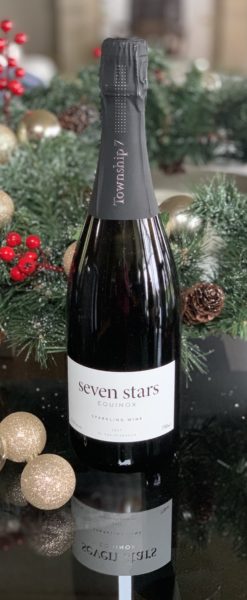 New Vintage Wine Club Exclusive
Equinox – when day and night are of equal length – invokes the colour and balance of this sparkling Rosé. Our seven stars collection of sparkling wines are crafted in the Traditional Méthode Champenoise style, in which the wine undergoes a secondary fermentation in the bottle. This adds aromas of just-baked biscuits along with those fresh fruit aromas already present in the wine. This vintage of Equinox displays d fruit on the nose, including field ripened strawberries, rhubarb and apple. The wine has fabulous complexity due to extended ageing on lees and tannin profiles. The mousse is creamy with a cleansing acidity that makes this sparkling wine round, complex and phenomenally well balanced.
Subscribe To clubSEVEN to receive our fine wines three times a year. Join the club and experience the sparkle.
Over two decades ago, we had a vision to craft a sparkling wine of distinction. Township 7 was amongst the first wineries in B.C. to create a méthod champenoise wine with our inaugural seven stars 1999. Since then we have won innumerable awards – highlighted by Best Canadian Sparkling Wine at the prestigious Champagne & Sparkling Wine World Championships 2019 in London, England.
With winemaker Mary McDermott's passion and extensive expertise in traditional method wines, we have expanded our growing collection of small lot cuvées: Polaris, Equinox, Sirius, Vega and Eclipse. We hope you enjoy tasting our stars!
Wine notes courtesy of the winery.Images: MyVanCity. I received complimentary wine to facilitate this feature.