"In this series we bring you our #FavouriteThings Holiday Gift Suggestions which we personally recommend"
Welcome to Lang Vineyards joining #FavouriteThings Holiday Gift Suggestions for the first time. So glad to have you with us. You won't want to miss the opportunity to purchase any of these highly rated wines with an excellent price point. Lang Vineyards wine make a wonderful gift for all the wine loving friends on your gift list this year.
Here are the recommendations:
2019 Gewürztraminer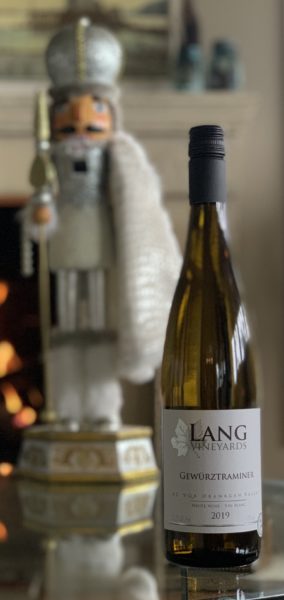 Tasting Notes
This is an off dry and well-balanced Gewurztraminer. The aromas of ripe tropical fruits mixed with coriander, ginger and lychee are a delight on the nose. It has a surprising acidity athat balances those off dry characteristics on the palate. Drink and you will taste the wonderful flavours of cantaloupe, mango, lychee, ginger, green tea and citrus fruits. The cool 2019 harvest temperatures helped keep this in delicate balance with its subtle sweetness and acidity.
2020 Farm Reserve Riesling
Tasting Notes
With this wine you may pick up aromas of jasmine, citrus zest, and tangerine, with a burst of Asian pear, lime and pineapple. This is an off dry wine balanced with its acidity making it an excellent choice for pairing with many dishes. It was harvested in October from our 35-year-old estate vines off a west facing slope overlooking Lake Okanagan on the Naramata Bench.
Pairing Suggestions
Shrimp BBQ, ceviche, or Mexican tacos.
2018 Viognier

Tasting Notes
A luxurious wine grown by Raisin D'etre Vineyards on the Naramata Bench. There are aromas of banana, pineapple and violets on the nose with a rich round mouth-feel on the palate. A delightful full bodied white wine!
Pairing Suggestions
Pairs well with Indian or Moroccan cuisines, braised chicken, stuffed trout and shellfish.
2019 Belle Blanche

Tasting Notes
2019 is the inaugural vintage of the Belle Blanche sparkling wine. A beautiful marriage of Gewurztraminer 65.5%, Pinot Gris 19% , and Riesling 15.5%, this wine is comprised of some of the oldest grapes on the Naramata Bench.
Refreshing, crisp, and intriguing, you will find plenty of bright citrus flavours with undertones of tropical fruits and biscuits.
Pairing Suggestions
Pair this wine with Brie cheese or dried Okanagan fruits.
2020 Marechal Foch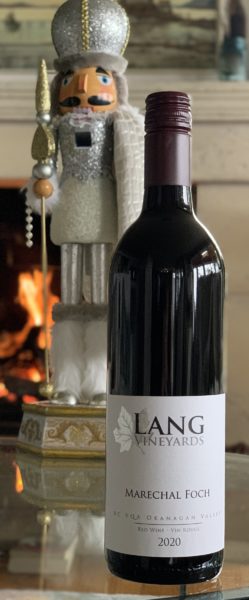 Tasting Notes
This is a deep rich grape with wonderful color. You may get the aromas of fresh raspberries and kirsch, ripe cherries and black plums and a hint of toasted marshmallow. This is a very delicious and fruity wine, and I pick up flavors of vanilla, toasted almonds, crème Brule, cherry preserve and pomegranate followed up with a pleasant mild spicy finish.
Pairing Suggestions
Grilled sausages with some braised red cabbage.
2018 Cabernet Merlot
Tasting Notes
With this Cab Merlot you may pick up aromas of dried sage, sweet bell peppers, and red licorice. With one mouthful I sense the flavors of paprika, dried fruits, blackberries, alongside the subtle hints of cedar and cinnamon.
The Merlot and Cab. Sauvignon was barrel aged for 18 months in French oak and blended with Cab. Franc that was clean fermented in stainless steel.
63% Merlot, 32% Cabernet Franc, 5% Cabernet Sauvignon
Pairing Suggestions
Braised lamb shanks with rosemary, lasagna or pepperoni pizza.
Lang Vineyards is a premier, boutique winery located on the famed Naramata Bench Sub-GI in the Okanagan Valley. A distinguished pedigree with a quarter-century of producing top wines from perfect varietals to expertly balanced blends, has earned the winery a leading reputation in the industry. The Lang Vineyards team is dedicated to showcasing finely crafted wines across a broad range of palates from dry to sweet and light to full bodied, encompassing white, red, rosé, sparkling, and dessert wines. We are British Columbia's first farm-gate winery and home to the oldest vines on the Naramata Bench. Join us for a beautifully unique winery experience.