"In this series I will be sharing my take on which BC Wine pairs well with some inspirational recipes"
No you aren't seeing things – this is the second Butternut Squash Pasta recipe for #ThisWineThatDish. The earlier version differs in a couple of ways; one it was not spicy, that squash was roasted along with garlic and was a simpler recipe than the one featured here. Both are delicious. See the other Butternut Squash recipe and what I paired it with here.
This dish was so rich and indescribably delicious and it's simple enough for a weekday dinner. Anyone could make this pasta dish and it is surprisingly flavourful even though it has no onions or garlic. You can also skip the spicy if you prefer it without, it's still very good. Any pasta that has "pockets" that will hold the yummy sauce is ideal for this dish. A favourite is medium size Conchiglie Rigate or any shell shaped pasta.
Suggested BC Wine pairing:
Maverick 2020 Cross Road Chardonnay

The wine made out of love! Our Chardonnay is a well-balanced, medium-bodied wine that displays some beautiful cool-climate Chardonnay characteristics.
Deep straw yellow colour shows the impact of time in new French oak. The nose is sweet with fresh peach pie, chamomile, tropical fruits, banana, pineapple, and grapefruit. The 2020 Cross Road Chardonnay has a wonderful richness, with golden apple on the palate, lemon meringue, dash of nutmeg and anise. The finish has a little bit of grip to give the wine a generous body and texture.
Spicy Butternut Squash Pasta With Spinach**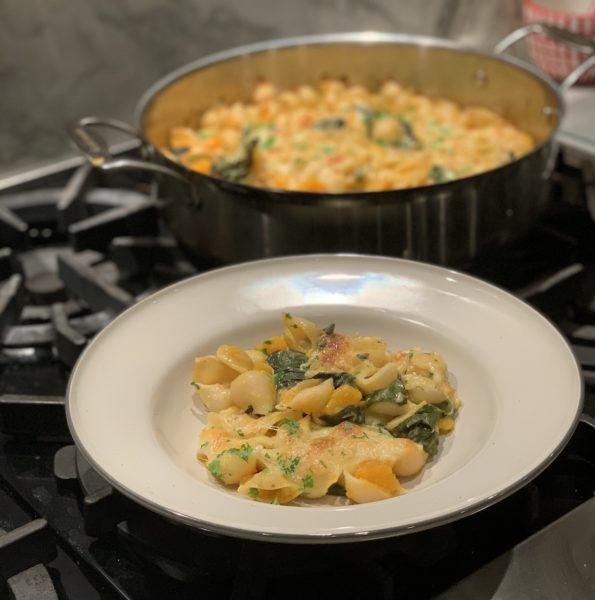 INGREDIENTS
olive oil, plus more for serving
1 medium butternut squash peeled, seeds removed and cut into 1/2-inch cubes *
500 grams penne or shell pasta and reserve 1 cup of pasta water
1 cup vegetable broth
red pepper flakes or Umami Bomb Shiitake Chili Oil, optional if you don't want it spicy
¾ cup grated Parmesan leaving some for topping
3 packed cups baby spinach** or Swiss chard, stems removed
fresh mozzarella, torn into chunks
Italian parsley with tender stems, chopped
Cook the pasta to about four-five minutes less than package directions. Use enough salt that the water tastes salty (that's generously) Cook pasta to time to be ready when the vegetables are done. Heat oven to 400 degrees.
Heat the olive oil in a large pan at medium high, add squash and salt to taste. Cook until squash just starts to soften then add the vegetable broth and cook until squash is just about ready. Mash about half the squash with a potato masher.
If using Swiss chard add it to the squash now and cook until wilted and tender. Add pasta, red pepper flakes or chili oil to taste and Parmesan. Stir to combine adding pasta water to make a creamy sauce.
Put all of the mixture in a casserole dish and top with Parmesan and chunks of fresh Mozzarella. Bake for about 15-20 minutes or until it starts to turn golden on top.
Serve in a pasta bowl and top with parsley.
*This recipe could also be made using sugar pumpkin in place of Butternut squash. **If using spinach wait until you have added the pasta, then cook only until it starts to wilt.(spinach takes much less time than Swiss chard or Kale)
Tasting notes courtesy of the winery. Images photo credit MyVanCity.ca. I received complimentary wine to facilitate this feature. Look for more Maverick wines in an upcoming #FavouriteThings Holiday Gift Suggestions 2021 feature. The #FavouriteThings features begin on November 1st.