"In this series, I'll share which B.C. wine pairs best with select recipes from the best chefs in B.C." 
Kicking off October with a timely apple recipe from Naramata Inn, perfect for the bounty of the apple harvest, as well as for upcoming Thanksgiving feasts.
Pastry Chef, Liz Stevenson, shares her Apple Oat Crumble. Make the recipe at home, or come visit Naramata Inn and try it straight from Pastry Chef Liz herself!
Okanagan Apple Oat Crumble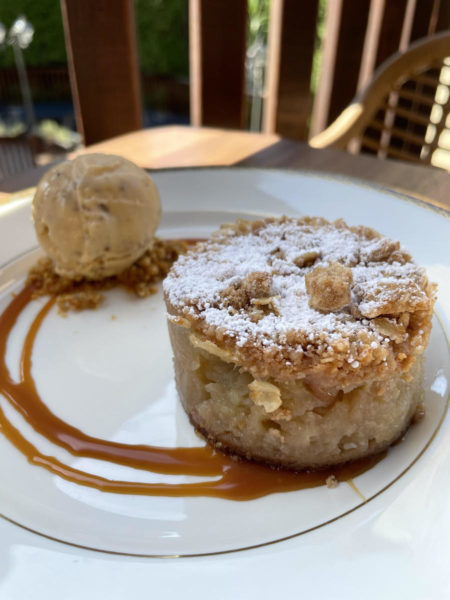 By Naramata Inn Pastry Chef Liz Stevenson
Serves 4-6
This recipe is easy and straightforward to make but does require some preparation in advance. For best results, make each component on separate days and keep in the fridge or freezer until needed. This dessert is ALL about apples – use in-season, local apples if you can – these have an acidity and starch that really make the compote sing, that you won't get at other times of the year. Avoid the typical 'eating apples' like pink lady or gala – these are typically too sweet and soft. If you can't find a good local apple, use granny smith.
A note on the topping – this is a very flexible recipe and can be successfully modified to suit many dietary requirements. Sub gluten-free flour in place of the flours, and 55ml apple juice or sauce in place of the egg, for an egg-free version. To make it fully vegan, use margarine in place of the butter along with the apple juice or apple sauce. Likewise with spice – use your favorites, although I recommend treading lightly in order to really allow the apples to shine through.
Components:
Apple compote
Crumble topping
Equipment needed:
Mixing bowls (various sizes), weighing scale, food processor or table top mixer (optional – this recipe can be made by hand), rubber spatula or wooden spoon, heavy-bottomed saucepan, baking tray, casserole dish
For the apple compote:
6-8 large apples, peeled, cored, and chopped into 1cm chunks (about 1kg)
100gm unsalted butter
100-200gm organic cane sugar (we will use this to taste)
Butter the base and sides of the casserole dish and set aside.
In a medium sized saucepan over medium-high heat, melt the butter until it starts to brown slightly. Add 1/3 of the apples, along with some of the sugar. Cook until soft. Repeat this process with another 1/3 and a sprinkling of sugar. Lower the heat. Finish with the remaining 1/3 of the apples. Adjust the sugar to taste and continue to cook until the last 1/3 has softened.
Turn out from the pan and into the casserole dish. Spread into an even layer and place in the fridge to chill. Alternatively, place the compote in an airtight container and chill until ready for use.
For the crumble topping:
250gm organic all-purpose
50gm spelt flour (can sub all-purpose, whole wheat, or rye)
65gm oats (not quick-cooking)
166gm unsalted butter
110gm light brown sugar (I like using brown sugar for this, but you can use any cane sugar)
5gm cinnamon
1 eggs
Method:
Mix the flours and butter: place the flours and softened butter together into the bowl of a tabletop mixer and rub together using a paddle attachment. Alternatively, pulse together using a food processor. If mixing by hand, place the flour and butter into a large bowl and rub together using your fingers. Continue to mix until you achieve a breadcrumb-like consistency, then add the sugar and continue to mix until well-combined.
Add the egg and blend until the mixture just starts to come. The mixture should be tacky, but slightly dry and crumbly. Spread onto a baking sheet and place in the refrigerator to set firm (about 30 mins). Once firm, crumble the mixture through your hands to break it up. Use it immediately, or store in an airtight container in the fridge or freezer. It keeps well for long periods – keep any extra for the next batch 😉
Assembly:
Sprinkle the crumble topping on top of the apple compote layer. Bake at 190C/370F, low fan, for 15-20 minutes (longer if you are using a conventional oven), until the crust is golden-brown and your kitchen smells like Grandma's house. Serve immediately with your favorite ice cream, crème fraiche, or yoghurt.
Naramata Inn Wine Director, Emily Walker, suggests pairing with a Riesling. She says let's go with one that is going to be sweeter than the dish – like
CedarCreek Platinum Reserve Riesling Icewine

Our 2017 Platinum Riesling Icewine was handpicked in the night on December 27, 2017 at a temperature of -10 C. We gently pressed the fruit over 36 hours, then fermented in large oak vessels.
Oak vessels added spice and complexity to the classic stone fruit and white flower aromas inherent in icewine. This luscious, full dessert wine showcases apricot marmalade, tangerine citrus, honey, and maple characters.
Pastry Chef Liz Stevenson joined the kitchen this summer, adding some serious bench strength to the Naramata Inn bread and desserts team. Chef Liz describes herself as a certified wine and chocolate nerd. An obsession with sweets paired with a passion for incredible ingredients, and an impressive resume of education and experience is great news for Inn guests.
Originally from New Brunswick, Liz cut her culinary teeth in Montreal after graduating with a Bachelor of Fine Arts from Halifax's NSCAD University. Liz spent the next 16 years abroad between London and Dubai in some of those city's best loved restaurants and bakeries, including the award-winning Rüya in Dubai and London's Mayfair, Caprice brands The Ivy, J Sheekey & Scott's, and Dominique Ansel Bakery in London.
Liz is deeply invested in policy issues and is an outspoken advocate for food system sustainability and gender equality. Completing graduate studies in food security, urban agriculture and international food governance, Liz was recognized as one of the most powerful women in F&B in the Middle East by Caterer magazine for her work in these areas.
To learn more about Naramata Inn, see other features on MyVanCity.ca here.
Recipe and suggested wine pairing courtesy of Naramata Inn. Winery notes and bottle shots courtesy of the winery.