"In this series I will be sharing my take on which BC Wine pairs well with some inspirational recipes"
This recipe is my take on how to make Stuffed Anaheim Peppers aka Chile Rellenos the easy way. I have made the more traditional stuffed Anaheim peppers in #ThisWineThatDish Roasted Chiles Rellenos with Black beans, see the recipe here. But being a bit of a lazy cook I think I have perfected an even better way to showcase the mild Anaheim pepper.
Suggested BC Wine pairing:
Border Vines 2019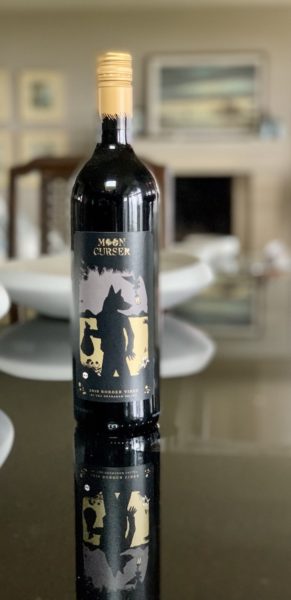 Osoyoos East Bench grown, Bordeaux inspired: a Cabernet Sauvignon focused blend with Cabernet Franc, Petit Verdot, Malbec and Carménère…no Merlot was harmed in the making of this wine.
The Grapes
Cabernet Sauvignon, Cabernet Franc, Malbec, Petit Verdot and Carménère are all red grape varieties that are known for being included in wines in the regions of Bordeaux, France. They are frequently blended together in varying amounts, depending on the characteristic of each grape, the terroir and the vintage, to form well-structured medium to full-bodied wines. As usual, Chris and Christian, our fab winemakers, followed their hearts and palates in selecting the Bordeaux varieties to include in the blend. The aim of this wine is to showcase the best of what the season had to offer, and stay true to producing a well-rounded, delicious blend for all to enjoy.
Tasting Notes
The 2019 Border Vines is a dry, medium to full-bodied red wine with a medium ruby colour, and is our go-to for a versatile red wine with good depth, complexity of flavours and structure. Notes of cherry, raspberry and tomato leaf leap out of the glass on the nose. On the palate, this wine is mouth-filling with fantastic weight and good acidity to balance. The nose is complemented with flavours of cassis, sour cherries, vanilla and oregano. Malbec shines through a little more this year, along with the distinct floral notes of Petit Verdot. Excellent length and concentration of flavours in this vintage make it approachable straightaway. This wine will also reward those with patience, as it will benefit from aging in the bottle over the next five to eight years.
I love the ripe fruity flavours of this deliciously rich red wine. There really are no limits to the pairing options. This recipe could be a challenge but not for the Border Vines, it was just right. Mingling on the palate with the mild and spicy dish. A lingering burst of  flavour in each sip.
With the limited quantities of the wines from Moon Curser I highly recommend you get on this one as quickly as possible. 
Unstuffed Anaheim Peppers aka Anaheim Pepper Casserole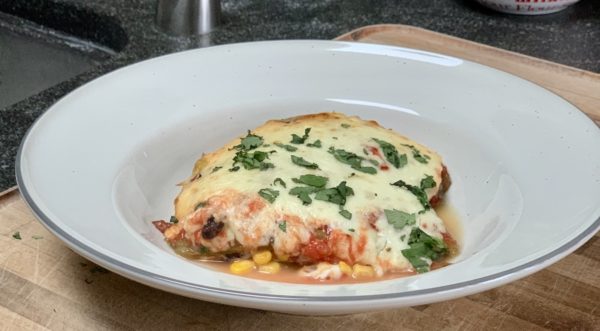 Ingredients
4 large Anaheim peppers
2 cups of grated Mozzarella cheese
2 cups of grated Monterey Jack cheese (or jalapeño jack)
1 can black beans, drained and rinsed
1 can of peaches and cream corn or two cobs of fresh corn
tomato sauce, strain if watery
salsa (mild, medium or hot to taste) strain if watery
cilantro
jalapeño peppers (optional)
rice (optional)
For serving:
salsa
sour cream
guacamole
chips
Method
First blacken the peppers on all sides. After some trial and error I find the BBQ the fastest and easiest way. Let cool and then peel, slice open on one side and remove the pith, seeds and stem.
Spread a thin layer of tomato sauce in the bottom of a casserole dish. Place the flattened Anaheim peppers in a single layer. Top with a mix of the two cheeses in an even layer, add corn, beans, salsa of your choice and more tomato sauce. If you like spice add some slices of jalapeños on top. Add another layer of the Anaheim peppers and cover with the rest of the cheese mix.
Bake for about 25 to 30 minutes at 350 until heated through and bubbly. Let the dish sit for a few minutes so it isn't too runny. Garnish with chopped cilantro and serve with salsa, sour cream, guacamole and chips.
If you don't want to waste the juices of the tomato sauce and salsa then I suggest adding uncooked rice between the layers of Anaheim peppers. The rice will cook and soak up all the tasty liquid.
Easy guacamole: mix together one ripe avocado, salsa and chopped cilantro
This is one easy but delicious recipe.
For a list of wine shops that carry Moon Curser wines, click here. Quantities are limited and subject to availability.
Wine notes courtesy of the winery. My notes in (bold italics). All opinions are my own. I received a complimentary bottle of wine to facilitate this feature. To see more #ThisWineThatDish recipes that feature a Moon Curser pairing, click here.