This is the time of year where we reflect on our good fortune and think of those around us who are less fortunate. In keeping with our BE NOBLE program, Noble Ridge supports 4 Noble Causes, in addition to several other organizations.
Currently, our 4 Noble Causes are:
West Coast Kids Foundation
Vaseux Lake Stewardship Association
South Skaha Housing Society
South Okanagan Women In Need Society (SOWINS)
Please visit our website to learn more and consider offering your support.
Noble Ridge will be donating all of our 2021 Tasting fees
to these 4 worthy organizations.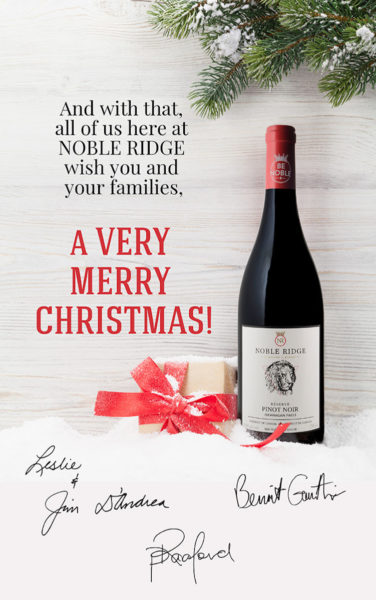 HOLIDAY WINE DELIVERY DEADLINE
Looking for that last-minute gift?
PLEASE NOTE:
Our deadline for ordering in time for the holidays this season is
Monday, DECEMBER 13th
Order online
or email our Director of Sales and Hospitality Preston Radford at
Preston@nullnobleridge.com
This project is supported by the BC Government's Buy BC Partnership Program; delivered by the investment Agriculture Foundation of BC with funding from the Government of British Columbia.
Noble Ridge Vineyard & Winery
2320 Oliver Ranch Rd, Okanagan Falls, BC V0H 1R2  Tel: 250.497.7945
http://www.nobleridge.com
Information and images courtesy of the winery.