Welcome to 2021!
A new year brings with it new hopes and aspirations and this year it is even more important to put the last year behind us and concentrate on new beginnings. Here at Noble Ridge, we have taken full advantage of the sunshine, blue skies, and fair weather to start preparing our vines for a new season. Winter pruning has begun in earnest, with Benoit, Ben, Jeff, Kaye, Jacob, Madison, and Jim busy at work.
Other activities have included wrapping up 2020, a 2-day Zoom Strategic Planning session, planning for the Tasting Room 2021 activities, and bottling our 2019 Noble Meritage.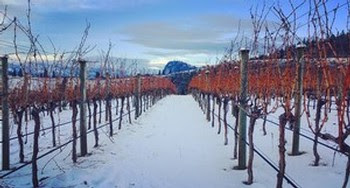 Bright sunshine and mild temperatures have accompanied our vineyard team as they begin our annual pruning of the vines. Pruning involves removing all the shoots and canes from last year, leaving the spurs. The pruned canes and shoots are then "ripped" from the wires and gathered in the middle of the rows to be mulched at a later date. The buds will go through various stages this spring ultimately producing the leaves, annual shoots, and of course our precious grapes. Pruning is done by hand with electric pruners and usually takes our team several weeks to prune our 55,000 vines.
Benoit and the team have also been busy in the winery. At this time of year, there is a lot of monitoring, topping up, racking, and transferring of wine.  In addition, we bottled our 2019 Noble Meritage, with hopes of releasing it later this spring. Mmmm did it ever smell lovely on the bottling line! Stay tuned …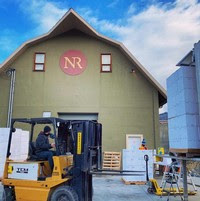 Thinking about celebrating love this February? Let us recommend toasting your favourite with our 2016 Sparkling THE ONE.
Here's to you – you're The One!
FEATURING:

Sparkling | 2016 The One Vintage Brut Sparkling
Methode Traditionelle – En Tirage – 41 Months
The 2016 vintage is showing elegant aromas of fresh Granny Smith Apple and refreshing grapefruit notes. These are complemented by hints of fresh biscuit and caramelized stone fruit.
Pairs beautifully with freshly shucked oysters, Fried Chicken, Good Friends (Zoom anyone?), and toasting to an amazing 2021.

Reserve Series | 2019 Reserve Pinot Grigio
TOP 10 – CANADIAN NATIONALS
92 Points!
"This wine is serious and not the light & fruity version typically found in Northern Italy. . . The fruit is exuberant, the acidity is juicy and refreshing, the power and elegance with full body weight and an impressively long finish make this a standout!"
Katherine McEachnie, IWSC Judge (International Wine and Spirits Competition, London, UK)
– Jim and Preston's CELLAR NOTES –
Recently Jim and Preston sat down to taste through some back vintages of our Reserve Pinot Noir.
2010 Reserve Pinot Noir
This vintage has aged perfectly and is showing a wonderful balance of dark fruit and velvety tannin structure. On the nose, there are notes of dark cherry, dried flowers, and warm leather with undertones of freshly tilled earth. On the palate, these notes are followed through with hints of raspberry and bits of sage and tarragon. The lingering finish is refined and harmonious. Enjoy now.
2011 Reserve Pinot Noir
The 2011 vintage is showing a complex yet balanced nose of bright berries, dusty earth tones, and hints of floral notes (think subtle violet and hibiscus). These are mirrored on the palate that includes some bright mountain blueberry and hints of spice. Combining a juicy acidity and silky tannins that lead to a big prolonged finish. Enjoy now + 12 months.
2013 Reserve Pinot Noir
The 2013 vintage has developed ripe juicy strawberry and dark cherry notes with undertones of wet stone and hints of white pepper and summer dry hay. On the palate, there are lush and rich tones of raspberry and cherry with a rich mid-palate of spice and hints of anise. The finish features soft tannin oak notes leading to a long lingering finish. Enjoy now + 12 months.
Available on a first come first serve basis there are 20 packages of these vintages available
They include 1 bottle of each of 2010, 2011, and 2013 vintages
$199.99 per package.

– Round Table Members –
We are getting ready for the 2021 Round Table Wine Club shipments. Watch your email for notifications as to keeping your contact/shipping information up-to-date, making changes/additions to your order, etc.
See here for more information or email Preston@nullnobleridge.com.
Not yet a Member of The Noble Round Table? 
There are a few spots available before we have to cap it again. As part of the Round Table, you will have privileged access to the greatest selection of Noble Ridge wines including King's Ransom and Noble Knights and Dames Vintage Series plus much more!
As we continue to navigate the Covid-19 situation, we are offering complimentary shipping for all orders of 12 bottles or more; Round Table Members receive complimentary shipping of 6 bottles or more.
*No promo needed as it will be applied automatically at checkout.
*Shipping to major centres – Rural locations may incur additional shipping costs. Please contact us for details.

– In the TASTING ROOM –
2021 HOURS:    Open 11 am – 4 pm
SALES only: Tuesday – Saturday
As health orders allow, we hope to start TASTINGS again on the
February Family Day Weekend. 
TASTINGS: Friday – Saturday, 11 am – 4 pm
By Reservation, the last booking at 3 pm.
Reservations are recommended, as there is limited space inside. Please make your reservations at www.nobleridge.com. Regular tastings are available on the hour; Premium tastings are available by reservation at 11:00 am 1:00 pm and 3:00 pm daily.
If you are in the Okanagan Falls area, drop by and enjoy some premium wines
– safely – with us.
Stay tuned to our website and email for notification.

Currently, Noble Ridge events have been put on hold. We eagerly look forward to when we are given the all-clear to once again hold events together with you, your families, and your friends.
Having said that, we are still busy planning for a wonderful season. Make sure that you are subscribed to our newsletter to hear when our events will happen. Note that our Round Table Wine Club members will hear first and have an early opportunity to buy event tickets.
– VINE DINING 2021 DATES –
Fri., July 23                  Fri., Aug. 13             Sat., Sept.18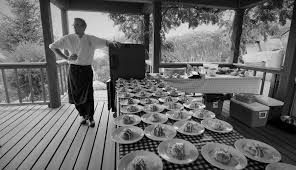 We are very excited to announce that Chef Chris Van Hooeydonk will once again be working his magic and creating the meal for all 3 Signature VINE DINING events this year. In-house Sommelier, Preston Radford will be pairing Noble Ridge wines, in conjunction with Chef Chris and Winemaker Benoit Gauthier.
Tickets will go on sale in early February 2021.
Watch our website.
Information and images provided by the winery.