It's Valentine's Day; you've cued up your favourite Rom-Com, have your best friend, partner, or just you ready (and possibly the tissues); but wait!
What wine should you pair with your movie?!!
Don't worry, we've got you covered.
Here at Mayhem, we take our fun seriously, and after some not-so-exhaustive research, we've cracked the romantic movie/wine-pairing code.
Firstly, we asked around the winery what people's all time go-to romantic movie was. The results showed that there are 3 distinct styles that people choose:
1.Red Hot-Blooded, like Ken's Moonstruck, Ajay's Crazy, Stupid Love, Patrice's Dirty Dancing, Terry's Princess Bride and Ange's Pretty Woman
2.Musical, like Janet's Mama Mia and Zola's Moulin Rouge
3. Quirky, like Sholeh's Along came Polly, Jan's You've Got Mail, Julia's Serendipity, Janice's Leap Year, Jak & Andrew can have a bro-mance date watching their favourite, Love Actually, Heather's Some Kind of Wonderful, and Natalie's Bridget Jones' Diary. This was by far the largest category (what does this say about us in the wine Industry?!), and while there may be some speculation on Chris' favourite (he's the strong silent type), we did identify a wine that will go with each category. Are you on the edge of your seat? Keep reading…
Our next on-line event is February 8
For those who like Quirky, your match is 2020 Riesling
Like your favourite quirky romantic movie, Riesling is a wine that has personality plus, layers of depth, and leaves you wondering what just hit you! Riesling is an iconoclastic individual's wine.
Click on the bottle or here to order some in time for the movie to start.
If you like your romance movies Red Hot-Blooded your wine match is 2019 Cabernet Merlot

If you're up for a fiesty red-head, this is the wine for you. It gives you attitude, but not until you're entirely smitten.
Click on the bottle or here to order, before the door slams shut or the dishes start flying. Nobody puts this baby in a corner.
If your romance jam is a good Musical, this 2019 Fortified Gewurztraminer will sing on your palate, and well, because it's THAT DAY, it will go really great with that box of chocolates you just got.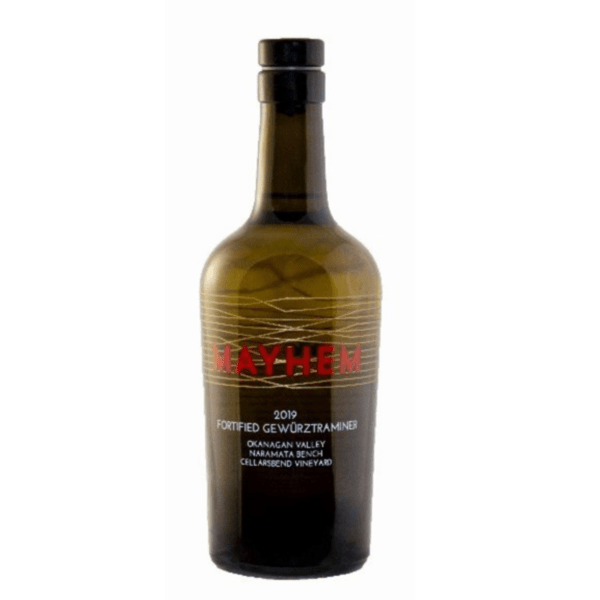 Just don't drink the whole bottle, or you might follow along with a dance number from the top of your coffee table. Click on the bottle for more info or to order.
What's your favourite romantic movie of all time? If you need a recommendation of some wine for a special occasion, or just to stock up for everyday, you can always send an e-mail to Terry or Zola 
.
Thanks for making Mayhem part of your celebration
And a thanks to all the hard-working staff at Mayhem and Meyer Family Vineyards for taking time to share their secret favourite romantic movie with us.
Information and images courtesy of the winery.