Nova Scotian wine is enjoyed by Canadian and international consumers so much that it has grown to a $218 million industry! 
Take notice Ontario and British Columbia, there's a mighty wine industry bubbling up on the east coast. Many Canadians and wine connoisseurs around the world are big fans of Nova Scotian wines. Winemaking in Nova Scotia has enjoyed a rich 410-year-old history, and in the last decade, the industry has exploded to 19 wineries producing just under 1.9 million litres of wine per year and bringing an economic impact of more than $218 million. While local wineries have grown accustomed to fluctuating weather in the Maritimes, wine grape growers have been affected by several unexpected and damaging cold-weather events in the last few years. Now, the industry's biggest "fan" could also turn out to be a saviour for vineyards battling climate change.
In 2016, the Kentville Research and Development Centre (KRDC) planted a vineyard – a project largely spurred by a growing public interest in locally produced wines. The vineyard, which is the site of several research trials aimed at better understanding how to grow the best wine grapes in Nova Scotia, began as a visual spectacle that drew the attention of many. While the field initially seemed to promise success, its buds and leaves fell victim to a timeless enemy: cold temperatures.
The cold devastated the vineyard in two separate events, killing most crops and thwarting research efforts. Fortunately, scientists at the Centre are working on a solution, and the recent purchase of a portable frost fan has the potential to both combat cold temperatures and extend the growing season of Nova Scotian vineyards.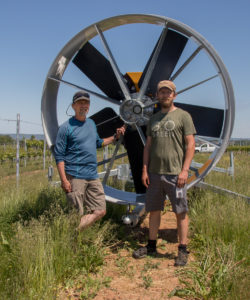 Hard at work on the task is Agriculture and Agri-Food Canada (AAFC) plant physiologist Dr. Harrison Wright, and longtime AAFC research technician, Jeff Franklin. The two initially set out to monitor winter resiliency of various wine grape plants when the severity of the frost damage brought them to the forefront of the issue. They are currently researching how this frost fan technology can be best used to protect Nova Scotian vineyards.
"We were happy to see the stems rapidly growing into what was going to be our first real crop, then the June 2018 frost hit. More than 95 per cent of the primary grape buds were killed. If we had been a commercial grower, we would have had no income that year. Then, in February 2020, low temperatures wiped out the crop on all of our vinifera grape vines for the second time in three years; our hardier hybrid grapes had a good crop. This was the last straw, and I knew we had to do something if we were going to continue to try and conduct grape research at the Kentville Centre," says Dr. Wright.
The frost fan provides a potential solution to a certain kind of frost – radiation frost. Radiation frost typically occurs when the air near the ground is much cooler than the air directly above. This phenomenon, known as a "temperature inversion event," is detectable by on-site temperature reading technology scientists use at KRDC. When these events are detected, the frost fan will react by pulling the warm air downwards and distributing it throughout the vineyard.
Scientists at KRDC are currently working to determine how frequently radiation frost is happening in the Maritimes. So far, one year of data collected at the Centre revealed that more than 90 per cent of the frost events were caused by radiation frost, but it will likely require a few years of further study before the scientists are able to see trends and better predict when it will happen. Dr. Wright believes that the results at the Kentville research vineyard will be helpful to many grape growers and wine producers across the province.
"I think we will be able to answer this question rather quickly. The temperature readings from the Kentville Research and Development Centre vineyard should be similar to most grape-growing regions in Nova Scotia," says Dr. Wright.
The benefits of the frost fan could go beyond saving the grapes and getting research back on track, it may also improve the chances of making discoveries related to bud survival by extending the growing season. The leaves of grapevines in Nova Scotia rarely deteriorate with age and drop naturally, but are more often frozen off.
"Vines lose their ability to ripen their fruit after a major frost. So we need all the frost-free days we can get in the fall to both ripen our grapes and for the plants to retain its leaves longer to stay healthy and get ready for winter. This new fan can be used to extend that season and our opportunity to make new scientific discoveries." – Dr. Harrison Wright, Research Scientist, Agriculture and Agri-Food Canada
Dr. Wright explains that Nova Scotia gets by with a shorter growing season than other major grape-growing regions in Canada, such as BC, Ontario and even Quebec. As the Nova Scotian wine grape industry continues to grow and expand, the benefits of frost protection and an extended growing season may lead to frost fans finding a place in vineyards across Nova Scotia.
Key Discoveries:
Researchers are using temperature-reading technologies to determine what percentage of frost damage affecting Nova Scotian vineyards is a result of radiation frost – when the air near the ground is much cooler than the air directly above.
A recently purchased portable frost fan may provide a potential solution to the frosting issue affecting Nova Scotian vineyards by redistributing warm air.
The newly purchased frost fan may be also used to extend the growing season for Nova Scotia vineyards.
Published with permission of Brett van Heyningen, Agriculture and Agri-Food Canada / Government of Canada