"In this series I will be sharing my take on which BC Wine pairs well with some inspirational recipes"
There is nothing better than a one pot dish and this take on Spanakopita turned out so good I can't wait to make it again, next time for company, it was that good! With a few modifications (making steps easier) this recipe was relatively simple but does require some attention to the pastry.
Served either warm or at room temperature, it even makes a great leftover for next day lunch. The wine pairing is what ups the ante on this yummy dish.
Suggested BC Wine pairing:
2019 Pinot Noir Stag's Hollow Vineyard

Wine Profile
Tasting Notes
Slightly fuller and more structured than our Shuttleworth Creek Vineyard Pinot Noir, our Estate grown fruit benefits from a warmer, west-facing aspect, which allows for a riper and richer fruit-forward profile. The nose is dominated by notes of black cherry, plum and warm spice. It also shows complex notes of dried flowers, anise and cola. The palate is balanced by an elegant backbone of acidity that brings a litheness to this structured Pinot.
Vineyard Notes
Stag's Hollow Estate Vineyard – Okanagan Falls (Gravels & sandy loam)
Production Notes
The grapes were 100% destemmed, without crushing, leaving as much whole berry fruit as possible. After a 48 hour cold soak, the must was warmed and inoculated with selected yeasts. Hand punch-downs started at 3 times daily and tapered off to once a day as tannins progressed. Free run juice was drained off and the skins were pressed off as soon as the primary ferment was completed. All lots were racked into 300L French oak barrels (16% new, remainder 2nd fill & 3rd fill), where each lot rested, untouched, for 12 months, before being blended, stabilized and bottled.
Winemaker Notes
Our Stag's Hollow Estate Vineyard is home to the oldest of our Pinot Noir plantings. Now almost 27 years old, these well-established vines are among our most reliably-ripening, and intensely-structured. This particular blend is a co-ferment of the two Dijon clones planted to this block (115 & 667).
Food Pairing Notes
Classic: roast chicken, rack of lamb, beef wellington, roast pork with fennel, mushroom dishes (mushroom risotto), roast or grilled lobster, venison, cassoulet, turkey dinner, beef tenderloin Adventurous: blue cheese (the stinkier, the better), enchiladas, Chinese dishes, salmon, rich milk chocolate
Other Notes
240 cases
For this dish I spent some time choosing the wine pairing, and no wonder, try Googling Spanakopita and the suggestions run from Sauvignon Blanc to a Beaujlais. I think I found the perfect balance with the Stag's Hollow Pinot Noir.
A wine with beautiful clarity that is lighter in colour. Scents of nougat, cranberries, stewed plums and red apples. Followed by slight aromas of stone fruit such as peaches and apricots.
Rich, smooth tastes of juicy ripe fruit, medium/light tannins with a lingering mouth feel. Very pleasant and an excellent pairing with the dish. Good balance with an impressive freshness and satisfying clean finish.
Skillet Spanakopita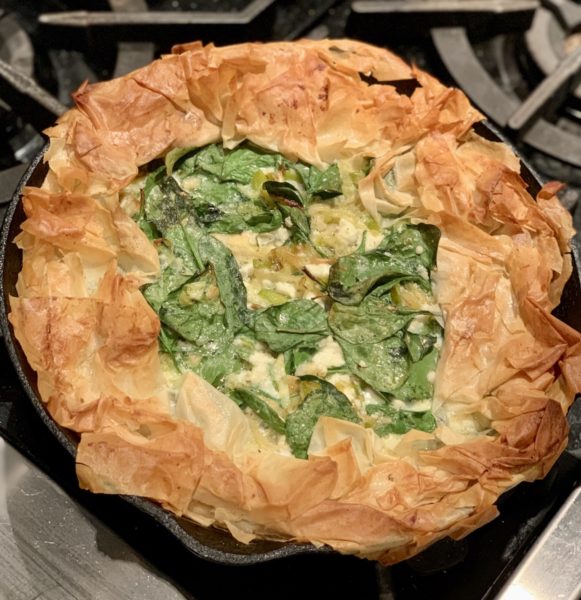 8 tablespoons unsalted butter
2 medium leeks white and light green parts only, thinly sliced
2bgarlic cloves, chopped
salt and black pepper
2 cups fresh baby spinach
1/2 cup chopped fresh parsley leaves
1/4 cup chopped fresh dill
1/2 cup freshly grated Parmesan
2 teaspoons lemon zest, plus 2 teaspoons juice
Pinch of ground nutmeg
4 large eggs, beaten
1 cup crumbled Feta cheese
8 to 10 sheets phyllo dough
Using a cast iron skillet cook the leeks and garlic until slightly golden, season with salt and pepper. Set aside (this step can also be done a day ahead)
Melt the unsalted butter and spread on the phyllo one sheet at a time and immediately transfer to the skillet. Press down as you go to avoid air pockets under the phyllo sheets. Continue until you have covered the skillet with overlapping sheets of phyllo.
Beat the eggs, add the lemon zest, lemon juice and nutmeg and pour into the skillet. Add the spinach on top (so it gets nice and crispy), fold the phyllo over leaving a large opening in the middle, brush the phyllo and spinach with melted butter.
Bake at 350 degrees for 20 – 25 minutes, or until a toothpick comes out clean. Let sit for 5 or 10 minutes and serve warm, or can be served at room temperature.
Wine notes courtesy of the winery. My notes (in bold italics). This wine was provided complimentary to facilitate a feature for #FavouriteThings Holiday Gift Suggestions which you can read here.