The Ritz-Carlton, Toronto Presents Afternoon Tea at EPOCH Bar & Kitchen Terrace
The highly-lauded gastrobar pays homage to its British roots
The Ritz-Carlton, Toronto is delighted to announce the introduction of traditional Afternoon Tea at its UK-inspired dining destination, EPOCH Bar & Kitchen Terrace. The quintessentially British offering will commence on March 2, 2022, and be available Wednesday to Sunday from 2:00 p.m. – 4:00 p.m.
The menu, curated by Specialty Restaurant Chef Jeff Crump, features a selection of sweet and savoury indulgences inspired by iconic tea pairings from across the pond.
Guests can expect warm, home-made scones accompanied by lemon curd, strawberry and rose petal jams as well as decadent lemon cake, apple tart and chocolate fondant. Savoury options include traditional English finger sandwiches like smoked salmon and crème fraiche, cucumber and herbs and chopped eggs and dill, all served on fresh homemade bread.
"Afternoon Tea has been an esteemed British tradition for over two centuries", says Guillaume Benezech, General Manager, The Ritz-Carlton, Toronto, "The Ritz-Carlton properties around the world share the same penchant for creating the perfect tea experience. We are excited to welcome guests to create lasting memories with EPOCH Bar & Kitchen Terrace's new offering".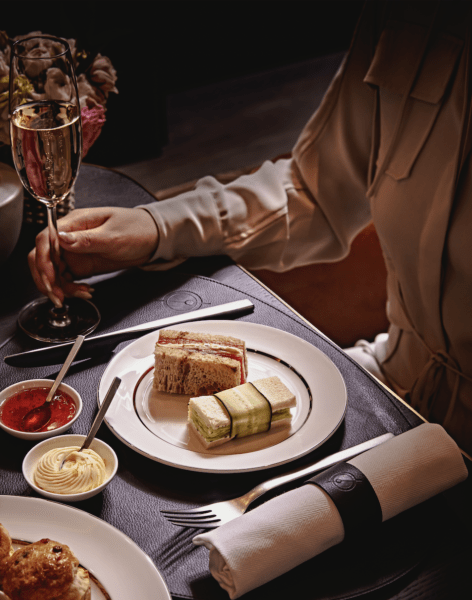 The thoughtfully curated loose leaf tea collection features complex and fragrant varieties with elegant flavours, soothing qualities, and healing benefits. Guests can select from a range of white, green, black and herbal infused options including; Organic Emperor's Jasmine, Peach Flowering Tea, Organic English Breakfast, Lapsang Souchong and more.
EPOCH Bar & Kitchen Terrace's Afternoon Tea is available at $60 per guest. For an additional $18, raise a toast to tradition with a glass of sparkling wine (Cuvee Catharine, Brut, Henry of Pelham, Niagara, Ontario). Reservations can be made through OpenTable or by contacting guest services at (416) 585-2500.
For more information on EPOCH Bar & Kitchen Terrace please visit www.epochtoronto.com.
Opening Hours:
Wednesday to Sunday: 2:00 p.m. to 11:00 p.m.
Telephone: 416.585.2500
Website: www.epochtoronto.com
Location: 181 Wellington Street W., Toronto, ON, M5V 3G7
Facebook: EPOCH Toronto
Instagram: @epochtoronto
About EPOCH Bar & Kitchen Terrace
EPOCH Bar & Kitchen Terrace is a reimagined British Gastropub located on the lobby level of The Ritz-Carlton, Toronto, opening Wednesday, September 1st, 2021. The concept offers a confluence of casual yet imaginative food and cocktails, in an understatedly elegant setting with a warm, inviting atmosphere. Restaurant Chef, Jeff Crump's menu is a culinary homage to his farm-to-table philosophy; ingredients are thoughtfully-sourced and seasonally inspired. Jason William Griffin, Bar Manager, brings his prolific knowledge and vast industry experience to the creative cocktail menu.
About The Ritz-Carlton, Toronto
In downtown Toronto, a hotel that embodies luxury with five-star amenities, attentive service and access to top attractions. The Ritz-Carlton, Toronto embraces the cosmopolitan edge of the city alongside its luxury heritage to offer an elegant escape in the heart of downtown. Here, guests can explore different cuisines, be pampered at Spa My Blend by Clarins and enjoy locally inspired experiences in The Ritz-Carlton Club Lounge. Toronto's biggest attractions, shopping, restaurants, nightlife and an array of diverse neighbourhoods, await just outside.
Media release and images provided by BPR.