Food Network Canada's #1 series last spring*, Top Chef Canada, returns with the nation's best and brightest professional chefs as they prepare to enter the toughest culinary competition in the country starting Monday, April 1 at 10 p.m. ET/PT. Representing the coming of age in the Canadian culinary scene, 11 chefs enter the competition and are introduced to a brand-new twist that sees three talented chef contenders compete against each other in order to earn the coveted 12thspot in the competition.
Prepared to impress the judges, each chef must spark the taste buds of Top Chef Canada's expert panel of judges comprised of chef, restaurant co-owner and host, Eden Grinshpan, owner of The McEwan Group, head judge chef Mark McEwan and resident judges: powerhouse restaurateur Janet Zuccarini, writer and international food personality Mijune Pak and renowned food journalist and critic Chris Nuttall-Smith. This season the chefs will compete for the prestigious title of Canada's Top Chef and the grand prize of $100,000 provided by Interac Corp., a design-inspired Café kitchen, a culinary tour of Italy for two from Air Transat and $5,000 worth of Cuisinart® products.
Following a nation-wide search, this season's competitors represent Canada's culinary scene from coast to coast and beyond including Dartmouth, N.S., Quebec City, Que., Tofino, B.C., Toronto, Ont., Vancouver, B.C., and more. The 11 competitors confirmed to compete for the title of Canada's Top Chef are: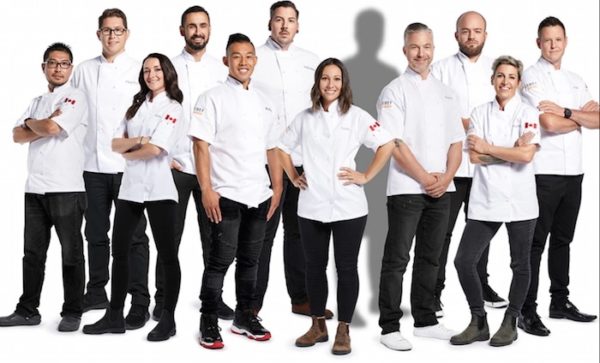 In a never-seen-before twist, the three talented chef contenders set to compete for the final spot in the competition are:
This season's Quickfire and Elimination Challenges will test the chefs' culinary chops and demonstrate their creativity. Each week their dishes will be served to the esteemed Top Chef Canada judging panel, who will be joined by culinary masters and noted food lovers as guest judges. Some of the celebrated culinary personalities from Canada and abroad include Emma Bengtsson (Executive Chef, Aquavit, New York City, N.Y.), Richard Blais (Top Chef: All Stars winner, Owner Juniper & Ivy, San Diego, Calif.), Craig Harding (Chef and Owner, Campagnolo, La Palma and Constantine, Toronto, Ont.), James Beard award- winning restaurant critic Adam Platt, Rob Rossi (Top Chef Canada, Season 1, Chef and Owner, Giulietta,Toronto, Ont.), Marcus Samuelsson (Owner, Red Rooster, Harlem, N.Y.), and Michael Solomonov (Owner, Zahav, Philadelphia, Pa).
On foodnetwork.ca, viewers can get a sneak peek of this season's most exhilarating locations, learn about the judges' best ever bites from the series and get to know some of host Eden Grinshpan's most uniquely lovable "Eden-isms." Plus, learn more about the competitors and get their restaurant recommendations from across the country. Week-to-week, recaps will be available online highlighting the best and most shocking moments from the season. Fans can also watch full episodes online after broadcast at foodnetwork.ca/topchefcanada and On Demand with participating providers.
Food Network Canada is available on a National Free Preview from March 1 to April 30. Please check local listings for additional details.
Top Chef Canada is the homegrown version of the hit Emmy Award-winning NBCUniversal Series Top Chef and is produced by Insight Productions Ltd. in association with Food Network Canada. Executive Producers are John Brunton and Mark Lysakowski, and Co-Executive Producer and Showrunner is Eric Abboud.
*Source: Numeris PPM Data. SP18 (Jan 1/18 – May 27/18) – confirmed data, 3+ airings. Total Canada/AMA(000), Mo-Su 2a-2a. A25-54, Food Network.
SOCIAL MEDIA LINKS:
Follow Corus PR on Twitter @CorusPR
Follow Food Network Canada on Twitter @FoodNetworkCA, Facebook Food Network Canada and Instagram @FoodNetworkCa and discuss using #TopChefCanada
Food Network Canada is a Corus Entertainment Network.
About Corus Entertainment Inc.
Corus Entertainment Inc. (TSX: CJR.B) is a leading media and content company that creates and delivers high quality brands and content across platforms for audiences around the world. The company's portfolio of multimedia offerings encompasses 44 specialty television services, 39 radio stations, 15 conventional television stations, a global content business, digital assets, live events, children's book publishing, animation software, technology and media services. Corus' roster of premium brands includes Global Television, W Network, OWN: Oprah Winfrey Network Canada, HGTV Canada, Food Network Canada, HISTORY®, Showcase, National Geographic Channel, Q107, CKNW, Fresh Radio, Disney Channel Canada, YTV and Nickelodeon Canada. Visit Corus at www.corusent.com.
About Insight Productions Ltd.
Insight Productions, known for its award-winning ratings juggernauts, is Canada's most established content producer and an industry leader in the development, financing, and production of hit programming, both scripted and unscripted, as well as digital content.  With thousands of hours of programming under its belt, the company has created some of the most dynamic and top-rated programs in the world including Top Chef Canada (for which John Brunton and Mark Lysakowski serve as Executive Producers and Eric Abboud serves as the Co-Executive Producer and Showrunner), The Amazing Race Canada – the most watched Canadian show on record, ratings hit Big Brother Canada, Canada's national music award show – The JUNO Awards 2019, Intervention and original formats including The Launch and Battle of the Blades.  Insight's scripted programming includes award-winning Ready Or Not, Falcon Beach, Hatching, Matching & Dispatching, A Christmas Fury, But I'm Chris Jericho! and The Jon Dore Television Show.  In 2017, Insight produced The Tragically Hip: A National Celebration, a live concert special watched by one in three Canadians.  Insight Productions was founded in 1979 and has since created thousands of hours of groundbreaking content.  For more information on Insight Productions, please visit www.insighttv.com, or on Twitter – @insightprod, or Facebook www.facebook.com/InsightProductions.
Media release and images provided by Emily Crane, Corus Entertainment Inc.
[wdi_feed id="2″]