Infusions Restaurant at Okanagan College will once again be a can't miss stop for anyone looking to sip, savour and save as part of Dine Around Thompson Okanagan this month.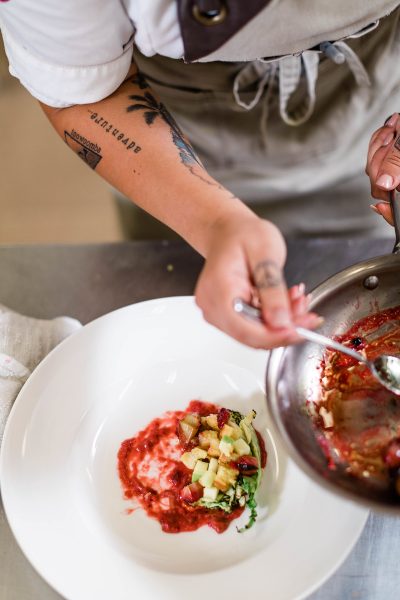 OC Chefs-in-training and chef instructors have designed a menu that not only showcases Okanagan ingredients but also incorporates aspects of traditional Syilx-Okanagan culinary knowledge and practices.
"This year we've added a selection of Indigenous fare, along with other daily features, to provide a culinary experience that is truly unique to the region," explains Culinary instructor Chef Brian Alexander.
"Dine Around is a fantastic learning and teaching opportunity as it gives students a chance to get creative and expand their knowledge. In this case, one of the ways they will be doing that is delving into Indigenous knowledge, practices and ingredients."
Diners can select from a two-course menu for $25 or a three-course menu for $35. This year's menu features a number of vegan (VG) and gluten-free (GF) options as well as suggested local VQA wine pairings.
Appetizers include a choice of garden beet salad with goat cheese, winter spiced squash soup (VG) and smoked salmon bruschetta. Main course features include braised short rib (GF), hunter chicken, cedar plank wild salmon and quinoa napoleon stack (VG) for their main course, with the choice of a flourless chocolate cake or coconut posset (VG) for dessert.
Infusions is open for dinner Tuesday-Friday from 5:30 – 8 p.m. The feature menu will be offered from Jan. 15-31.
Reservations are recommended. Visit okanagan.bc.ca/infusions to check out the menu or make a reservation through the OpenTable feature on the site.
Also new for this year, Infusions diners will have a unique chance to meet the chefs as OC Culinary students will play a role in serving the meal during Dine Around.
"Students are very hands on with every aspect of Dine Around this year, from the creation of the menu to serving the food and interacting with guests," explains Alexander.
"It's a great opportunity for them to see how their creativity needs to really shine during a month like January, which is always a challenging one for the restaurant industry as a whole. Events like Dine Around provide a way for chefs to challenge themselves to try something new and find ways to draw people in, and that's a very important and practical lesson for a new chef."
Dine Around Thompson Okanagan will officially kick off with a Launch Party at Okanagan College on Tuesday, January 14 (that event has now sold out). More information about Dine Around and participating restaurants is available at dinearound.ca.
Earlier this year, Okanagan College launched its first ever Indigenous knowledge-infused Culinary Arts intake, engaging Indigenous chefs from across the region, alumni and elders.
Those looking to launch a career as a professional cook can learn more about the Culinary Arts program at Okanagan College at an upcoming info session.
From 5-7 p.m., on Wednesday, Jan. 15 future chefs can tour OC's Culinary Arts facilities and chat with instructors at the Kelowna campus at 1000 KLO Rd. More information is available at okanagan.bc.ca/fwt.
Media release and image provided by Tyler Finley, Okanagan College, feature image courtesy of Dine Around.
[wdi_feed id="2″]