Provence's Dine Out Menu
Offers Tempting Array of Choices
Provence Marinaside Chefs Jean-Francis Quaglia and Sheldon Maloff are shining the spot light on some of their favourite flavours in Provence's special three-course menu for Tourism Vancouver's Dine Out Vancouver Festival 2020 (DOVF). Dine Out, which turns 18 this year, is Canada largest food and drink festival. "We've been participants since the beginning," says Provence Owner & Executive Chef Jean-Francis and we wanted to honour that history by including some of the restaurant's classic signature dishes as well as some new ones inspired by BC's wonderful seasonal ingredients."
Provence's three-course DOVF Menu is great value at only $45 with an optional all-British Columbia wine pairing for each course created by Wine Director Joshua Carlson. The wine pairing comes in two sizes – regular for $25 and petit pour for $15. Wines are also available individually if you do not wish to indulge in all of them.  Provence Marinaside's Dine Out Menu will be available at both lunch and dinner.
For the first course, diners have a choice of three starters – Provence's signature Herbs de Provence-Crusted Goat Cheese Salad – beurre blanc, balsamic reduction, mixed greens (Montagu Cellars Rosé 2018, Okanagan Valley) or a chill-chasing Winter Squash Soup with Truffle Chantilly (Laughing Stock Vineyards Pinot Gris 2018, Naramata) or Smoked Fish Cake with sautéed kale and cilantro yogurt (Clos du Soleil Artisan Winery and Estate Vineyard Pinot Blanc 2017, Similkameen Valley).
There are five choices for Main Course. The DOVF Menu features three signature seafood dishes – Provence's very popular West Coast style Bouillabaisse – packed with prawns, scallops, mussels, clams, fish, fingerling potatoes, gruyère and rouille (La Stella 'Lastellina' Rosato 2018, Osoyoos); Pan-Seared Lois Lake Steelhead Trout with roasted cauliflower, sautéed baby spinach, butternut squash and espelette purée (Upper Bench Winery & Creamery Chardonnay 2018, Penticton) and Wild Mushroom Ravioli with Grilled Prawns dressed in white wine butter sauce with, garlic, fresh tomato, and herbs (Meyer Family Vineyards Pinot Noir 2016, Okanagan Falls).
If you are not a fish or seafood lover, don't despair, Provence's DOVF Menu also has two mains that will appeal to every carnivore – a new main course Brown Butter-Basted Veal Cutlet that comes with spaghetti squash, zucchini 'spaghetti,' herbed fingerling potatoes, wild mushroom pan jus (Le Vieux Pin Petit Rouge [Syrah/Merlot/Cabernet Sauvignon] 2017, Oliver) and AAA Canadian Beef Filet with roasted shiitake mushrooms, marinated tomatoes, smoked mashed potato, red wine peppercorn jus (Fairview Cellars 'Baby Bear' Meritage 2015, Golden Mile). The Beef Filet is an additional $8.
Dinner ends with a staggering choice of eight different desserts. Of course, Provence's signature Lemon Tarte (Pentâge Winery Roussanne Icewine 2016, Okanagan Valley) is one of the choices, along with traditional French Berry and White Chocolate Clafoutis (Quails' Gate Botrytis Affected Optima 2014, Kelowna) as well as patron-favourite Vanilla Bean-Scented Crème Caramel (Venturi Schultze Brandenburg N° 3 2011, Cowichan Valley). For chocolate lovers there is a luscious Chocolate Mousse Cake (Black Sage 'The Pipe' 2010, Okanagan Valley). If you prefer something lighter, choose from a refreshing Trio of Sorbets (Sea Star Prose 2016, Pender Island) or the Daily Biscotti (Kettle Valley Caboose Solera, Naramata) Those who prefer to end their meals on a savoury note will want to order the BC Artisanal Cheese Plate (Inniskillin Vidal Icewine 2013, Okanagan Valley). There is also a Chef's Dessert du Jour.
Dine Out Festival Vancouver runs this year from January 17 through February 2. It is always an extremely busy time, and reservations are a must – either online or by calling 604.681.4144.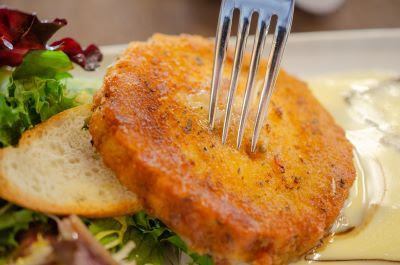 Media release and images provided by Nancy Wong, Culinary Communications. Photo credit: Emrys Horton.
[wdi_feed id="2″]