Macaron Day 2022 for Ukraine relief:
Faubourg x Chez Christophe
This year, Faubourg and Chez Christophe are teaming up on National Macaron Day to raise funds to support those affected by the conflict in Ukraine by offering a special Ukrainian macaron in celebration of the annual charitable event.
Customized in the distinct blue and yellow colours of the Ukrainian flag, Faubourg's Honey and Sour Cream macaron will be available for purchase individually in-stores and Chez Christophe's 6-pack of Blueberry and Passion fruit Macarons (3 of each) will be available for pre-orders and in-stores.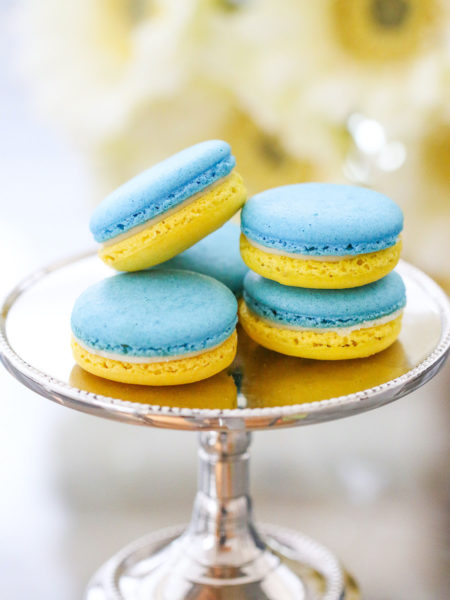 Faubourg's Honey and
Sour Cream Macaron
Both stores will be donating proceeds from their macaron sales on Saturday, March 19 to the Ukraine Humanitarian Relief Committee's humanitarian appeal, a joint initiative established by the Ukrainian Canadian Congress and the Canada-Ukraine Foundation dedicated to providing humanitarian assistance to the people in Ukraine impacted by the ongoing crisis.
Guests are encouraged to help support this important effort by visiting any of Faubourg's two Vancouver locations and Chez Christophe's Burnaby and White Rock locations on March 19. For store hours, please visit www.faubourg.com and www.chez-christophe.ca.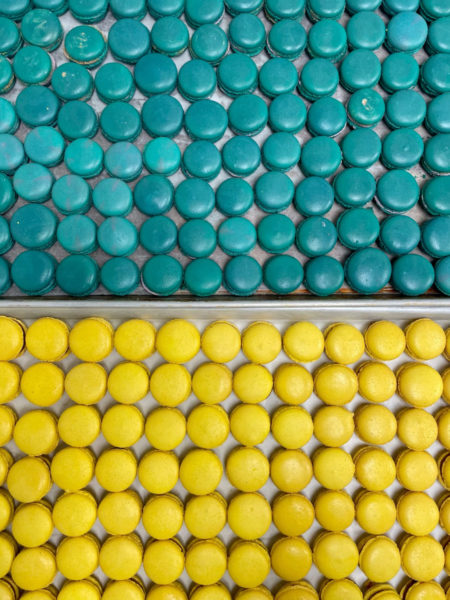 Chez Christophe's Blueberry
and Passionfruit Macarons
History of National Macaron Day
Launched by Parisian pastry chef Pierre Hermé in 1995, Macaron Day has not only become an opportunity to celebrate spring with one of the most widely adored French treats but also to raise donations for charitable causes to help those in need. The concept combines both sweetness and generosity and has now become a tradition in countries around the globe. 2022 marks the twelfth year Vancouver bakeries and pastry shops will be participating in the annual event.
About Faubourg
Faubourg is a renowned French bakery, pâtisserie, and café with two established locations across Vancouver. Over the past 12 years, Faubourg has established a reputation for specializing in artisanal French pastries, bread, viennoiseries, macarons, and more – all of which are handmade onsite throughout the year.
Locations
769 Hornby Street, Vancouver B.C
604 – 267 – 0769
hornby@nullfaubourg.com
2156 W 41st Ave, Vancouver B.C
604 – 266 – 2156
kerrisdale@nullfaubourg.com
Connect with Faubourg
Website: www.faubourg.com | Instagram: @faubourgbakery |
Facebook: @faubourgbakery
About Chez Christophe
Bringing a bit of Swiss flair to Canada, Chez Christophe Chocolaterie and Patisserie offers a collection of fine handmade chocolates ranging from artistic chocolate sculptures, creative truffle flavours to signature chocolate bars, and seasonal favourites. Customers can also find an array of macarons, viennoiserie, desserts and cakes at both their stores.
Locations
4717 Hastings Street, Burnaby B.C
604 – 428 – 4200
1558 Johnston Road, White Rock B.C
604 – 385 – 4474
Connect with Chez Christophe
Website: www.chez-christophe.ca | Instagram: @chezchristophe | Facebook: @chezchristophepatisserie
Media release and images provided by Camille Point, Faubourg Bakery.