Avon, one of our tasting group members, is a big fan of French wines so it was no surprise when he chose the theme for his February tasting – a vertical flight of Osoyoos Larose.
What is a vertical flight you may well ask?  It is when you taste one wine from successive vintages, e.g. Sam's Winery 2010 Merlot, 2011 Merlot, 2012, Merlot, etc. to see both the differences in each vintage as well as how well they are aging.
OK, but Osoyoos is in BC, so where is the French connection?  Well, there are several.   Osoyoos Larose began as a joint venture between Vincor* in Oliver and Groupe Taillan a French wine conglomerate in 1998.  Bordeaux winemaker, Pascal Madevon was recruited to oversee the new project.  Upon his arrival in southern BC, Pascal was very impressed with the quality of the grapes and the dry climate which was so unlike Bordeaux, as well as the relaxed lifestyle.  Soon, he brought his family over from the Medoc and became a Canadian citizen.
Like the wineries he worked at in France, Osoyoos Larose makes only two wines – Le Grand Vin, their top-tier wine that is designed for serious (10 years plus) aging and Pétales d' Osoyoos, which is a blend made from whatever is not used in their premier wine.  Pétales, while certainly age-worthy in its own right, is fruitier and drinkable much sooner.  Both wines are blends of the classic Bordeaux grapes – merlot, cabernet sauvignon, cabernet franc, petit verdot, and malbec.  Though the percentages vary depending on the year, these wines tend to be merlot dominant (50% – 75%).  The good news is they tend to make lots so availability is good.
Timeline
2001 was the inaugural vintage for Le Grand Vin, while Pétales d' Osoyoos did not make an appearance until 2005.
2013 saw the arrival of another Bordeaux winemaker, Mathieu Mercier to replace Pascal who left to join Don Triggs at his new Culmina Family Estate Winery on the west side of the valley.
In 2015, the joint venture between Vincor and Groupe Taillan came to an end as Taillan bought out their partners (by now, Constellation Brands).
In 2016 Mathieu and vineyard manager, Julie Rapel, returned to France to oversee other Groupe Taillan operations.  Jean-Marc Enixon was brought in to replace him.
2017 saw the arrival of Caroline Schaller from France to serve as executive manager and winemaker at Osoyoos Larose.
2019 – 2021 vintages were made at Bordertown's facility while they await the move to their new facility.
After being first announced in 2014, Osoyoos Larose is set to open its own tasting room this summer.  Word has it that they have acquired a suitable building on the east side of Osoyoos.  Zoning and utility problems thwarted earlier plans.
The big news is that they are planning on planting some white varieties, notably Semillon, Sauvignon Blanc, and Muscadelle, so you can expect a white 'Bordeaux' wine from them in the near future.
A note on South Okanagan vintages:
2010 and 2011.   Cooler than normal vintages.  From 2003 to 2009 production for the Grand Vin was between 8,000 and 10, 000 cases.  In 2010 and 2011 that dropped to 3,000 cases.  In cooler years vineyard managers will 'drop fruit' so that the available nutrients go to fewer clusters, thus preserving quality at the expense of quantity.
When we arrived for the tasting, we were told that it was mostly a vertical of Osoyoos Larose with a ringer thrown in, but all the wines were from BC, although more than one person suspected that perhaps a Bordeaux had been included.  We do have members that like to surprise people.
Here are the wines that were in the flight: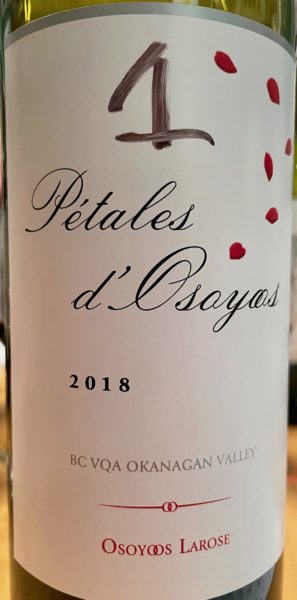 Osoyoos Larose 2018 Pétales
Most people found it a little too young at this point.  Needed a few more years.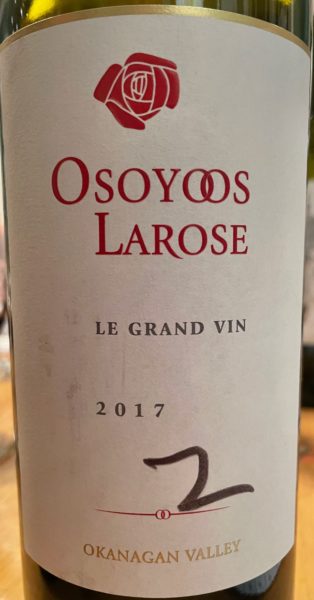 Osoyoos Larose 2017 Grand Vin
One person's top wine.  I'd be holding on to this one for a while yet.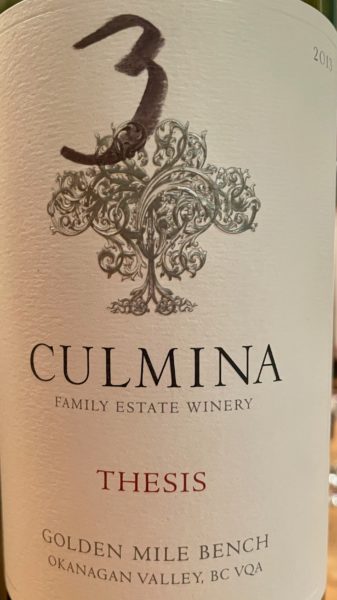 Culmina 2013 Thesis
This was the 'ringer' that was added to the flight as Culmina is the winery Pascal Madevon went to after leaving Osoyoos Larose and it is nearby on the Golden Mile Bench.  Pretty consistent scores across the group. Ranked in the lower half of the flight.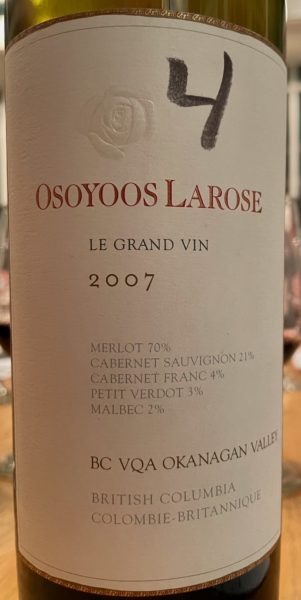 Osoyoos Larose 2007 Grand Vin
Very good.  Middle of the pack.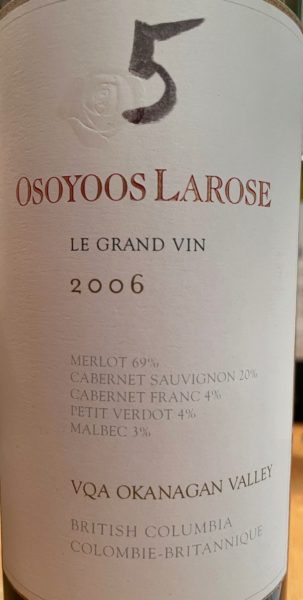 Osoyoos Larose 2006 Grand Vin
A favourite for three people, me included.  Consistent high scores for this one.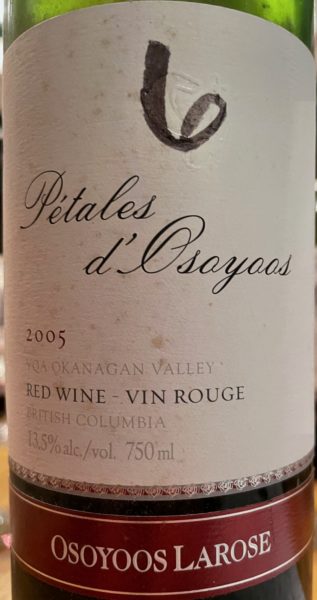 Osoyoos Larose 2005 Pétales
Certainly, much better than #1, the 2018, and a clear indication of its age-ability.  This vintage was a blend of 67% merlot, 23% cabernet sauvignon, 4% cabernet franc, 4% petit verdot, and 2% malbec, aged in barrel for 18 months (60% new barrels), as well as bottle aged for four months.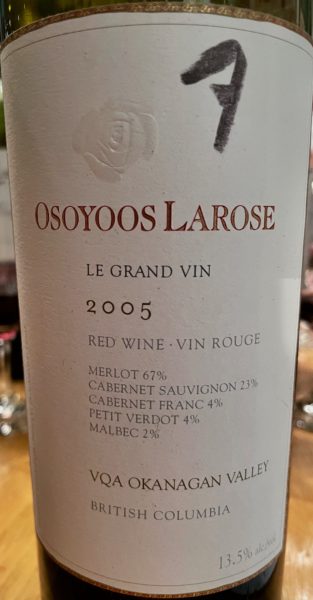 Osoyoos Larose 2005 Grand Vin
Very good.  In the top three.  My second favourite.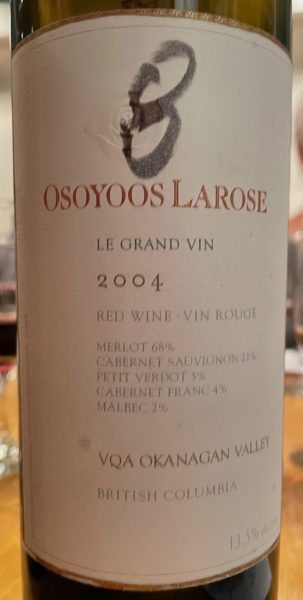 Osoyoos Larose 2004 Grand Vin
The group average has this one tied for #1, though interestingly enough it was no one's favourite.  Very good.  Consistent high scores.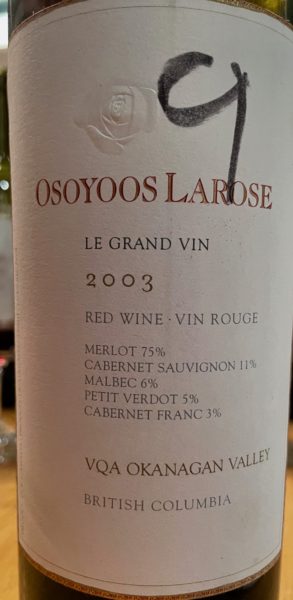 Osoyoos Larose 2003 Grand Vin
As indicated, tied for the #1 spot and a favourite for four people.
The takeaway?
These are world-class Bordeaux-like wines that you should age and decant.  They need time.  And as in Bordeaux, the years do matter.  Each vintage has its own character.  And when compared to similar long-lived French wines, Osoyoos Larose Grand Vin at just under $50, is an absolute bargain.  Make sure to buy lots of the Pétales to enjoy while the good stuff has its beauty sleepNote:  A little side history lesson is in order here.  Jackson-Triggs is a winery with vineyards in both BC and Ontario.  Its parent company was Vincor.  In 2006, Constellation Brands purchased Vincor and then ten years later Constellation sold some of their holdings to Artera.
As always, at the end of our session, Wayne Meadows, noted helixophile (corkscrew collector) and author of Compendium of Bar Corkscrews, had a 'show and tell' for us.  This time it was two very interesting pieces.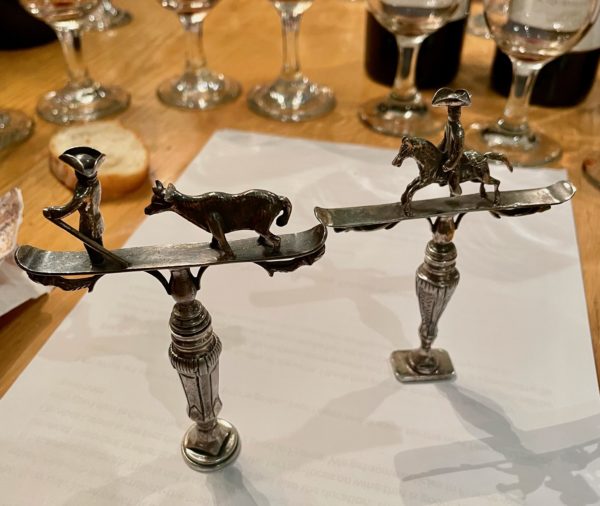 They are both Dutch and were made sometime during the 1700s.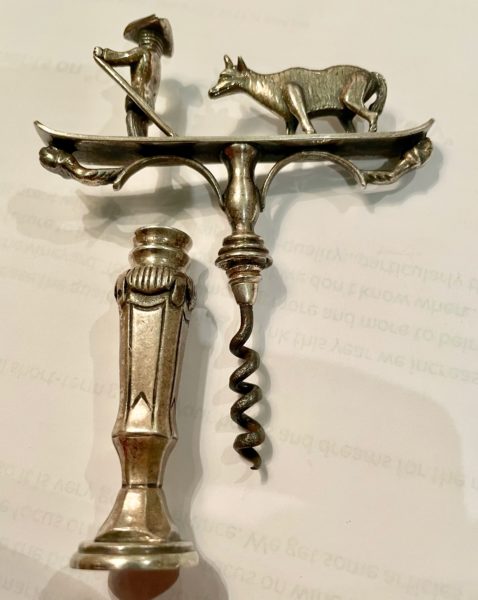 Note the short screw.  Corks were much shorter than today's because they were used to seal the new blown glass 'onion bottles' that the Dutch had developed and they had much shorter necks.
These corkscrews were given out as prizes at county fairs.  The winner of the best animal received one with the appropriate animal depicted in the handle.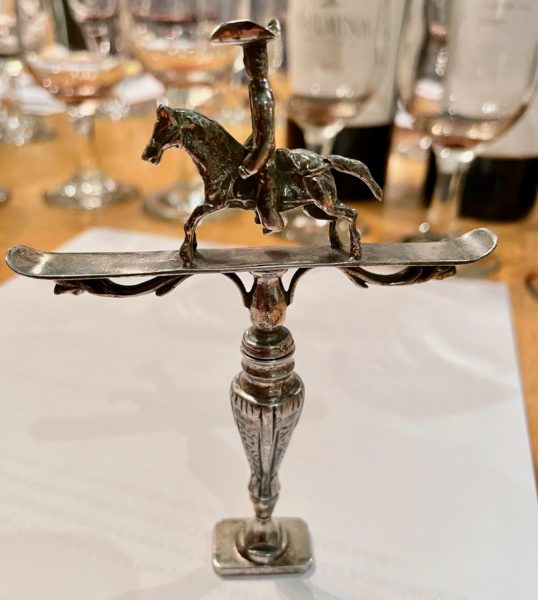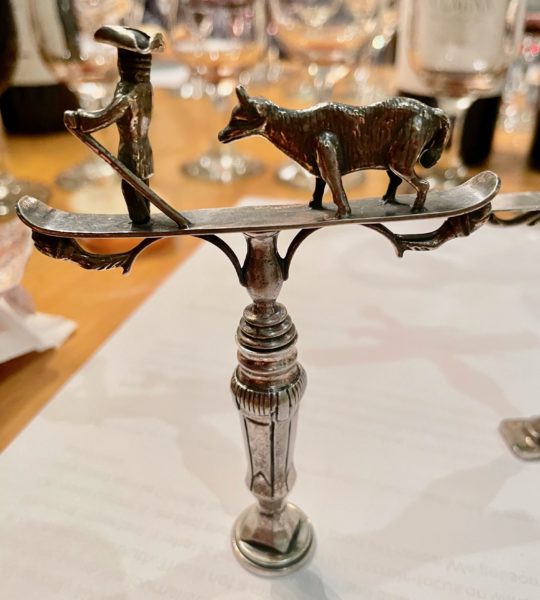 *Thanks to John Schreiner for some additional background information.
(All photos, except as noted – Sam Hauck)