In addition to the weekly wine review and the various other, usually wine-related, articles I write for My Van City, I am going to include a new one that will appear from time to time.  I'm calling it, 'From the Cellar'.
It will be much like the wine reviews, except that it will feature wines that have been aged.
It came to my attention that in an earlier review, I included a wine that is no longer made by a certain winery.  They were very happy with the mention and my positive comments, but they were concerned someone might try to track down a bottle and be disappointed when they found it wasn't being produced any longer.  So, from now on I will keep the 'Wednesday Wine Review' to recent vintages that should still be available and 'From the Cellar' for those that I have to blow the dust off of.  There are no hard and fast rules.  I recently bought a couple of reds at my local liquor store that were 2010 vintages (a great deal in my eyes).  While most people drink what they buy in a matter of days, if not hours, more and more people are realizing the benefits of holding on to some of their wines and are enjoying the benefits of doing so.
Prices indicated are the costs when purchased.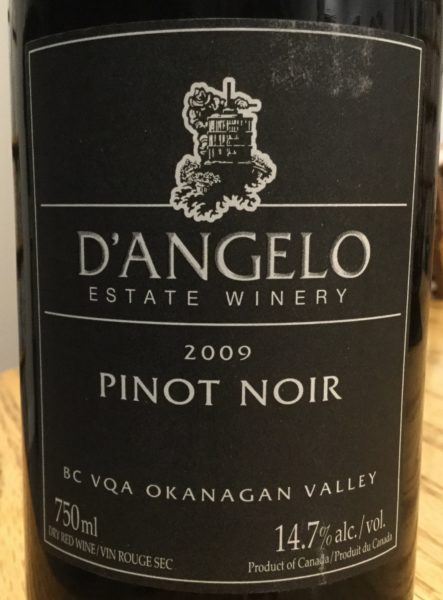 2009 Pinot Noir
D' Angelo
$18.00
I first tasted this vintage in 2014 and it has only gotten better with time.  Garnet/brick in colour with medium-plus intensity.  Dried cherry, plum, earth, cocoa powder on the nose.  Well balanced with soft smooth tannins.  Well-integrated oak and fruit with flavours following the nose.  A medium-long finish.  Beautiful at 11 years old.
2014 Moksha
Kismet
Oliver, BC
$33.49 (current vintage)
Moksha (inner peace and a sense of liberation) is an interesting blend consisting of 39% syrah, 18% malbec, 18% mouvedre, 18% grenache, and 7% viognier.  It is garnet/black with deep intensity.  The nose is dark and inky with aromas of earth, cocoa powder, dark fruit, bramble, and vanilla.  It is well balanced with soft, smooth tannins.  The palate is layered with flavours echoing the nose followed by a medium-long finish.  They recommend cellaring the wine for two to five years, so I think I was hitting this wine at or near its peak.  In this case, there is truth in advertising.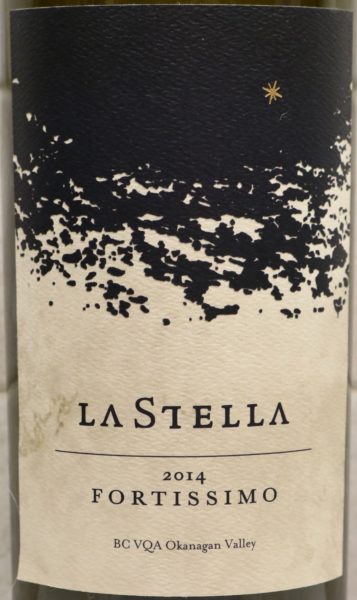 2014 Fortissimo (Red Blend)
La Stella
Osoyoos, BC
$34.49
I last sampled this wine two years ago and it was delicious.  Looking back at my notes, not a lot has changed in my assessment other than the wine has continued to develop and improve.  At the time, I said, "So glad I hung on to this one for a few years, though it has a long way to go yet."  Now, I'd say it will easily go another three to five years.  A blend of 57% Merlot, 21% Sangiovese, 11% Cabernet Sauvignon, and 11% Cabernet Franc.  Garnet red in colour with medium-deep plus intensity.  Ripe dark cherry, red and black fruit, prune, dusty herbs, and cocoa on the nose.  Well balanced with smooth ripe tannins.  Blueberries, cherry, black currant, and mocha on the palate followed by a medium-long finish.

2011 Merlot
Serendipity
Naramata, BC
$40.00
2011 was a tough year for BC grape growers.  It was cold and rainy right up until mid-summer.  It was the year 'Juneuary' was coined.  The better growers knew that they needed to drop more fruit than usual in order to improve grape quality.  That philosophy resulted in a big age-worthy wine for Serendipity.  At 9 years old, it was divine.  Garnet black with deep intensity.  The nose is deep, deep, deep, rich, round, and layered with red and black fruit, earth, cocoa, vanilla, and spice.  Very good balance with soft ripe tannins.  The flavours follow the nose.  A slightly warm medium-long finish.  Anyone who hung on to this vintage will be richly rewarded.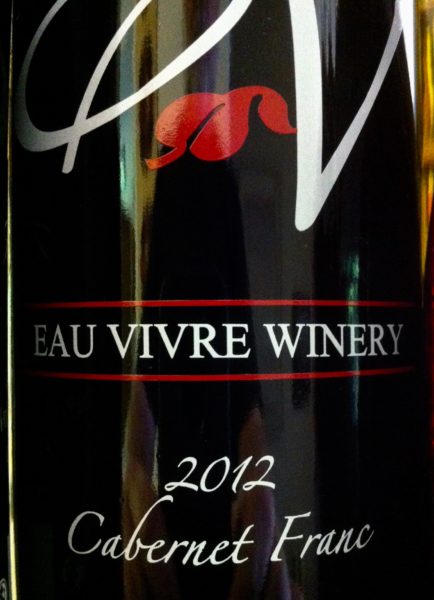 2012 Cabernet Franc
Eau Vivre
Cawston, BC
$22.00
Garnet red with medium-plus intensity.  Violets, tobacco leaves dust, red fruit, and raspberries on the nose.  Well balanced with soft, silky tannins.  The flavours echo the nose followed by a medium-plus finish with lingering flavours including red currant.  Very close to its peak.  Excellent, elegant, and harmonious.
(All photos, except as noted – Sam Hauck)