Shipyards Live Celebrates North Vancouver Craft Beer with a special North Shore Tasting July 15th
Over the last few years, North Vancouver has emerged as one of the most thriving and exciting areas in the province for craft beer, with over a dozen breweries popping up alongside cideries, distilleries, and even a winery.
This Friday, July 15th Shipyards Live is celebrating this vibrant culture with a special FREE North Shore Tasting event being held in The Pipe Shop on Victory Ship Way from 5:00PM-9:00PM. Featuring some of the most well-loved breweries on the Shore along with makers of wine, cider, and spirits, it's an opportunity to enjoy the best from across North Vancouver all in one place.
Confirmed participants include Wildeye Brewing, Streetcar Brewing, Copperpenny Distilling, Beere Brewing Co., Windfall Cider, La Cerveceria Astilleros, and Garden of Granite winery, with more to come! There is no charge to enter, with tasting tokens available for purchase on site.
The tasting makes a perfect addition to another jam-packed Friday of music from the North Shore's own Amanda Wood who will entertain with a classic jazz/pop vibe and singer/songwriter Adrienne who blends indie, R&B, jazz, funk, blues, and soul into a hybrid that's distinctly her own. Food Truck Lane will offer delicious eats from a number of vendors, Shipyards Marketplace will highlight local artisans, and the Patio beer garden is the perfect place to find a table and enjoy the summer weather.
Visit shipyardslive.ca for full event and series information.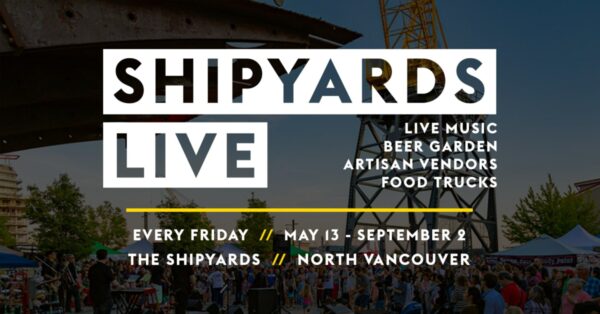 Media release provided by Paul Done, Epic Media. Images: courtesy of Shipyards Live.