THE FIRST "MEET ME IN GASTOWN" EVENT IS COMING TO VANCOUVER THIS MONTH
The free event features live music with a special performance by the Vancouver Metropolitan Orchestra, a breathtaking digital light show, outdoor games and more.
On August 25th, "Meet Me in Gastown" – a free community celebration featuring live music, games, a light show by Go2Productions and a performance by Vancouver Metropolitan Orchestra – is taking place in Gastown from 5pm-9:30pm.
Hosted by the Gastown Business Improvement Society (GBIS) with local partners, the Carrall St Laneway and Maple Tree Square will become a festive summer hub. Families and friends can enjoy a warm summer evening of games including giant jenga, building blocks and beanbag toss, along with local music, arts and culture.
Guests will be treated to an exceptional performance from the Vancouver Metropolitan Orchestra and an immersive light show experience from the award-winning, Vancouver-based creative company, Go2Productions. Local restaurants such as Monarca and Local Public Eatery will be bustling spots to kick back, and visitors are encouraged to nibble and drink from their favourite Gastown eateries to soak in the festival atmosphere. In addition, entertaining musical performances will be taking place through the night at:
205 Carrall St (outside of OK Boot): Rocky Riobo Duo
Abbott St x Water St (outside of the Lamplighter): Lenny and Pete
Cordova x Water St (outside of Steamworks): Leela Music
Walley Wargolet, Executive Director of the Gastown Business Improvement Society (GBIS), is excited to bring another lively, community-focused event to Gastown this summer. "It's been a challenging few years, so it's been amazing to bring our local communities together to celebrate summer with Gastown Thursday Nights with friends and family, support local businesses and provide a safe, fun space to enjoy the artistic and cultural talents of Vancouver," says Wargolet. "We want locals, along with the visitors from near and far, to experience the historical yet new spirit of the Gastown community and the neighbourhood we cherish so much," adds Wargolet.
Organizations helping to bring this evening together include Vancouver Metropolitan Orchestra, Go2Productions, Gastown BIA, Guilt & Co, Monarca and Local Public Eatery.
The schedule of the evening:
5pm: Music performances, outdoor games and seating at Carrall St Laneway and 1 Alexander St to enjoy takeaway from your favourite Gastown restaurants
7pm – 9:30pm: Vancouver Metropolitan Orchestra performance at 1 Alexander St
8:45pm: Immersive light show begins at 1 Alexander St.
For more information about the event, visit Gastown BIA for the latest details.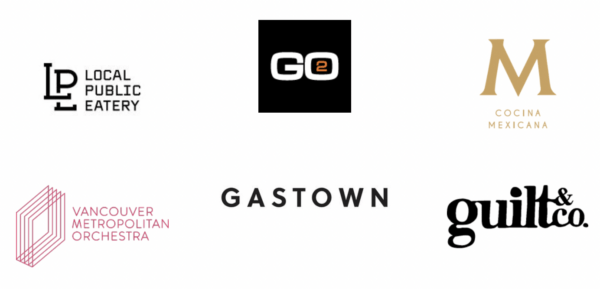 Gastown Business Improvement Society
The Gastown Business Improvement Society (GBIS), also known as the Gastown BIA, is a non-profit society created in 1989 as an organizing mechanism used by business owners and commercial property owners to work together to promote and enhance Gastown's unique assets, improve conditions for businesses operating in the area and improve the quality of life for those who work in and visit the area. The GBIS is governed by a volunteer board of directors composed of both property and business owners from within the area who represent a broad range of members and community stakeholders. For more information, visit https://gastown.org
Media release provided by Nine Point Agency. Image courtesy of "Meet Me in Gastown"