This Summer we're sharing the most deliciously sun-ripened flavours of the season with an irresistible collection of special chef-curated dining experiences, and we also travel to Wine Country for a taste of life amid the vines.
Intimate. Unique. Delicious. Every Visa Infinite dinner tells a story. What will yours be? Visit visainfinite.ca for details.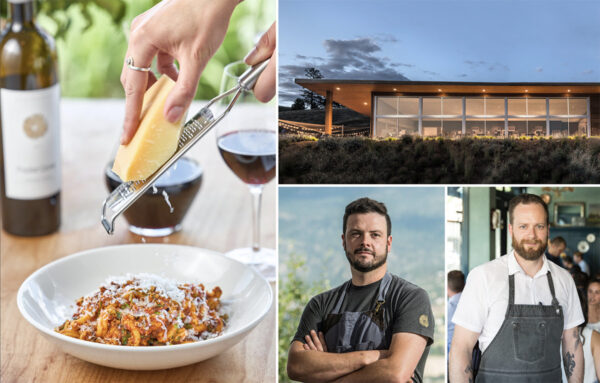 A perfect pairing: JC Poirier at Poplar Grove.
About this Visa infinite Dining series In-Person Experience
Poplar Grove Winery Executive Chef Rob Ratcliffe calls his style of inventive, globally-inspired cuisine "refined nostalgia." You could say the same for JC Poirier, who combines his yearning for his Quebec childhood with his love of classic French haute cuisine at the celebrated, multi-award-winning St. Lawrence in Vancouver. Together, these two chefs will create an extraordinary collaborative dinner drawing on their childhood memories, in the beautiful surroundings of Poplar Grove. The winery enjoys an enviable perch on Mount Munson overlooking Penticton, where it produces award-winning wines that combine finesse with power, and lively flavour with firm structure. All of those luxurious flavours will be on the table as Poplar Grove welcomes you to a perfect evening in wine country.
Poplar Grove Winery, Penticton
Friday September 16 | 6:00PM
425 Middle Bench Rd North, Penticton
$200 per person
(Includes canapés, multi-course meal, wine pairings & gratuity; taxes extra.)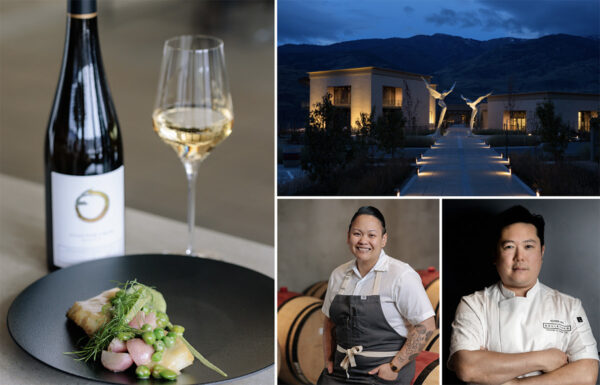 Phantom Creek welcomes Boulevard for
an indulgent feast.
About this Visa infinite Dining series In-Person Experience
Step beneath the welcoming wings of the towering angel sculpture and enter a world of pure indulgence. Since opening in June of 2020, Phantom Creek Estates has quickly become one of the most enticing destination wineries in the South Okanagan. Its historic vineyards have produced some of the most award-winning wines in British Columbia and now it has a restaurant to match, led by the sure and talented skills of Chef Alessa Valdez. For this epic dinner, she welcomes 2020's Canadian Culinary Champion Roger Ma, Executive Chef of Vancouver's Boulevard Kitchen & Oyster Bar, for an unforgettable collaborative feast. Following a private tour of the barrel cellar, Boulevard's Sommelier JP Potters will lead guests through the menu and exceptional wine pairings that will celebrate the finest food, wine and hospitality on the Black Sage Bench.
Phantom Creek Estates, Oliver
Saturday September 24 | 6:00PM
4315 Black Sage Rd, Oliver
$200 per person
(Includes canapés, multi-course meal, wine pairings & gratuity; taxes extra.)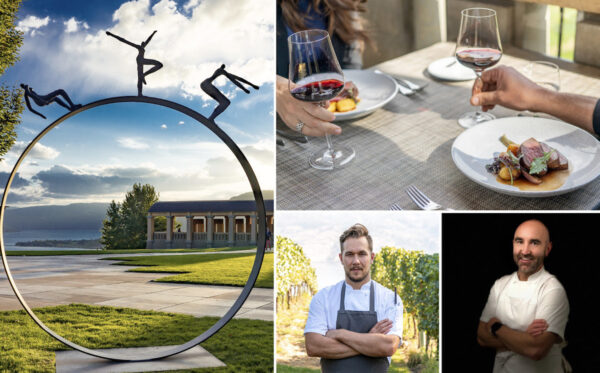 An artful culinary collaboration at
Mission Hill Family Estate.
About this Visa infinite Dining series In-Person Experience
Mission Hill Family Estate is the spectacular setting for this dinner in wine country, as Executive Chef Patrick Gayler welcomes Teatro Group Chefs Matthew Batey and David Leeder for a collaborative feast among the vines. For Matthew Batey, this will be a homecoming of the most delicious kind as he returns to Mission Hill, where he was Executive Chef for five years, before moving to Calgary where he is now Chief Operating Officer / Director of Culinary for the Teatro Group. He will be joined by the group's new Executive Chef, David Leeder, who brings a globally refined perspective to the kitchen. For guests, this will be an opportunity to savour all that this ground-breaking winery does best, from its stunning architecture to its refined cuisine to its award-winning wines. The evening begins with a tour and exclusive tasting in the barrel cellar, followed by an outdoor reception with sweeping views of the valley. Guests are then seated under the breathtaking tapestry in the Chagall Room to enjoy the finest dishes from three chefs who revere the pristine produce and exceptional wines of the region.
Mission Hill Family Estate, Kelowna
Friday September 30 | 6:00PM
1730 Mission Hill Rd, West Kelowna
$200 per person
(Includes canapés, multi-course meal, wine pairings & gratuity; taxes extra.)