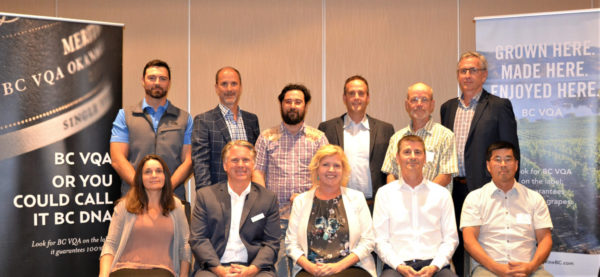 Following another successful Annual General Meeting (July 10, 2018 at the Delta Hotel, Kelowna), that brought together winery owners from across BC, the BC Wine Institute (BCWI) is pleased to announce its new Board of Directors.
Nine voting BCWI Directors represent all British Columbia wineries. Newly elected or re-elected members of the Board of Directors are:
– Christa-Lee McWatters Bond from Encore Vineyards
– Josie Tyabji from Arterra Wines Canada
– Erik Fisher from Monte Creek Ranch Winery
– Charlie Baessler from Corcelettes Estate Winery
Also continuing their terms on the Board are Greg Berti (Andrew Peller), Ezra Cipes (Summerhill Pyramid Winery), Leo Gebert (St. Hubertus & Oak Bay Estate Winery), Tony Holler (Poplar Grove Winery) and David Wilson (Mark Anthony Group). BCWI President & CEO Miles Prodan, BC Grapegrowers' Association representative David Kozuki and Independent Director Douglas Friend remain on the Board as ex officio non-voting members.
"It has been a busy year in the BC wine industry, and we appreciate the time commitment and dedication of our volunteer Board of Directors and committee members," notes Prodan. "We look forward to working with our newly appointed Board member Charlie Baessler and continuing Board members, including BCWI Chair Christa-Lee McWatters Bond, to evolve the BC wine industry and take the vision of our member wineries to the next level."
The BCWI would also like to thank outgoing Director Ian MacDonald (Liquidity Wines) for his contributions to the Board during his term.
In the evening, the BCWI welcomed the Canadian Vintners Association (CVA) to co-host the 2018 BC Wine Industry Awards alongside the Canadian Wine Industry Awards aimed to recognize individuals that have gone above and beyond to support and enhance Canada's grape wine industry.
BCWI President & CEO Miles Prodan was honoured to present CJ Smith, a champion ambassador for BC VQA Wine, with the BCWI Industry Recognition Award in gratitude of her many years of outstanding contribution to the British Columbia wine industry.
"CJ's passion for BC wine, ability to build community, and eagerness to help others transformed the local Westwood Wines BC VQA Wine store into a vibrant part of the local community and a vital contributor to the BC wine ecosystem," remarked Prodan. "Today we thank CJ for her industry contributions and for supporting BC VQA Wine and wineries for more than eight years."
The BCWI Award of Distinction was presented to Vera Klokock, founder of Hillside Winery in recognition of her outstanding leadership, commitment and passion for the advancement of the British Columbia wine industry.
"Vera Klokocka was one of few female winemakers in the Okanagan in the early 1990s whose fortitude and pioneering spirit were instrumental in shaping the BC wine industry as we know it today," said BCWI Chair Christa-Lee McWatters Bond. "Vera's role in leading the charge to bring about the Farmgate Winery Policy in 1989 changed the BC wine industry and until today she remains an unsung hero."
The Canadian Wine Industry Award of Distinction, regarded as the highest form of peer recognition in the Canadian wine industry, was awarded to Anthony von Mandl, founder of Mission Hill Family Estate, and proprietor of CedarCreek Estate Winery, CheckMate Artisanal Winery, and the radical new gravity-fed Martin's Lane Winery.
"Anthony's lifelong commitment to putting the Okanagan Valley on the international map as a region producing world class wine is remarkable," said Dan Paszkowski, President and CEO of the CVA. "His vision and dedication have been instrumental in the development of the BC wine industry, a region whose exceptional quality wines can stand alongside the best in the world."
The Wine Industry Champion Award was presented to David Lawrason, a prolific wine journalist and authority on Canadian wine, who has spent more than 30 years reporting on wine, travelling across Canada tasting and making wine more accessible to Canadian consumers.
The inaugural Karl Kaiser Canadian Winemaker Award, created to celebrate great Canadian winemakers in honour of the legacy of the late Karl Kaiser, a Canadian wine industry pioneer and viticultural visionary, was awarded to Bruce Nicholson, Senior Winemaker at Inniskillin Niagara. With more than 30 years of experience in both British Columbia and Ontario, Bruce has made world-class wines and continues to demonstrate the endless potential for Canadian wines.
This year set a benchmark for the BC Wine Industry with BC VQA Wine reaching an all-time high of 18 per cent of wine market share in BC (litres). BC VQA Wine sales (litres) experienced a 7.3 per cent growth over the previous year.
About The British Columbia Wine Institute:
Since 1990, the BCWI has played a pivotal role in taking BC's wine industry from a vision to an internationally recognized niche region producing premium wines and providing exceptional wine tourism experiences. The BCWI markets the wine and regions of BC; delivers quality trade, media and consumer tastings; and acts as the voice of BC's wine industry by advocating to government on behalf of industry that contributes $2.8 billion in provincial economic growth annually.
The BCWI represents all wineries in British Columbia to grow the premium market share for the Wines of British Columbia, while driving awareness of our world-class wines and tourism product – currently drawing 1,000,000 visitors with $600 million in tourism and tourism employment related economic impact every year. For more information about BC Wine Institute's programs and services, please visit WineBC.com.
For details on the Wines of British Columbia, go to WineBC.com, like the Wines of British Columbia Facebook page and follow @WineBCdotcom on Twitter and Instagram.