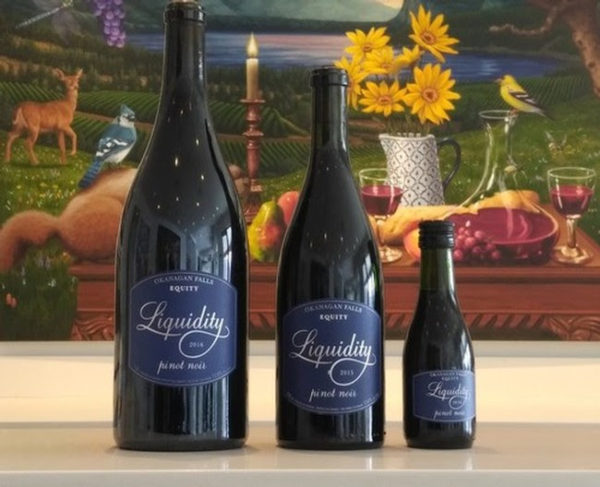 2016 Equity Pinot Noir
It's finally here – our 2016 Pinot Noir Equity ($56/bottle) is now available.
This age-worthy Pinot has an elegant nose with aromas of ripe red berries, black cherry, violets, red plum and a hint of earthiness. Bright acidity and ripe velvety tannins open up to layered flavours of black cherry, raspberry, liquorice, rosehips and black tea, with a lingering finish.
This premium Pinot Noir is the best of the best from our two estate vineyards. Aged 15 months in French oak, this exceptional wine is available in 750ml bottles, and we also have five 1.5L magnums (130$/bottle) available.
CLICK HERE TO PLACE YOUR ORDER 
---
2016 Dividend
This year's vintage is a blend of 45% Cabernet Sauvignon, 31% Cabernet Franc and 24% Merlot, This popular full-bodied red blend has aromas of blackberry, cherry, black olive, juniper, graphite and floral notes. On the palate, the Cab Franc shines through, with flavours of black cherry, raspberry, pomegranate reduction, liquorice, cedar and dark chocolate.
Please note that we are only able to ship in 3 bottle increments, so you can mix and match your favorite Liquidity wines. And throughout July we will be offering 50% off all shipping in Canada. When using the checkout please use the code JULYSHIPPING to take advantage of this offer.
CLICK HERE TO PLACE YOUR ORDER 
Equity Tasting Lounge 
Our new private tasting lounge is now open. Premium Tasting Experiences in the Equity Lounge include both new vintages of the Equity Pinot Noir and the Dividend. It is also the only way to be able to try our 2016 Reserve Chardonnay, which was recently named the top Chardonnay in the world at the 2018 Chardonnay du Monde compitition, held in France earlier this spring.
The Equity Lounge offers seated tastings in a relaxed environment. Come in and enjoy a tasting of our reserve flight of wines. You might even run into Ian, our president and owner. He will be able to give you a tour of our world class art collection while you enjoy our premium tier of wines.
Reservations are recommended, although we will accommodate walk-ins when possible. We do ask that you allow up to 45 mins for a tasting.
$15/ Tasting, waived on purchase of 2 bottles per tasting.