Time:  Tuesday, September 13th
Place:  Calgary Alberta
Mission: To expose Canadians to the wonders of US beverage alcohol products
This is the second of a four-part series that features beverage alcohol products from the western US.  In today's article, a look at two impressive Washington wineries and an innovative California-based meadery.
The event was a trade show version of speed dating.  Fourteen producers were at tables spread around the outside of a meeting room with chairs in front of each of them.  Twenty minutes each and the organizer's challenge was to keep everyone on time.  And a challenge it was.  There was a lot to pack in in a short time.
The fourteen vendors who took part in this trade mission consisted of – one each from Arizona and Alaska, two from California and Oregon, three from Colorado, and five from Washington.  They consisted of five distilleries, one meadery, eight cideries, and two wineries.
What impressed me was the intelligence and passion of these producers.  The fact that their products were consistently balanced and of top quality was the icing on the cake.  This select group from the western United States had been meticulously chosen for this trade mission and all brought their A-game.
So many of these people had previous careers in law, banking, and engineering, but all yearned for something that would allow them some artistic expression.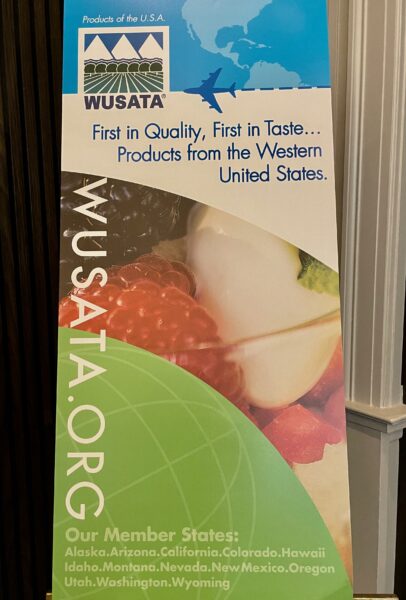 For those who have not toured through Washington's wine country, it is reminiscent of our own Okanagan Valley but much bigger.
Wilridge Vineyard, Winery and DistilleryWilridge Vineyard
Washington
Paul Beveridge (a good name for a winemaker) fell in love with wine when he was very young.  His father used to like to tour vineyards in the Napa Valley which was near where he worked.  He didn't have much money, but he had an appreciation for good wine.  Paul and his two brothers toured many cellars and caves over the years.  Paul loved the smells of wine and oak and the whole ambiance of the various wineries they visited.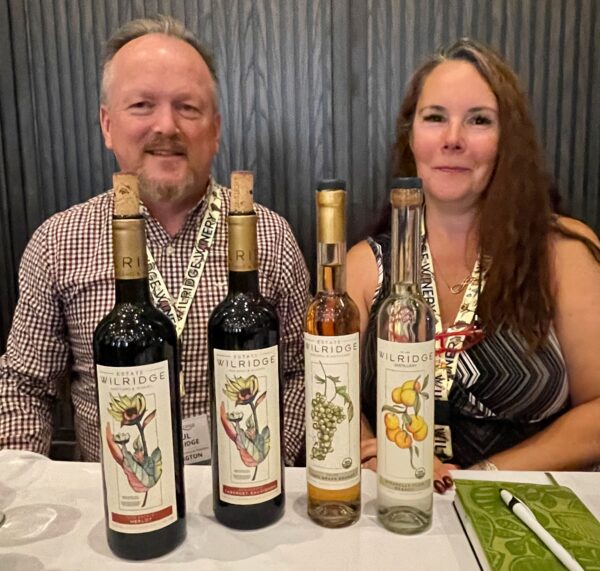 Wilridge is an amalgamation of Paul Beveridge and his wife Lysle Wilhelmi's two last names.
Wilridge does it all – vineyard, orchard, winery and distillery.  Their artisanal brandies are produced using grapes, apples, and pears from their estate near Yakima.
Wilridge is the first, and still the only, certified "Organic and Biodynamic Vineyard, Winery & Distillery" in Washington State.  It was first certified organic and biodynamic in 2007 and has remained committed to these strict standards ever since.
Their estate vineyard and orchard are in the Naches Heights AVA and the property is protected by the Cascade mountain range.  "The Naches Heights AVA receives over 300 days of sunshine per year and so little precipitation during the growing season that the crops have to be irrigated.  This means Wilridge has total control of the water supply for its vines and trees and therefore total control of their growth.  With little to no rain during the growing season, Wilridge does not have to spray the harsh chemicals conventional and so-called "sustainable" vineyards do.  With little or no rain during harvest, Wilridge does not have to worry about the vintage being ruined by rot as do vignerons in wetter regions such as Burgundy and Bordeaux." (from their website)
Wilridge is Seattle's oldest winery.  When they were founded in 1988, they were the only winery in Seattle.  Now there are over 50.   In 2007 they planted their estate vineyard near Yakima.  Nine years later, in 2016 they started a distillery making fruit brandies from their orchards and vineyards.  The 85-acre property has 15 acres devoted to vines, and 5 ½ to pears, plums, apricots, and quince,
Paul was a former environmental lawyer in Seattle.  Later, he and his wife opened a restaurant selling wine that was made in the basement below.  His legal training came in very handy as it took a lot of lobbying to get his operation up and running as it was a brand-new industry at the time and Washington State 'tied house' laws did not allow for establishments to sell beverages they produced.  The advent of brew pubs helped their cause greatly.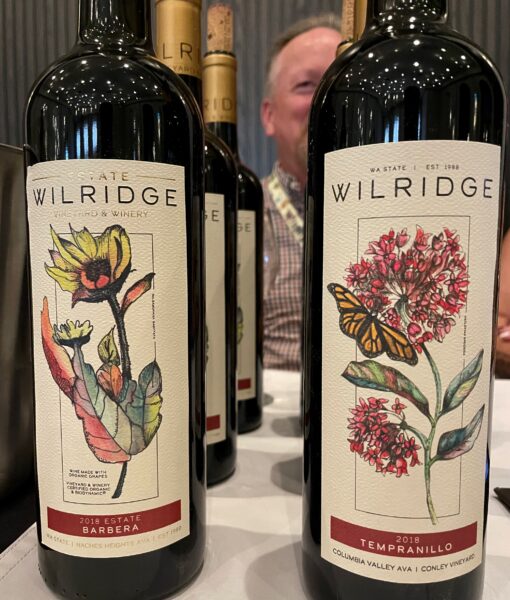 Wilridge produces more Italian-style wines than other wineries in the area.  Varieties include Barbera, Nebbiolo, Sagrantino, Sangiovese, and Tempranillo as well as the classic French grapes such as Merlot and Cabernet Sauvignon.  In total, they have over 45 red, white, rosé and dessert wines in their line-up.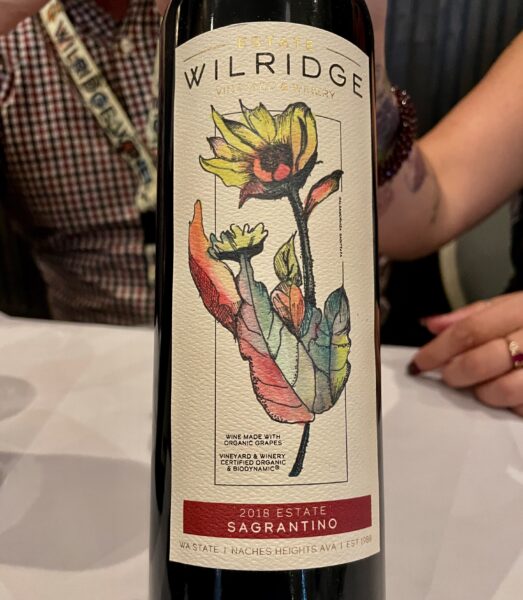 They were the second to produce Nebbiolo in the area. It has become their cult and most awarded wine in their portfolio even winning 'Best Nebbiolo Made Outside of Italy' at a big Piemonte competition.  It shows classic varietal character.  Paul pointed out the parallels between the Naches AVA and Piedmont in terms of latitude, topography, and climate.  It is delicious.  They also make the rare Sagrantino, a red wine from Umbria that is often blended with Sangiovese.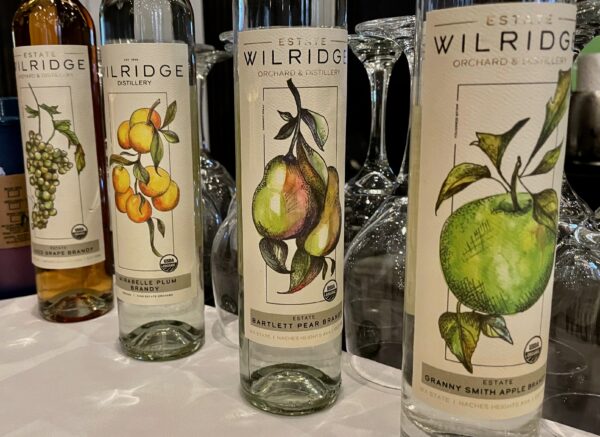 In addition to all the above, they own The Pie Wine Bar which is located in the Gateway Wine District of Woodinville.  There, they sell organic fruit from their orchard as well as fruit, cream and savoury pies, biodynamic wine, and distilled spirits.
Indeed, Wilridge truly does it all.
If you ever have the pleasure of meeting Paul, be sure to ask him to tell the story of how he "purchased a 1982 Margaux for fourteen dollars".
For more information, contact:
Paul Beveridge and Lenora Thelan
Wilridgewinery.com
Helioterra Wines and Alter Ego Cider
Oregon
The name Helioterra is an amalgamation of 'helio' and 'terra', Greek for sun and earth and is meant to symbolize Heliolite, the Oregon state gemstone.
From an early age, Anne Hubatch felt an affinity to the land.  Food and cooking were a big part of her family life and she credits her grandmother with helping her develop an interest in wine and flavour combinations.  After earning a degree in Geology and Environmental Studies at the University of Wisconsin, she headed to Oregon and was soon enthralled with the world of wine.
Anne has made wine in Oregon for over 20 years.  She has extensive credentials with experience at many of the most respected Oregon wineries.  In 2009, after eight years of making wine for various Willamette wineries, Anne took a gamble and struck out on her own. She rented space in a nearby winery where she focused on Pinot Noir, aromatic whites and Rhone reds.  She currently has a cooperative space, the first all-woman production space in North America.  In 2014, she partnered with a friend and launched Alter Ego, a cider company.   Four years later, Anne launched an urban winery in southeast Portland close to where she lives.  It was open for only seven months before the COVID shutdown.  It wasn't easy, but she weathered the challenge.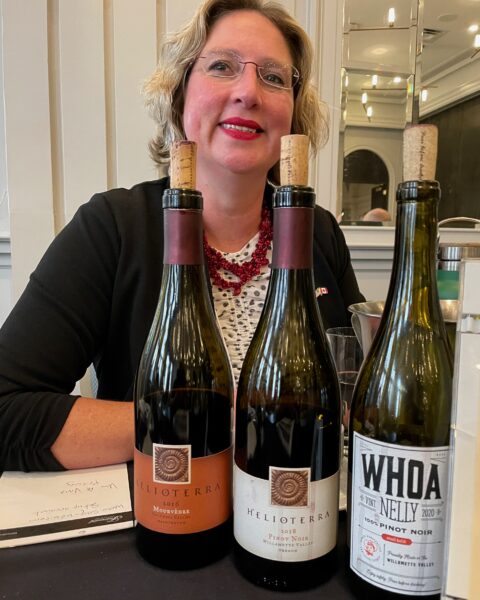 Helioterra focuses on three categories of wines. Lesser known aromatic whites such as Pinot Blanc, Auxerrois, and Melon De Bourgogne, a grape that is usually associated with the Loire Valley of France and the grape used to make Muscadet wine.  She likes to use a wide range of yeasts and does separate fermentations choosing to blend before bottling.  Helioterra sources grapes from vineyards in Washington and Oregon.  Her wines are made with minimal intervention.
Anne has a big passion for Pinot Noir and loves to promote Willamette Valley pinots.  She makes several vineyard-specific Pinots and a value-priced pinot called Whoa Nelly, which is a bargain that over-delivers.  Her Helioterra label is a higher tier and very age-worthy.  Anne holds the wines back so she can release them with more age when they have developed more complexity.  I was most impressed with her Mourvedre comes from the Red Mountain area of Washington and I wish I had been able to sample her GSM.  These are wines worth seeking out.
For more information, contact:
Anne Hubatch
Helioterrawines.com
Golden Coast Mead
California
For those who are unfamiliar with mead, it is a wine made from honey, not grapes and contrary to what many assume, is not sweet.
Golden Coast Mead began in 2010 and was the first meadery in Southern California.  Since then it has helped 25 others start up.  Owner Frank Golbeck makes the convincing point that mead is the most sustainable alcoholic beverage as it is regenerative and not extractive.
Golden Coast's mission is to light up people's lives and help regenerate the earth.  They began making 5-gallon batches and were soon making 300-gallon batches due to their popularity. Mead is a honeybee-only beverage which makes it the most sustainable beverage as there is no impact on the land in terms of planting fields of grain, orchards or vineyards.  The bees supply the sugar source.  What makes Gold Coast unique is that they focus on regenerative mead. They only use three ingredients, organic honey, alkaline water, yeasts, and probiotics.   The alkaline water adds a softness to the fermentations and adds some body to the drink.
There is no need for preservatives and they use no artificial flavours.  The dry mead contains 12% alcohol by volume, similar to light wines.  Golden Coast meads are gluten-free, preservatives free, synthetic or added sugar-free, lightly effervescent and delicately balanced.
They also make honey-based seltzers.  Their seltzers are competitively priced and are aimed at a younger crowd.  These canned beverages are only 5% ABV and 100 calories.  They are lighter but refreshing and very drinkable.  Golden Coast is also the only company to make a sour mead.
They delightfully create unique flavoured meads such as hopped meads, coffee meads, strawberry ghost pepper meads, sherry meads and banana bread bochet (made from caramelized honey) meads. They have even used squid ink in meads to make them black.
Golbeck sources organic honey from Brazil and is working on a 'Regenerative Honey Standard' for California and the rest of the US.
They have identified four major consumer groups that enjoy their products.  First are the environmental enthusiasts who are passionate about their health, the earth, and are self-focused.  Second, are the booze enthusiasts, as mead can have higher ABV levels than other beverages they might consume.  The third group may come as a bit of a surprise – magic enthusiasts, fantasy fans, and gamers.  They like the relationship to Lord of the Rings and the days of yore.  And finally, experiential enthusiasts who are looking for the latest thing, the cutting edge, something unique, and culturally important.
Meads tend to reflect where they were grown and what the bees were foraging for their honey – acacia, clover, lavender, wildflowers, etc.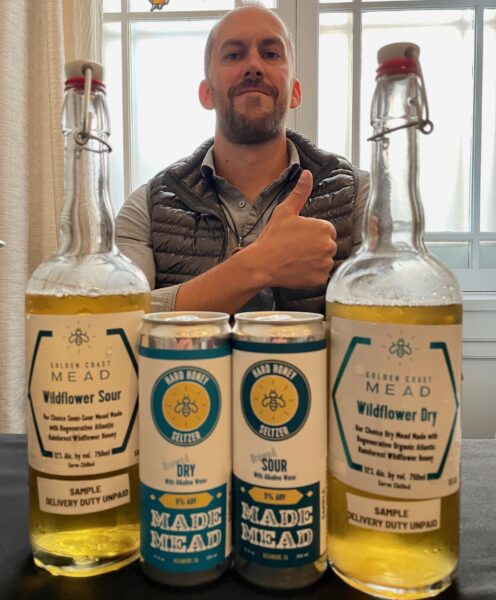 I sampled their Wildflower Dry which is made from Brazilian honey where the bees forage the rainforest flora.  It had a perceived sweetness but was dry, with a light sparkle, and zero residual sugar.  Delicious and unique with notes of rainforest and tiny white flowers.  A great gift for any wine lover.
Next was a Sour seltzer –I am not a fan of most sour beers, but this drink was impressive.  Refreshing with a bolder honey flavour.  Heavenly bouquet with pronounced aromas of wildflowers and clover.  Zero residual sugar.  Made from scraped beehive bacteria they cultured in many ways before finding the one they liked best.  It is their flagship product, outselling the others at 4:1.
Some interesting things about Bees and Honey according to their website:
The average life of a honey bee during the working season is about six weeks
The average worker bee makes about 1/12th of a teaspoon of honey in her lifetime.
Bees must collect nectar from about 2 million flowers to make 1 pound of honey.
A bee visits 50 to 100 flowers during a collection trip.
The Honey bee's wings stroke 11,400 times per minute, defying conventional physics.
A honey bee can fly for up to six miles, and as fast as 15 miles per hour. It would have to fly around 90,000 miles -three times around the globe – to make one pound of honey. Wow.
The honey bee is the only insect that produces food humans can eat.
Honey is incredibly healthy and includes enzymes, vitamins, and minerals. It's the only food that contains "pinocembrin", an antioxidant associated with improved brain functioning.
The natural fruit sugars in honey – fructose and glucose – are quickly digested by the body.
Honey is typically around 80% sugar and 20% water.
Honey has always been highly regarded as a medicine. It is thought to help with everything from sore throats and digestive disorders to skin problems and hay fever.
Honey has antiseptic properties, historically it has been used for wounds as well as a first aid treatment for burns and cuts.
Honey's ability to attract and retain moisture means that it has long been used as a beauty treatment.
Honey lasts an incredibly long time. An explorer who found a 2000-year-old jar of honey in an Egyptian tomb ate it and enjoyed it.
Pollinators take nectar from 10,000 flowers to make honey for one sip of mead
For more information, contact:
Frank Golbeck
Goldencoastmead.com
Thanks to Elisa Daun, Trade Specialist for the Washington Department of Agriculture for organizing this tour and to Henry Vega of Montreal-based Congressum for the invitation.
(All photos – Sam Hauck)