The Makepeace family, owners of Hugging Tree Winery, have made the move to the north end of the Similkameen Valley after purchasing 2 properties in late 2019. The new sites are 2 kms apart along Upper Bench Road just east of Keremeos, BC. "The sloping south facing vineyards and wide-open valley were compelling", said Walt Makepeace, patriarch of the family. "We are excited by the opportunity to develop these outstanding sites that fit our future plans so well."
The Makepeace Family Vineyard is an 11.6 acre parcel adjacent to Becks Road between Upper Bench Road and Hwy #3. Over 7.5 acres have already been planted on that site and include mostly bordelaise varietals and viognier. Just east and sitting at a higher elevation is the 2nd property, a 21 acre parcel that will transition from orchards to become Rockside Vineyard. Syrah vines will dominate that site. Brad Makepeace, son and winemaker says "We are thrilled to explore the variable microclimates of the vastly different vineyards. The Makepeace Vineyard lays near the meadowland of the valley with dark, rich soil and river rock, while the Rockside Vineyard is tucked up against the mountain rocks, away from the wind, creating a very hot site with rocky stemwinder soils. These variations can express exciting nuances in our wines that we can't wait to share with wine enthusiasts."
The family sold their original 60 acre mixed vineyard and orchard property and have since built a new winery facility and beautiful tasting room and patio that reflect the nature that surrounds them. Accessed from Beck Road, the team is working through plans to open in the near future.
As part of their transition, the Hugging Tree brand has also been updated including a new logo that reflects this next chapter.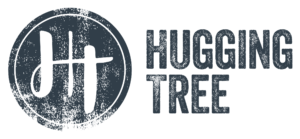 About Hugging Tree:  After decades of community service and 13 moves Walt and Christine Makepeace wanted to put down roots and nurture their deep love of land along with their family, and the Similkameen became home. Sons Wes and Brad, and daughter Jen soon joined them to help create the authentic award-winning winery. The name Hugging Tree was inspired by 2 entangled trees which had grown together and embodied the spirit of the family; to be connected – connected to the land, to the vines and to each other. The family invites you to connect with them through their wines and authentic experiences knowing the land is respected and protected, the vines cherished, and the wines crafted with care.
Information and image courtesy of the winery.
If you would like to be featured on MyVanCity.ca please email myvancityval@nullgmail.com, features are complimentary and with appreciation wine samples are accepted for review.