The World's Top Kosher Cookbook Authors Come Together to Create the Greatest Collection of Kosher Recipes in One Book
Best of Kosher is a new cookbook that features some of the most popular kosher recipes from over 15 of your favorite kosher cookbook authors. You know their names and have been cooking from their books for years, but now they have pooled their talents to create a collection of the best of kosher cooking. Authors participating include: Chanie Apfelbaum, Between Carpools, Miriam (Pascal) Cohen, Victoria Dwek, Susie Fishbein, Rivky Kleiman, Sina Mizrahi, Renee Muller, Naomi Nachman, Danielle Renov, Daniella Silver, Leah Schapira, and Rorie Weisberg. The book also provides background on the authors, their behind-the-scenes stories, and fun facts you didn't know about them.
Best of Kosher features 130 recipes, including 45 brand-new ones, each beautifully photographed. Among the recipes are:
Honey-Lime Nut Salad by Rivky Kleiman
Crock-Pot Onion and Flanken Soup by Naomi Nachman
Yemenite Beef Soup by Susie Fishbein
Crispy Salmon Poppers by Danielle Renov
Sea Bass with Corn Cream by Victoria Dwek
Everything Bagel Tuna Patties by Chanie Apfelbaum
Crock-Pot Brown Sugar Beer Chicken by Miriam Pascal Cohen
Sweet Chili Chicken Sandwiches by Leah Schapira
Smoked Short Rib Tacos by Leah Schapira and Victoria Dwek
Skirt Steak with Tahini Herb Sauce by Daniella Silver
Maple Bourbon Brisket by Sina Mizrahi
One Pot No-Cream Fettuccine Alfredo by Between Carpools
Babka Straws by Chanie Apfelbaum
Irresistible Chocolate Pecan Bars by Renee Muller
Decadent Choco-Superfood Squares by Rorie Weisberg
"On behalf of all authors of this book we want to thank you, the readers, for inviting us in your homes over the years. You trusted us when it came time to feed and nurture your families," says Leah Schapira, spokesperson for the book. "You helped bring along this new era of kosher cooking by being willing to open our cookbooks and try something new."
From finding the perfect recipe for a Shabbat dinner to holiday celebrations, Best of Kosher provides recipes for any occasion or holiday.
"Where else do you see camaraderie in an industry where people — competitors in a way — are willing to come together to create a cookbook like this?" — Susie Fishbein
This fall and winter, try these delicious recipes:
Marinated Grilled Chicken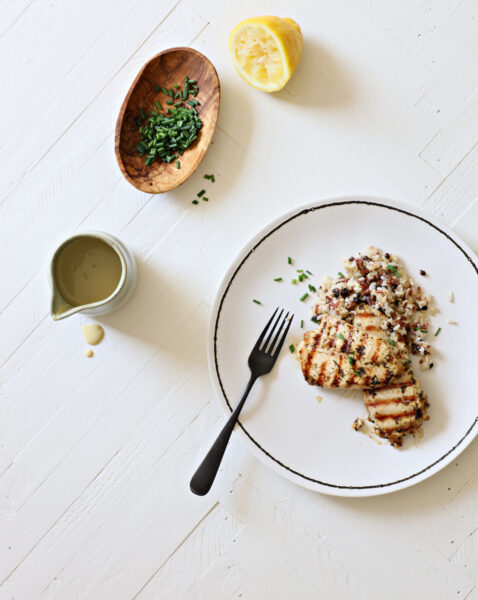 Ingredients
2 lb boneless, skinless chicken breasts, sliced
Marinade
3 Tbsp mayonnaise
2 Tbsp maple syrup
1 Tbsp Dijon mustard
3 garlic cloves, minced
½ tsp kosher salt
½ tsp black pepper
½ tsp dried basil
¼ tsp dried oregano
1 Tbsp apple cider vinegar
3 Tbsp dried parsley flakes
Directions
Prepare the marinade: Combine all marinade ingredients in a Ziploc bag.
Add cutlets to marinade; turn to coat well. Marinate for at least 20 minutes or up to overnight.
Heat a large grill pan or skillet over medium-high heat. Coat with cooking spray and allow to begin to smoke. Grill chicken 4-5 minutes per side until cooked through.
Make Ahead Make the marinade, add the chicken and freeze it — then transfer to the fridge the night before and grill when ready to serve.
Tip! Prepare it on an outdoor grill or on your grill pan. You can even broil it in the oven. Either way, the total cooking time will be the same. Don't rush it! If your heat is too high, you'll burn the chicken.
Yield 4-6 servings
Rivky Kleiman | Simply Gourmet
When I was writing my second book, Simply, my kids said, "Ma, there are two recipes in Simply Gourmet that you have to equal or surpass in the new book" — and this grilled chicken was one of those recipes. This recipe has become the iconic go-to for busy working moms.
Salmon Rolls with Crazy-Good Sauce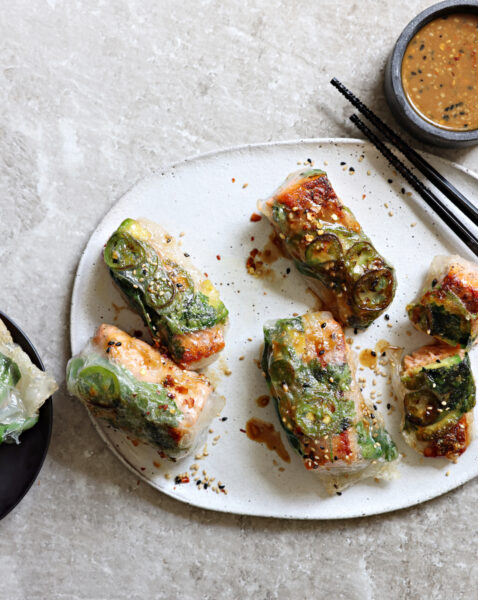 Ingredients
1½ lb salmon fillets, cut into 2-inch pieces
1 tsp garlic powder
½ tsp sea salt
¼ tsp black pepper
2 Tbsp olive oil
Dipping Sauce
3 Tbsp low-sodium soy sauce
1 Tbsp rice vinegar
1 Tbsp mirin
1 Tbsp toasted sesame oil
2 tsp maple syrup
2 tsp peanut butter
1 garlic clove, minced
1-inch ginger, minced
½ tsp chili flakes
½ tsp toasted sesame seeds
For Assembly
½ avocado, sliced
1 jalapeño, sliced
2-3 scallions, sliced
1 cup cilantro leaves, chopped
10 rice papers
• Oil, for frying
• Sesame seeds
Directions
Position a rack in the middle of the oven; preheat to broil.
Place salmon into a baking dish; season with garlic, salt, and pepper. Drizzle with olive oil; rub to coat. Broil until golden and cooked through, 8-10 minutes. Let cool slightly.
Prepare the dipping sauce. In a small bowl, whisk together all ingredients. Set aside.
Set up an assembly station with salmon, sliced avocado, jalapeño, scallions, and cilantro. Coat a cutting board with oil.
Fill a wide bowl with lukewarm water. Immerse 1 sheet of rice paper into the water, leave it in for 30 seconds or until the edges start curling. The paper should be pliable but still slightly firm. Place on the greased cutting board. Layer center with jalapeno slices, avocado, scallions, cilantro, and salmon. Fold the edges over the filling to create a tight roll. Set aside; repeat with remaining rice paper and filling.
Heat a large, wide skillet over medium high heat. Add a thin layer of oil. Fry each roll on all sides until golden and crisp, 2-3 minutes per side. Repeat with the rest of the rolls. Place on a platter, sprinkle with sesame seeds, and serve with dipping sauce.
Tip! You can use leftover salmon in this dish.
Yield 10 rolls
Sina Mizrahi
I love stuffing all sorts of veggies into a summer roll and seeing them peek through the translucent rice paper. Here I combined salmon with creamy avocado, herby cilantro, scallions, and a touch of jalapeño for heat. I wouldn't be opposed to a few slices of mango for fruity sweetness or a medley of sprouts and crunchy radish. The options are limitless. Things go over-the-top when the rolls get a short fry — the rice paper gets a glorious crisp — and are dipped into the eye-popping delicious sauce. It's not to be missed.
BEST OF KOSHER: Iconic and New Recipes from Your Favourite Cookbook Authors
Photographed by Esti Waldman
Mesorah Publications Ltd.
Hardcover
$39.99
Currently on sale $35.99 at Amazon.com or $31.99* from Artscroll 
Media release, images and recipes provided by Trina Kaye, The Trina Kaye Organization. *Note: may be U.S. funds I received a complimentary copy of the cookbook in exchange for this feature.