"In this series we bring you our #FavouriteThings Holiday Gift Suggestions which we personally recommend"
Always a favourite are the wines from vinAmité Cellars! The winery and lounge hiding in plain sight right in Oliver. A true family-owned and operated  winery. The winery is devoted to traditional French varietals made by the Coulombe family in a blend of old and new approaches.
The wines featured here today make fabulous gifts but you definitely must include a selection for your own holiday enjoyment!

51% Merlot and 49% Cabernet Franc
"This first red in our popular Trinity Collection of red blends delivers tasty satisfaction blended to perfection."
Essence of cherries, plums and strawberry jam combined with hints of spice, red liquorice and cocoa, surrounded by supple tannins and subtle minerality. This is the anticipated meeting of Old World tradition with the excitement of New World discoveries. Let the magic begin with the first of the Trinity Collection!

39% Malbec, 33% Merlot, 13% Cabernet Franc, 9% Petit Verdot and 6% Cabernet Sauvignon
"Compass has become the benchmark and the most popular red blend in our portfolio, often selling out first. "
Aromas of fresh picked wild raspberry and ripe cherry bring you front and centre to the taste of cassis, blueberry, nutmeg, clove leather and mocha, all rolled into a nice bundle of soft, smooth tannins with a layered, long complex sensation on the palate and finish. This lovely wine, the second in the Trinity, is reminiscent of a relaxing afternoon in a Bordeaux sidewalk bistro.
55% Cabernet Sauvignon, 13% Petit Verdot, 12% Merlot, 10% Cabernet Franc and 10% Malbec
Fresh fruit-forward aromas with the sweet smell of pipe tobacco followed by blackberries, anise and blueberry jam, with a gentle blend of vanilla and chocolate that leaves you wanting more. Earthy yet soft, complex yet elegant, this wine is crafted for those occasions when you can devote your full attention to the beauty of a traditional Bordeaux-style wine.

Equal parts Cabernet Sauvignon, Cabernet Franc, and Syrah.
"The third release of our Port-style: Ouest. Enjoy after dinner with an array of aged cheeses. Who needs dessert?"
This intense giant has been aging for seven years, hiding in the back of the barrel room. Stewed plum, dark berries, cedar and a hint of cassis on the nose; balanced notes of herbs with a hint of caramel on the palette for the longest finish. Fortified with our distilled 2012 Cab Sauv.
Yours to savour or share with that special someone.
Winter in Wine Country at vinAmité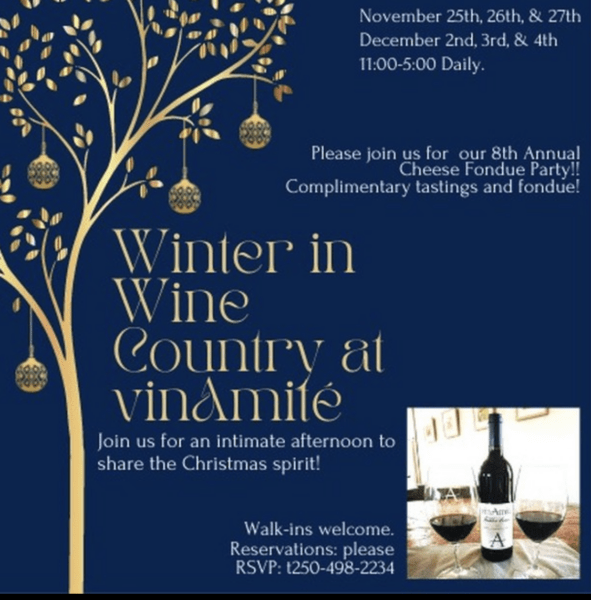 Our 8th Annual Cheese Fondue Party for Winter in Wine Country at vinAmité is back! Get in the Christmas spirit with a complimentary 45 minute pairing of cheese fondue with wine tastings while enjoying our comfy cozy Holiday atmosphere! Grab some wine and Christmas prezzies while catching up with the vinAmité Family and your friends. We'll also have great discounts and gift baskets ready to go to make your shopping easy! Looking forward to greeting you! When?! The weekends of November 25th, 26th & 27th and December 2nd, 3rd & 4th. 11-5 daily.
Wine notes courtesy of the winery. Images: MyVanCity. I received complimentary wine to facilitate this feature.