Whenever you visit Serendipity Winery chances are you will be greeted with a taste of one of their wonderful bubbly wines. Our visit in late September was no exception. Our tasting started with Sparkling Truth and a visit with Katie. Always such a pleasure to share the company of both Judy and Katie as we caught up on what's new.
We were fortunate to have an opportunity to enjoy the delights the The Bistro while we were there (opens again in Spring of 2023) Make a tasting and lunch or dinner in The Bistro a must on your travel itinerary, you won't be disappointed.
Meantime enjoy the wines of Serendipity throughout the holidays or anytime. Perfect gifts for any wine lover on  your list.
Here is what we tasted:
2015 Sparkling Truth

With a clean, floral nose, and crisp minerality with balanced acidity, this elegant BC bubble offers flavours of granny smith apple, almond/marzipan, creamy lemon tart, sweet pastry, mandarin and pear. It offers a luscious mousse with an elegant mouthfeel and generous length.
A 16 month elevage and 31 day hand riddling program give this wine a delicate yeasty flavour, inspired by old world champagnes.
Wonderful scents of brioche with a slight stone fruit, apricot, and white peaches. Excellent acidity, mellow and smooth on the palate with a light fizz.
A winner with ripe fruit this wine is delicious and is in its prime.
2021 Rosé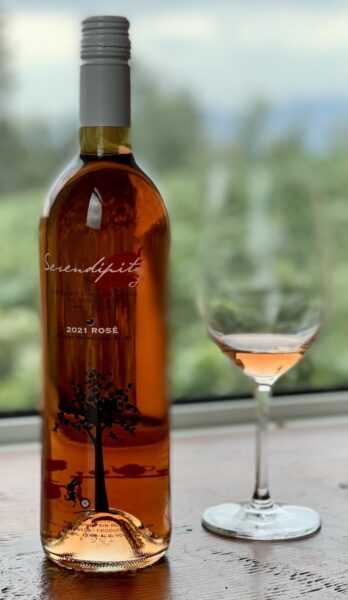 Made in a food-friendly style, this dry rosé is a nod to old-world rosé wines. Made from only red grapes, kept on the skin for 24 hours to draw out the colour, the flavour of this wine can be best described by the word 'pink'. Notes of strawberry, cranberry, pomegranate, rhubarb, citrus and cantaloupe abound. The dryness and unique blend of grapes make this an extraordinarily versatile wine, pairing nicely with a wide range of flavours and textures.
Toasty with caramel  scents, butter scotch mixes with stone fruit. Good acidity, smooth and mellow, slightly lighter. Very nice.
2016 Pinot Noir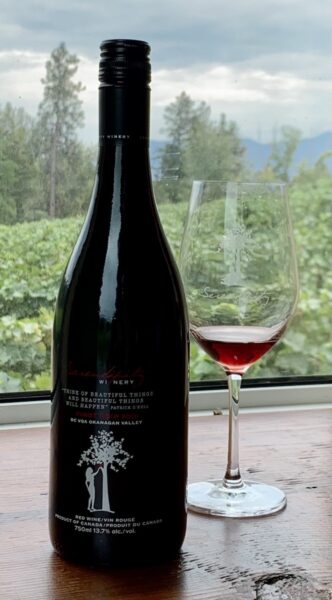 A nice and smooth Pinot Noir, made in the traditional style and ready to drink right now. It is full bodied with notes of coconut, vanilla, crème brule, blueberry, cherry pie and milk chocolate.
Scents of plum, raspberries, rhubarb, hard candy, dates and plum torte. Yum, perfect weight and balance. An amber colour, so smooth with a beautiful finish.
Like a warm hug on a fall day. Outstanding.
2016 Next Step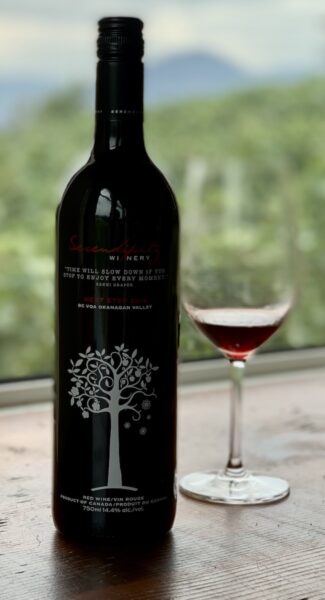 Aged 4 years in French & American oak, this Merlot, Cab Franc & Pinot Noir blend has great notes of cocoa, dried black figs and toffee. It is an "easy drinking big red wine" with flavors of dark cherry, baked plum, red licorice, cardamom and blueberry.
Aromas of a fine cognac, stewed plums, olives, spice, leather, tobacco, some slight oak scent and some dense floral notes. A dark, rich burgundy colour in the glass.
Wow! Ripe, rich fruits, dense but with lighter tannins, so smooth. Flavours of figs, dates, raisin pie, very mellow, meant for savouring and so drinkable.
Devil's Advocate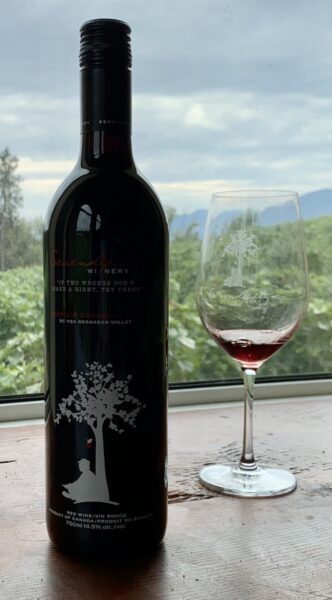 The Serendipity Devil's Advocate marks the serendipitious beginning of a lawyer- turned winemaker's journey as she moved from Toronto to a former orchard on the acclaimed Naramata Bench, in the heart of the Okanagan Valley. With a dose of tannin and notes of pepper combined with flavours of dark chocolate, eucalyptus and black cherry, their Devil's Advocate red wine celebrates the beauty and the balance of a Bordeaux-style blend. This is an exceptional wine, with an inspirational story, and a must- add to your holiday gift list.
Amber in colour with spicy scents, leather and tobacco. Hints of spice with medium tannins. Rich with plums, ripe and jammy. Some molasses and leather. Really nice.
$41.99 available at Fraser Commons Liquor Co.
What we shared and enjoyed at The Bistro:
Bread & Bone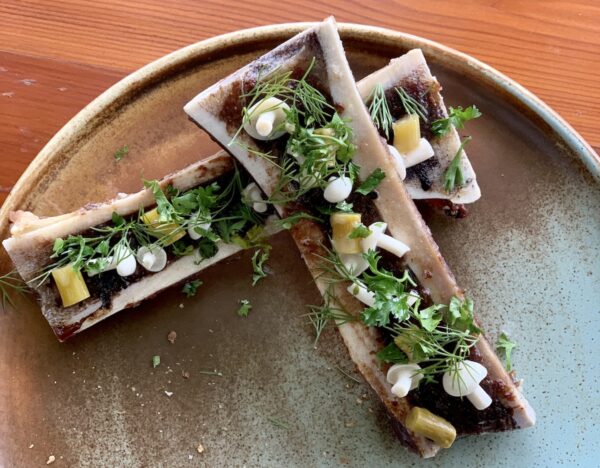 Two Rivers Natural Bone Marrow, House-made Fig Date Balsamic Jelly, house pickled mushrooms & Klippers Organic Seasonal pickled vegetables with Terra  Breads Sourdough.
Shrimp Aquachile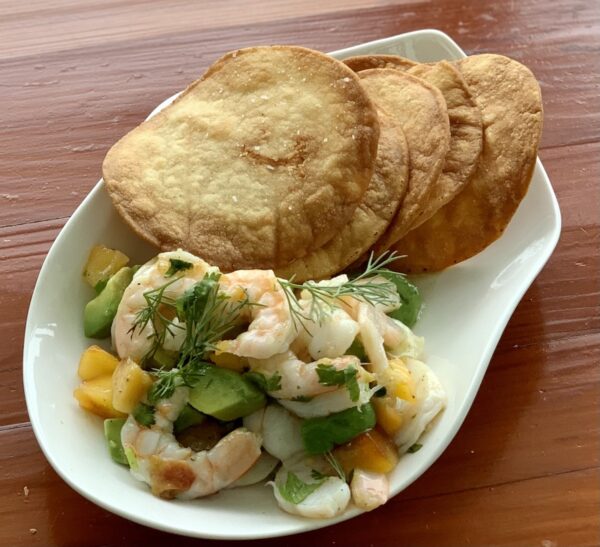 Ocean Wise Pacific Shrimp, Coconut Jalapeño Aquachile Dressing, Fresh Avocado & Stone fruit with cilantro and corn tostadas.
Prosciutto Melon Salad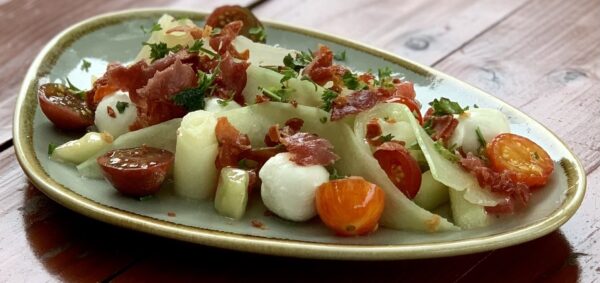 Klippers Organic Mixed Melons, for de latte, Heirloom cherry tomatoes, crispy Prosciutto, Lemon Basil, Pistachio sesame crumble, lemon basil vinaigrette.
Information, wines notes and descriptions courtesy of the winery and The Bistro. My notes (in italics). Images MyVanCity. I received a complimentary tasting and lunch for two people.