"In this series we bring you our #FavouriteThings Holiday Gift Suggestions which we personally recommend"
Nothing beats bubbles during the holidays! Unless of course it's a rich and delicious Cabernet Franc from Township 7. This season you can have it all. Think bubbles for brunch, dinner, with holiday appetizers and, of course, for New Year's Eve or even New Year's Day! Whenever you enjoy your bubbles here are two that you are going to want to have on hand over the holidays.
That superb Cabernet Franc is the perfect pairing for those enjoying a traditional ham or a traditional roast beef dinner. The possibilities are endless for pairing this wine from Township 7.
2020 seven stars Rigel 

STYLISTIC NOTES
This single vineyard, seven stars wine is made with Riesling from the Fool's Gold vineyard in North Oliver. Owned by Mark Antonello, a well-known vineyard manager, the estate was planted over 2 decades ago by his father-in-law Richard Cleave, the Okanagan's most renowned viticulturist. The Western sloping vineyard is comprised of sandy clay loam soil, with abundant rocks and gravel, providing excellent drainage. The fruit was gently pressed, fractioned off to separate tanks for free run and gently pressed portion. Only the free run juice was used in the cuvée. The juice was then cold settled before fermentation in stainless steel. The ferment was cool, enabling the retention of the most delicate fruit aromatics. En tirage was for 12 months prior to disgorging and adding a proprietary dosage, for an expressive, bright and delicious sparkling wine.
FOOD PAIRING
Perfect to pair with fresh B.C. oysters, Dungeness crab, or soft robust cheeses.
2018 seven stars Equinox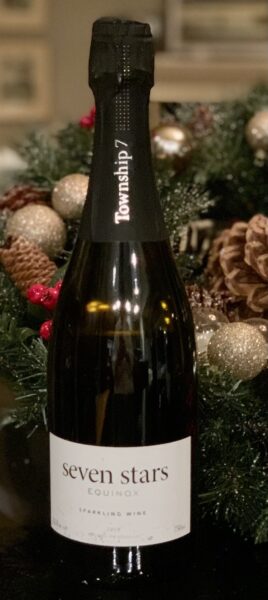 100% Pinot Noir
TASTING NOTES
This vintage of Equinox shows red fruit characters including wild strawberry, rhubarb, and Braeburn apple. The wine is complex due to the extended aging on the lees and tannin profile. The mousse is creamy with a cleansing acidity that makes this rich and luxurious wine round, yet well balanced.
STYLISTIC NOTES
This alluring, single-vineyard sparkling Brut Rosé is made from Pinot Noir grapes sourced from Stoneridge Vineyard in Okanagan Falls. Situated on a southwest-facing hillside overlooking the meandering Okanagan river by Vaseaux Lake, the climate here is ideal for sparkling grapes. The intense south Okanagan summer heat is tempered by the coolness of its elevation and proximity to the river. The good acidity that is maintained accentuates aromatics and fruit flavours within the finished wine. The wine was left en tirage for 30 months to ensure the development of autolytic characters. After riddling and disgorging, a small amount of our proprietary dosage was added for complexity and depth of flavour.
FOOD PAIRING
A beautiful cocktail and canapés wine, we suggest trying with bruschetta topped with prosciutto, ricotta and arugula, a smoked salmon and brie crostini, or strawberry macarons.
Wine club exclusive
2019 Cabernet Franc

STYLISTIC NOTES
This vintage was produced from the Raju Vineyard in Osoyoos, located close to the US border, where the southern heat allows for full ripening of this variety. A 16-day fermentation with pigeage and delestage management of the grapes enables rich fruit extraction. The wine was aged in predominantly French oak with some American oak barrels for 24 months, 20% of the oak was new. A wonderfully concentrated Cabernet Franc, that shows great balance and structure.
FOOD PAIRING
Pair with grilled balsamic pork tenderloin and a strawberry compote or try a vegetable lasagna.
member exclusive
seven stars club
Over two decades ago, we had a vision to craft a sparkling wine of distinction. Township 7 was amongst the first wineries in B.C. to create a méthod champenoise wine with our inaugural seven stars 1999. Since then we have won innumerable awards – highlighted by Best Canadian Sparkling Wine at the prestigious Champagne & Sparkling Wine World Championships 2019 in London, England.
With winemaker Mary McDermott's passion and extensive expertise in traditional method wines, we have expanded our growing collection of small lot cuvées: Polaris, Equinox, Sirius, Vega and Eclipse. We hope you enjoy tasting our stars!
Join the club and experience the sparkle.
Subscribe to seven stars club to receive our fine sparkling wines two times a year.
Membership is complimentary.
Your commitment includes two (2) annual shipments of six (6), seven stars sparkling wine bottles (May & September) chosen by our winemaker. Choose from two (2) rewards.
Pick-up your shipment and receive 15% off the cost of your wines. Or get free shipping to your door anywhere in Canada.
Membership also includes:
Enjoy access to limited edition wines only
available to seven stars club members.
Full access to exclusive clubSEVEN wines.
10% off wine purchases outside club shipments.
15% off all wine for double club members.
Invites and VIP treatment at special events and two club parties.
Makes A Great Gift
Know someone that loves wine? Why not buy them a few deliveries as a gift? Simply hit-up the gift packages area. When you checkout you can set the quantity (equal to the amount of deliveries) you'd like to purchase. Our packages are also great as a corporate gift because we can deliver directly to your client's office. The packages are more cost effective than flowers or gift baskets (who wants to eat flowers anyways?). We include a customized gift card with each purchase. Simply leave a personalized message in the order and we'll make sure to design the card with your words.
Wine notes and information regaring club seven provided by the winery. I  received complimentary wine to facilitate this feature.