In late September I was fortunate to be invited to a tasting of the Mark Anthony portfolio held high above the city on the 24th floor of the Telus Gardens (more about that in another article). The best part of the afternoon for me was a guided tasting of CheckMate Chardonnay. These are exclusive wines; only seven or eight barrels are made of each single-vineyard wine. Top end Zalto glassware ensured that the wines showed their best.
The wines come from three vineyards in the south Okanagan; Heritage Vineyard on the Golden Mile Bench (East side of the valley), The Barn Vineyard on the Black Sage Bench and the Border Vista Vineyard on the Osoyoos East Bench along the Canada / US border. Each site has unique properties from gravelly to sandy soils, morning sun, afternoon sun, etc. Some vines are as much as forty years old and some are planted on low-yield sites, which results in very concentrated flavours.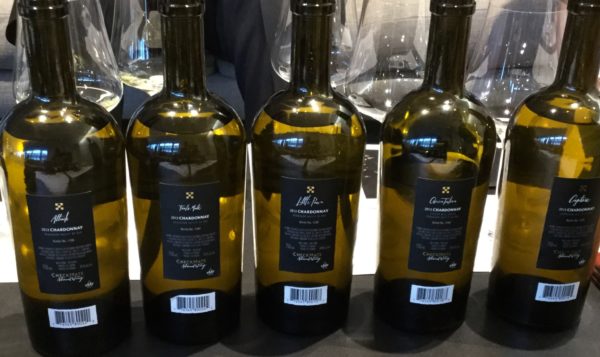 After the grapes are harvested and arrive at the winery, attention to detail continues with hand sorting with each bunch being assessed. The grapes are not crushed, rather whole bunches are gently pressed. The grapes are barrel fermented and the lees are periodically stirred in order to give the wine a rich creaminess. When the wine has aged and is ready for bottling, there is no fining or filtering in order to maintain as much of its character as possible. The wines are as pure and as authentic as they can be. They are elegant and sophisticated.
Australian born winemaker, Phil McGahan began his career as a lawyer then got swept up in the world of wine and found himself in California, in the Russian River Valley of Sonoma, working for Williams Selyem.  Once coming to CheckMate, he began focusing on the vineyards, studying them in great detail, right down to each row, so he could pick the best micro-blocks. From these three sites, only a total of seven acres of grapes are selected to become CheckMate Chardonnay.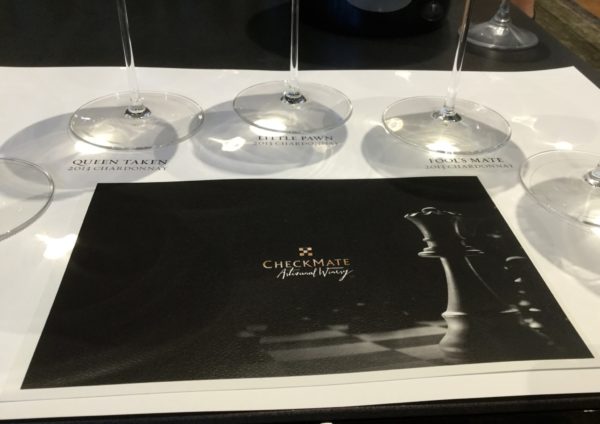 Phil realized that the effects of climate change meant that the best chardonnays would have to come from new areas where structure could be maintained. He realized that the Hunter Valley in Australia was becoming too hot to grow top quality chardonnay and he moved to California. For similar reasons he later moved to BC. In BC, he felt he could make chardonnay that would capture the very best of old world and new world wines, especially knowing that Mission Hill, with winemaker John Simes, had won the 1994 "Top Chardonnay in the World" award in London for their barrel fermented 1992 Chardonnay.
Yes, these wines are expensive and that is why they are marketed around the world, including London and New York.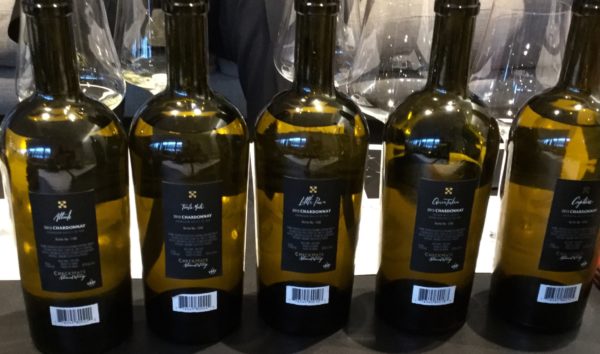 Each wine I tasted was unique, yet there was a common thread that ran through them all.
Capture Chardonnay 2013             14.2% ABV                 $90
Single Vineyard – Border Vista, Osoyoos East Bench
50% wild ferment
100% French oak (53% new), 18 months in oak
Clonal Selection – Dijon
Crafted – 7 barrels
Handpicked at night
Vintner's notes, "A struggling, natural ferment contributes a lifted, perfumed nose reminiscent of mandarin blossom with a wild element. The palate opens with spice and creamy stone fruits, which are overtaken by minerals and a keen acidity, smoothly interwoven with an oak influence." I found the wine to be subtle and elegant from beginning to end.
Queen Taken Chardonnay 2013    14.3% ABV                $125
Single Vineyard – Heritage, Golden Mile Bench DVA
100% French oak (36% new), 17 months in oak.
Clonal Selection – Heritage
Crafted – 9 barrels
"The wine has essences of citrus peel, honeydew melon and white peach combined with aromas of freshly toasted brioche, rose hip, wet stone and floral notes. The palate has a generous, broad entry, rich mid-palate and good acidity providing a long complex, textured finish." For me, I found this one to be more of a California style with ripe, almost tropical, fruit.
Little Pawn Chardonnay 2013        14.4% ABV                $110
Single Vineyard – The Barn, Black Sage Bench
100% French oak (57% new), 18 months in oak
Clonal Selection – Dijon and Heritage
50% wild ferment
Crafted – 17 barrels
" Captivating, floral notes with hints of rose petal and cinnamon spice. On the palate, subtle richness, hints of cream and beautiful oak integration create a wine of restrained elegance, with substantial length." This was my favourite by a slight margin.
Fool's Mate Chardonnay 2013        14.5% ABV                 $80
Blend of vineyards – 64% The Barn, 25% Border Vista and 11% Heritage
100% French Oak (50% new), 17 months in oak
Clonal Selection – Dijon and Heritage
Hand-picked at night
Crafted – 17 barrels
" An extremely complex wine with a nose of brioche, herbs, hints of melon, yellow peach and 'sur lie' notes. The palate is rich and reminiscent of almond croissant and brioche. The finish is long and round with a touch of mocha, vanilla and spice." I found some similarities to Queen Taken, the second wine, though slightly less intense.
Attack Chardonnay 2013                 14.2% ABV     $115
Single vineyard – The Barn, Black Sage Bench
Large new oak oval cask (Foudre), aged 18 months
Clonal Selection – Dijon and Heritage
Crafted – 1 Foudre
" . . . . .aromas of Asian spice with wet stones and flint on the nose. The palate has a zesty entry, with a hint of richness and minerals followed by a lingering flavour (sic) of lychee, ginger and spice." You can certainly detect a different character, with the fruit standing out on the palate in this wine as a result of its time in large oak vats (Foudre).
As stated, my favourite was the Little Pawn, closely followed by the Attack, which is also from the Barn vineyard. Others such as John Schreiner slightly preferred the Queen Taken and Fools Mate, while Anthony Gismondi's favourite was the Fool's Mate. However, in all cases, these were subtle differences. They are as age worthy as top Burgundian whites. These are without doubt, among the finest chardonnays ever produced in Canada and as such, rival the best in the world.
Understandably, with such limited production, there is no tasting room, however the wines can be purchased through their web site. Contact them at www.CheckMatewinery.com.
* With thanks to John Schreiner for additional information.
(all photos, except as noted – Sam Hauck)