Now available to Starbucks customers nationwide, the Cascara Latte is Starbucks first new beverage of 2017. So, what is cascara? Here are 3 things you need to know about cascara at Starbucks: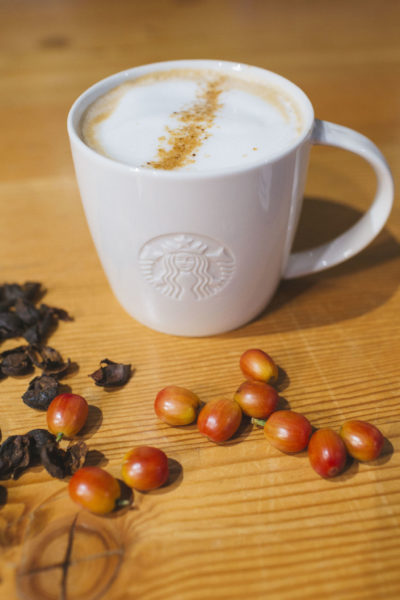 Cascara (kas-KAIR-uh: like mascara) means "husk" or "shell" in Spanish, and refers to the fruity outer skin surrounding the bean. The coffee bean is at the centre of the coffee cherry. As the coffee cherry is processed, the skin and pulp are removed from the cherry and left out to dry. Voila, you have cascara. In the past, coffee producers would use cascara as fertilizer, compost or even a source of fuel. Other times, the cascara would be discarded altogether. Now, Starbucks coffee producers are making use of this resource to create a coffee experience unlike any other. Take a look at this video on Starbucks 1912 Pike Blog for a visual explanation of what cascara is and how Starbucks is using it today.
The cascara is one of the most un-tapped resources for coffee innovation: In coffee-growing countries like Ethiopia, there has been a long-standing tradition of brewing a tea-like beverage with the husks of coffee cherries. Beyond that, there hasn't been a ton of innovation around cascara as an ingredient – until now.
The Cascara Latte was inspired by our Starbucks Reserve Roastery in Seattle: The Starbucks Reserve Roastery in Seattle is where Starbucks experiments with the latest coffee innovations to discover new and interesting flavours to bring to its customers across the world. As a part of the Barista Starbucks Innovation Challenge,Starbucks Barista's were tasked with creating a new beverage experience featuring the cascara. After months of research and testing, they perfected the final recipe, which is now available at cafes across the country in the form of the Cascara Latte.