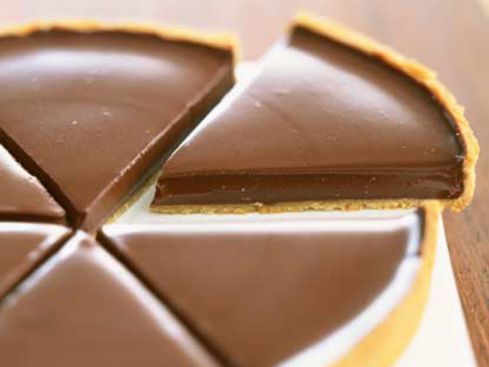 1/3 cup milk
1 cup whipping cream
2 tbsp butter
240 gr (8.5 oz) dark chocolate (55 to 70% cocoa content recommended)
4 eggs
1 tsp pure vanilla
1 sweet shortcrust pastry shell
Sweet Shortcrust Pastry (Pâte Sablée)
Prep Time
1 9″ pie
20 min
Cook Time
Passive Time
20 min
12 hours
Ingredients
◦1.33 cups AP flour 200gr
◦2/3 cup icing sugar 100gr
◦1/2 tsp salt
◦7 tbsp butter soften 100gr
◦1 egg whole
◦1 egg yolk
Servings: 9″ pie
Instructions
Put the flour, sugar and salt into a food processor. Using the pulse button, process until well blended. Add the butter, pulse until the mix has a sandy texture. This can be done by hands by rubbing the dry ingredients and butter together until there are no lumps of butter.
Add almond flour. Pulse again until combine. Transfer to a bowl or onto the counter and form a hole in the middle of the mixture.
Whisk egg and and egg yolk. Add in the middle of the flour mix. Gently blend using your finger. Do not overwork the dough, just gather together in a mass.
Place mixture on plastic wrap, gather into a smooth ball, then refrigerate, overnight or at least 2 hours.
If the dough was refrigerated for a long time and is hard, take out of the fridge 20 min prior to rolling out. Roll out to be slightly larger than your pan. You might want to use parchment paper under and on top of the dough for rolling. Do not use too much flour on your surface, it will dry the dough. Dough will become sticky due to high butter content.
Fit the dough into a buttered fluted pie pan, easing the pastry into the base. Trim the pastry edges with a knife (save any trimmings). Press the pastry into the flutes, lightly prick the base with a fork, then chill for 20 mins. Pre-heat oven to 325 F
Line pastry with parchment paper, fill with dry beans and bake for 15 mins. Remove paper and beans and bake for another 5 mins more until the pastry is pale golden. Let it cool before filling.
Recipe Notes
◦If you don't have a food processor, you may rub the butter in the flour and sugar with your fingers until getting a sandy texture.
◦Refrigerating after making the dough and after laying it in the pan prevents shrinking during cooking, and allow a better taste.
◦Dough can be made ahead and left in the fridge for 3 days, wrap in plastic, or frozen for 1 month. Thaw overnight in fridge.
Prepare your shortcrust and pre-cook it as instructed. Let cool.
Pre heat oven at 300F.
Chop the chocolate in small pieces. Set aside in a large bowl.
Beat the eggs in a separate bowl and set aside.
In a saucepan, bring milk, cream and better together to a simmer.
Pour hot mixture on the chocolate and whisk until completely melted and well blended. You can add your flavoring then if you wish.
Add the beaten eggs to the chocolate and continue beating so they do not scramble.
Pour chocolate mixture on the pie shell. Place in oven for about 20 min or until tart is slightly set: When shaking, the outside should be set and the middle just wobbly.
Let cool to room temp for about an hour. Serve same day for better taste.

About the cook…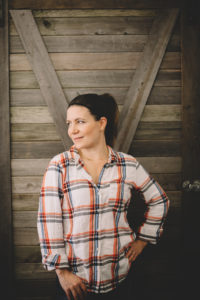 OK… Tartine is not my actual name… My name is Valentine, and no, I was not born on Valentine's day!!!
I was born and raised in France, around Reims, in the Champagne's region, lucky to have enjoyed the vineyard countryside most of my childhood. My love for food started early with my father being a successful caterer in the region. As soon as I was in age to work, straight to the kitchen! Moved to Paris when was 18 to pursue Hotel Management School. Then traveled to work in Hotels in Singapore, Paris, New Orleans, Toronto and now set in Vancouver.
About the cooking classes…
I wanted to share my passion for home made food. I enjoy good food whether it's good for your body or for your soul. I love exploring all kinds of foods, but always go back to my French roots. There is  something I will stick to: HOMEMADE!!!! Scratch is my motto, I do take pride in making it from zero, and using quality products (aka: loads of butter!!!). I will be sharing French cooking lessons, tips and recipes, my cooking experiences and seasonal traditions. I have been doing a lot of cooking at home over the years, for my family and friends, and I can't wait to share my passion with you!
Bon appétit!
Valentine Kitamura
Tartine & Maple
Demystified French Cooking
classes l catering l parties
Feature pic: rotten77