Vancouver Foodster celebrated it's 5th Anniversary for Tasting Plates on March 8th 2017 – founded by Richard Wolak, Tasting Plates Vancouver takes participants on a unique food journey, exploring and celebrating Vancouver's diversity!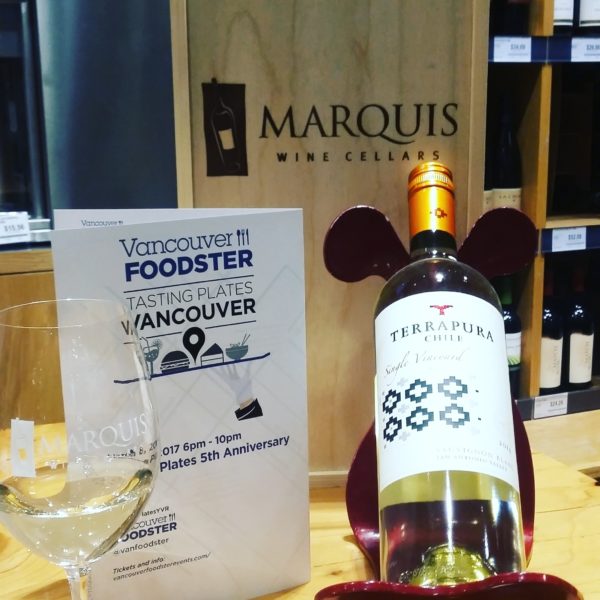 We commenced our tour at Marquis Wine Cellars on Davie Street with a sampling of a Sauvignon Blanc and Cabernet Sauvingon from the Chilean winery, Terrapura. The Sauvignon Blanc presented with rich tropical fruity notes, balanced with an acidity to give a long finish. The Cabernet Sauvignon has a beautifully lush strawberry nose and on the palate subtly presented this sweetness as its muscularity grips your tongue. The Marquis staff were wonderful hosts and highly knowledgeable to make educated recommendations to an individual's palate.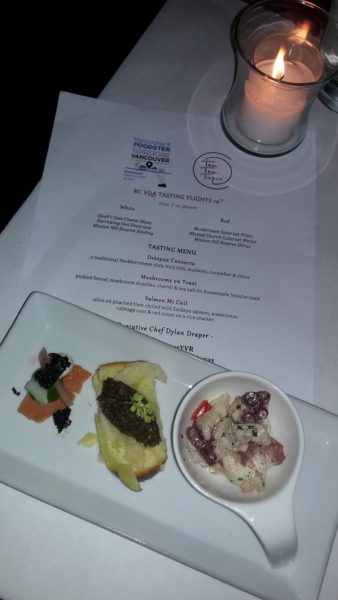 Next up, we trekked beneath the Burrard street bridge to over look an iconic Vancouver sight – False creek inundated with rain! Nestled into Ten Ten Tapas, we enjoyed a sampling of their citrus cured Octopus Conserva, mushroom tapenade on toast and their perfectly tender and flavourful Salmon Mi Cuit. I am looking forward to coming back March 18th for the launch of their brunch menu!
We then hiked our way back up to Davie street to test out Saj & Co., a convenient express Lebanese Kitchen. Here, we enjoyed their "Flowers" – a breadbowl housing a light, spicy hummus and arugula salad – followed by vegan, chocolate-banana "Sweets." A great spot when you are looking for a wholesome, healthy yet flavourful bite on the go.
Before heading into the downtown core, we stopped in at Tartine Bread & Pies on Davie – we were not quite ready to indulge in some gorgeous apple pies and true to their daily standards, the lovely staff had take-away pies ready and wrapped up for us. The Salted Caramel Apple Pie was my favorite with decadent caramelized sugar and cinnamon topping, but the Blackberry Apple and the Dutch Caramel were just as delicious! A cozy spot to hit for a beverage and sweet or savory treat!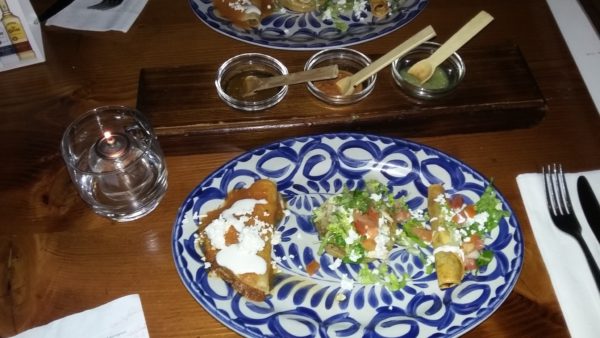 Our fifth stop of the evening took us to Patron Tacos & Cantina to enjoy some Sopecitos, delightful little chicken and bean tarts, Flautitas comprised of shredded braised beef wrapped in deep fried corn tortillas, and finishing with shredded beef Enchiladas.  The proximity of Patrons to BC Place, their relaxed atmosphere and reasonable menu, make them a great place to check out before or after games.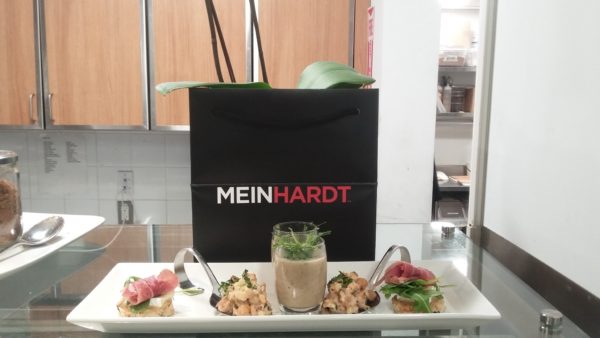 We rounded off our evening at the Downtown Pacific Centre Meinhardt Fine Foods' location, the 2 year old progeny of their longstanding 20 year old original location on South Granville. Here we found the exceptional gourmet quality Vancouverites have come to expect from the homegrown Meinhardt franchise. We were warmly greeted at the door with a take-away chocolate bar, and promptly shown to a seat along their deli bar. The mushroom leek soup was a perfect starter to jolt us with a bit of warmness – following was a beautiful spoonful of their roasted cauliflower & chickpea salad, a daily staple at their deli, choc full of good proteinaceous energy to boost your work day! Next we enjoyed a delicious fig crostini topped with arugula, brie and prosciutto.  We finished with a perfectly tart yet sweet, raspberry topped lemon bar paired with the rich darkness of their chocolate Superfood SweetHARDT.
Looking forward to the next 5 years filled with even more food adventures from VanFoodster! Salute!