For anyone familiar with the "hot spot" circuit of restaurants in Vancouver it's not surprising that Mott32 would fit the bill and, at least temporarily, be the place to be and be seen.
Shortly before the grand opening of the hotel that houses the Mott32 Restaurant I was invited to a media dinner to sample their tasting menu. It was a very nice evening mostly due to the fact that I was acquainted with the other guests. Nothing improves an evening like good company and that evening was top notch in that category.
There is a reason you see career servers bounce from one restaurant to another, it's simple, one day you're hot and then you're not. Its common for servers to follow and jump around to the next "must" spot. Few of these hot restaurants, maybe some, hold their ranking over the long haul. It's hard to say what the future holds for Mott32 but at least for now it is on the hot list. I felt a "housewives of Vancouver" vibe that can indicate a restaurant is experiencing a solid opening with the "see and be seen" crowd. Whether this is sustainable is the question.
Our arrival started a bit rocky as we mistakenly entered through the door to the hotel bar. I call it a bar because it in no way gave the impression or ambience of a lounge. This was surprising to me because I really expected something special. I didn't spend any time in the bar but it was big, under decorated and crowded. Once ushered in the direction of the restaurant we were greeted by a hostess with a clipboard. Unfortunately she didn't have our names or the name of the agency that had invited us which left us a bit confused and a mite embarrassed as we stood in the entryway of the restaurant.  Our table was located close by and as soon as we were spotted we were welcomed in.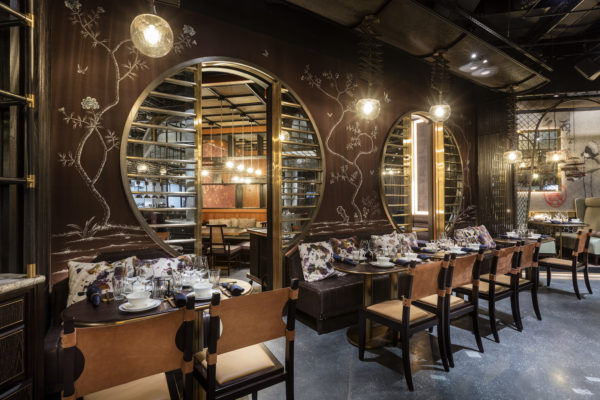 The restaurant is large and has some varying seating areas. I did like the idea of the slightly elevated banquette tables that had a cozier feel to them. We were seated at a round table that was too big for six guests and did make conversation a bit more difficult. I must be on the smaller side because I found the sling type director style chair most uncomfortable. It made me feel like Edith Ann in a chair too big for me. It was difficult to sit close to the table.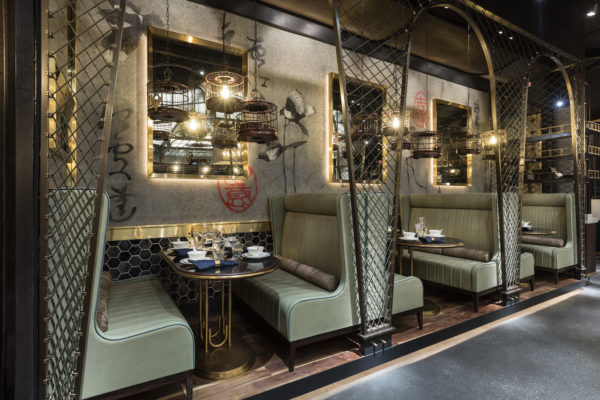 We started the evening with a house special cocktail of our choice or, as in my case, the server suggested the bartender could make whatever we desired. I love to challenge bartenders and being a Chinese restaurant I decided to go old school with a classic Singapore Sling. I let the server know if the bartender wasn't familiar with the drink a G&T in a brand of his choice was my second option. I wasn't too surprised when the G&T made it's appearance. You will still find the Singapore Sling on the Classic section of the cocktail list of some better cocktail lounges. It used to be a big favourite at restaurants in Chinatown and is essentially a Shirley Temple with booze and sometimes with a splash of plum brandy. Yum.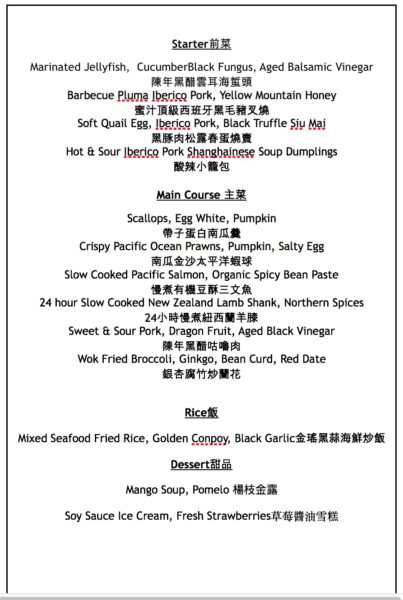 Thanks to our table mate, an accomplished chef and media type, who was born in Hong Kong the dishes were explained in detail. I would have had no idea that the dishes were very traditional and properly prepared without her input. A few of the dishes were recognizable of course but it helped to have an understanding of why certain foods were cooked in a certain way using traditional methods and seasonings. Overall the food was quite good. The wine pairings were disappointing however I did enjoy the apple cider pairing with the first course.
The kitchen is open and it is interesting to watch the professionals preparing the dishes. To one side there is a small kitchen with an oven that is dedicated to preparation of the Applewood Roasted Duck. It was amazing to watch just how many ducks were roasting at any one time as they left the kitchen almost assembly style. Unfortunately Applewood Roasted Duck wasn't on our menu as I would have loved to have try it as well as other signature dishes. For more on these offerings my previous article on Mott32 can be seen here.
As we finished our dinner around 8:00 pm the restaurant started to come alive as guests arrived. It was fun just to watch and I couldn't resist stereotyping as guests were escorted to their tables. Continuing with the feeling of a reality show vibe I noticed a man, complete with scarf and topcoat over his shoulders, leading a group to a private dining room, he reminded me of Stanford from SITC. The evening was starting to get interesting. So if people watching is your thing, this could be the place.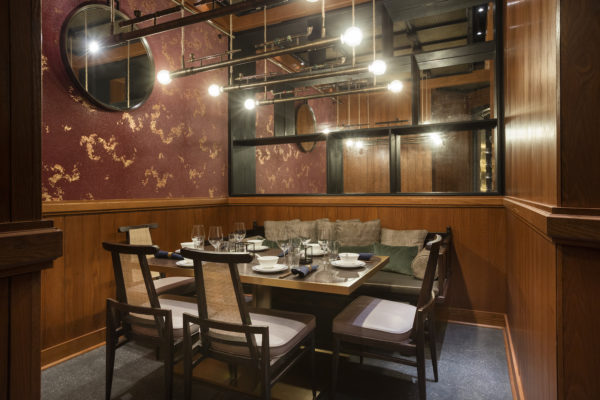 I would advise, women in particular, to avoid using the washroom. I tagged along with one of the other guests, as women tend to do. We walked between the bar and a fabulous glass wall of wines, turned left at the massive painting to find ourselves in a long, corridor style bathroom. It appeared to be pretty much the norm, a row of w.c.'s to the left, a row of sinks to the right. Why do I suggest giving it a pass? Not necessarily because of the fact it's co-ed although that does enter into it. Trust me this is not an issue, all small seat restaurants have a common bathroom (although it is private) and European washrooms are usually common. No two things put me off. The w.c.'s are very dark, have a flimsy lock and unfortunately are a real turn off. The first one I went into had the seat up, yes the seat up, and hadn't been flushed. I tried another, it was so dark I had a difficult time finding the push lock in the lever. The final indignity had to be the number of men exiting the w.c.'s and not one of them washed their hands. Yikes! So take my advice and avoid the washroom.