Rustic Fraserhood Hotspot's 'Thoughtful Rendition of Italian Farmhouse Modern' Also Earns Restaurant, Ste. Marie Art and Design a Silver Designation For Best New Design
The staff at Osteria Savio Volpe are toasting a true celebrazione after the popular Fraserhood mainstay was singled out last night for Best New Restaurant honours and a silver for Best New Design at the 28th edition of the Vancouver Magazine Restaurant Awards.
The Italian tavern-inspired neighbourhood joint — which opened its doors in December of 2015 just after the 2016 awards deadline and was tapped for 10th place on enRoute's 2016 list of Canada's Best Restaurants as well as a coveted spot as one of only 20 BC rooms ranked on the 2017 compilation of Canada's 100 Best Restaurants — was lauded by judges for establishing a reputation and following that belie its 'new' status.
"Is Savio Volpe really new? Somehow in the short time it's been open, it's woven itself so inextricably into the fabric of our food scene that, like Jack Nicholson in The Shining, it seems like it's always been with us," states the magazine in its May restaurant awards roundup issue. "It wasn't the first spot to open in the now-burgeoning Fraserhood, but it's tough to imagine that triangle of hipness without it as the anchor. Nor was it the first to go for a neighbourhood take on regional Italian cuisine … but it somehow already seems the leading player in this genre."
Ste. Marie Art and Design Founder and Principal and local restaurant design pioneer Craig Stanghetta — who co-owns the osteria with renowned restaurateur Paul Grunberg and Savio's Executive Chef Mark Perrier — had another reason to celebrate, as his firm also helped Savio Volpe capture a silver designation for Best New Design, as well as a gold for its blueprint of Chinatown's Kissa Tanto.
"This is a monumental honour for not just myself, Craig and Mark but our entire team and we share this with all of our friends, families and fans who have welcomed us with open arms," says Grunberg. "On behalf of all of us at Savio Volpe, we give our sincere thanks and say 'grazie mille' to our kind and hungry neighbours and loyal guests and look forward to celebrating this big win with them."
The Vancouver Magazine Restaurant Awards are judged by a panel of leading experts and critics, and handed out at a formal award show at the Sheraton Wall Centre in Vancouver. A full list of winners from the 2017 edition of the awards is available at www.vanmag.com.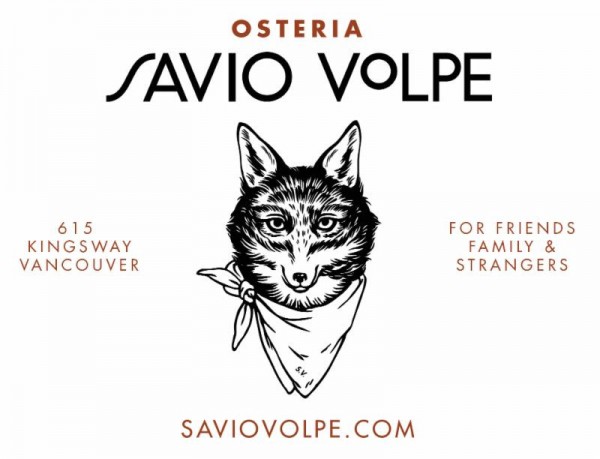 ABOUT OSTERIA SAVIO VOLPE | Opened in Vancouver's Fraserhood neighbourhood in 2015, Osteria Savio Volpe is a restaurant styled after the classic osteria — featuring rustic fare in the Italian tradition of freshness and regionality, using ingredients gathered from the nearby lakes, oceans, farms and fields. Everything is prepared in the simplest, most flavourful way, with pasta handmade fresh every day — fatto a mano in casa — and meat, poultry and fish kissed by smoke over the wood-fired grill and rotisserie. The 75-seat osteria also features a long list of friendly Italian wines and old world coffee to inspire conversation and good cheer among friends, family and strangers alike. Above all else, Savio Volpe celebrates liveliness, warmth and hospitality. Viva la convivialità!  
615 Kingsway, Vancouver, BC  V5T 3K5 | 604-428-0072 | saviovolpe.com
Hours: Sunday to Wednesday 5 p.m. to 10 p.m. | Thursday to Saturday 5 p.m. to 10:30 p.m.
Facebook: /osteriasaviovolpe | Twitter: @savio_volpe | Instagram: @savio_volpe