Revamp blasts new vitality into club's vintage décor, modern cocktails and irresistible bites at The Emerald
The Emerald Supper Club and Cocktail Lounge is known for its deliciously old-school vibe. Recent refurbishments have injected new zest into this Chinatown destination, with its quirky '60s décor, authentically spirited cocktails and appetizing eats.
"We've dedicated ourselves to making the Emerald's atmosphere, drinks and menu more novel and fun than ever," says owner Rachel Zottenberg. "It always feels special, whether you're popping in with colleagues for Friday night post-work drinks or hosting your friends and family at your once-in-a-lifetime wedding. We've simply made it even more of a destination."
Opened in 2013, the Supper Club and Cocktail Lounge attracts groups looking for a spot that's witty and original. There are three unique spaces at The Emerald — The Lounge, The Dining Room and The Cabaret – for a total capacity of up to 200 guests.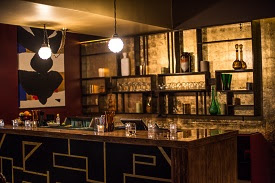 Extensive renovations to The Dining Room have given it a private bar and an entrance of its own, making it a separate space. As such, it's more private than it was previously, and offers room for 74-100 guests to drink, dine, and dance. Its booth seating has also been given a boost, to allow better sight-lines for live shows. A new sound system and projector screen make the audible aspect of your Emerald evening better than ever.
No matter what the theme or occasion, The Emerald's team can tweak the experience to meet a group's needs. Any function is made more intimate when guests pre-order special touches like crystal vintage decanters filled with the spirit of the guests' choosing, along with mix and big ball ice cubes, or a Candy Bar Station, featuring sweet treats.
The Emerald offers an array of food options for larger parties. The tasty new spring Platter and Canape menu, which can include veggies, chips and dip, and cheese and charcuterie, can be pre-ordered. Heartier possibilities include The Second Wind platter, which is loaded with waffle fries, potato chips, crispy cauliflower and more decadent deep-fried goodies. For many partiers, no festive night is complete without a Sweet Tooth platter, featuring chocolate truffle cake, New York cheesecake and sticky toffee pudding bites. Other possibilities include The Emerald's gorgeous canapés (minimum 2 dozen per order), like smoked salmon with cream cheese atop cucumber; seared albacore on a rice cracker; pickled beet served on endive, seasonal soup shots and more. Vegan and special dietary needs can be accommodated.
The Emerald's cocktail menu is ever-changing, with popular drinks such as the classic Moscow Mule (served in a copper mug) and the spicy Jalapeño Margarita returning to the menu for spring. A new cocktail has also been added to the menu — the Ginny Hendrix, featuring Hendrick's Gin and Taboo Absinthe.
The Emerald always offers something different: charm in spades, cocktails that make you sit up and take notice, and plates that cheer the palate.
Open Tuesday-Thursday 5 pm to 1 am
Friday & Saturday 5 pm to 2 am
Sunday & Monday – Closed except for private bookings.
The Emerald Supper Club and Cocktail Lounge
555 Gore Avenue
604.559.8477