Cumin Spiced Potato Cake | makes 4 cakes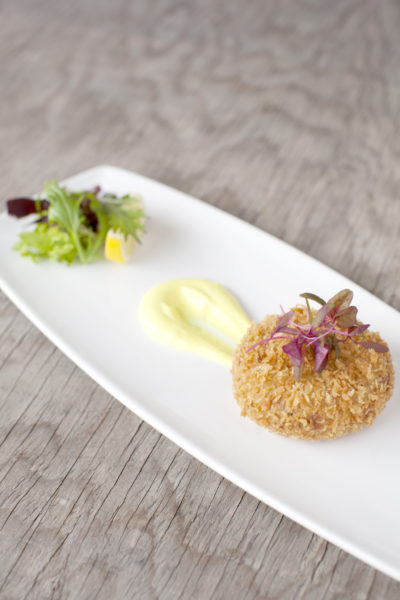 Description: A savoury potato cake appetizer with garam masala and cumin seeds. This recipe is perfect for leftovers – I cook with a lot of 'waste', 'ugly' or 'imperfect' vegetables, so number 2 potatoes and slightly squished or bruised tomatoes are amazing. And turning stale bread into breadcrumbs
is another way to stop produce from going into the bin.
8oz boiled Potatoes (peeled)
2 tbs. Vegetable Oil
1/2 tsp. Cumin Seeds
1/2 small White Onion (small dice)
1 tsp. Garam Masala
1/2 tsp. Turmeric
Red Chilli Powder (to taste)
1/2 small Roma or Field Tomato (small dice)
Salt (to taste)
A pinch of freshly chopped Cilantro (optional)
Oil for frying
Breadcrumb Coating:
2 slices of stale bread (blended finely)
2 local free-run or organic Eggs (for egg wash)
1/2 cup All Purpose Flour
Dip:
1/2 cup plain BC yoghurt
1/2 tsp. freshly roasted and ground cumin seeds
Splash of lemon (plus a few wedges for serving)
Salt for seasoning
A pinch of sugar
Instructions:
Start by boiling the potatoes. Once folk tender, roughly break the potatoes. Leave to one side.
Add vegetable oil to the pan. Once heated add the cumin seeds and let sizzle for 10 seconds. Make sure these don't burn, otherwise start over (it'll turn everything bitter).
Now add the ginger and curry leaves and mix for 10 seconds.
Add the diced onion and cook until translucent with a pinch of salt.
Sprinkle in the turmeric, Garam Masala, red chilli powder (you can always add, but taking away is difficult).
Once mixed add the tomatoes, cook until they are very soft.
Stir in the boiled potatoes until the spices are incorporated.
Check seasoning and level of chilli. (You need salt to make the spices work its magic).
Garnish with cilantro.
Place this potato mixture into a bowl and leave to cool.
Heat the oil for frying. You want the temperature to be around 320 degrees when you begin frying.
Set up four different plates – 1 for the all purpose flour, 1 for the whisked egg wash, 1 for breadcrumb, and 1 empty sheet pan or plate for the breaded cakes.
Firmly shape the mixture into balls, weighing 2oz each.
Once all the cakes are shaped, dredge the cakes into the all purpose flour.
Move into the egg wash and coat every side.
Then, with clean hands, coat with the breadcrumb.
Re-shape each of the balls again.
Now fry at 320 degrees until golden in colour.
In a mixing bowl add the yoghurt, ground cumin, sugar and salt. Squeeze in lemon juice and check seasoning.
Happy eating.
Aman Dosanj, Creator of The Paisley Notebook 
Formerly Poppadoms and Western Living Magazine's 2015 'Foodie of the Year'
According to Dosanj, "food is a language that takes away age, colour, gender, sexual orientation, religion, and even the spoken word. It's who we are. And, it's part of our culture, our upbringing and our memories. That's why I decided to see the world and learn about different cultures by asking locals to share personal food memories with me."
About The Paisley Notebook
The Paisley Notebook belongs to food geek and Slow Food activist, Aman Dosanj. The former Poppadoms and Western Living Magazine top 10 'Foodies of the Year' 2015, is 'eating the world' for 8 months and writing about how food connects the world. Edible adventures include cooking with indigenous Australian in the Outback, seeking the value of food through a Buddhist Monk's perspective, hosting a collaborative pop up dinner in Thailand (and cooking for a multiple James Beard nominated chef), riding along on two food rescue missions, drinking beer to save the environment, plus more. With a degree in Marketing, Aman tells stories using food, with guest sat around a communal long table.
paisleynotebook.com | Twitter + Instagram: @paisleynotebook | Facebook.com/paisleynotebook