"Who likes people? Nobody."
May 19-June 10, 2017
Pacific Theatre presents Outside Mullingar by John Patrick Shanley, a quirky story of love and some kind of happiness. Playing May 19-June 10 8pm Wednesdays-Saturdays with 2pm matinees all Saturdays and Sunday, May 28 and June 4 at Pacific Theatre, 1440 W 12th Ave. Pay-what-you-can preview May 18 at 8pm. For tickets ($23.95-34.95, taxes and fees not incl.) call 604.731.5518 or visit pacifictheatre.org.
A story of love and some kind of happiness. Pacific Theatre closes its 2016-2017 season with John Patrick Shanley's latest work, Outside Mullingar. A charming story of Ireland and the prickly, brooding people who have lived off its land for generations. People like Rosemary and Anthony, a pair of introverted misfits whose families have lived next to each other for as far back as anyone can remember. They pass the years squabbling over property lines and why Anthony pushed Rosemary when they were seven years old, while their ageing parents wonder about what will happen to their land when they die.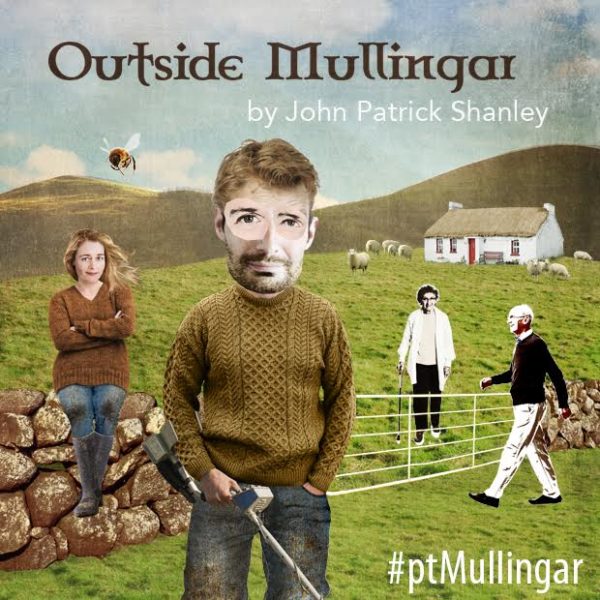 Pacific Theatre has a long history of producing John Patrick Shanley's work, with his knack for writing stories that dig into the depths of the experience of humanity. "Like a great character actor, John Patrick Shanley re-invents himself with each story he tells," says Artistic Director Ron Reed on the script. "From Doubt to Danny and the Deep Blue Sea to Joe vs. the Volcano. If this new one is like anything, maybe it's Moonstruck – an impossible love story with the most hilarious, exhilarating language you'll ever hear on a stage."
Director Angela Konrad echoes this sentiment: "Shanley's work is diverse and varied, but whether it's the darkness and pain of Danny and the Deep Blue Sea or the intellectual rigour of Doubt, his characters are always rich, multi-faceted, and undeniably human."
In a time where it can be hard to believe in the possibility of love, Konrad suggests that this play might make you into a believer: "Someone said to me once that one of the things theatre can do for us is make us believe that love is possible. This play does that."
ARTISTIC TEAM
Directed by Angela Konrad. Featuring Erla Faye Forsyth, Ron Reed, John Emmet Tracy, and Rebecca deBoer. Set Design by Carolyn Rapanos. Costume Design by Sabrina Everett. Sound Design by Julie Casselman. Lighting Design by Lauchlin Johnston.
Details:
OUTSIDE MULLINGAR by John Patrick Shanley
When:
May 19-June 10, Weds-Sat at 8pm with 2pm matinees Sats and Sun, May 28 and June 4
Where:
Pacific Theatre, 1440 W 12th Ave (at Hemlock), Vancouver, BC
Tickets:
$23.95-34.95 (not incl. taxes or fee), to book visit pacifictheatre.org or call 604.731.5518