Cuba to be Guest Country at the Festival's 15th Edition
The 15th Vancouver Latin American Film Festival (VLAFF), the largest festival of Latin American cinema in Canada, is proud to announce its 2017 lineup featuring Cuba as the guest country. The festival will be taking place from August 24 to September 3 across three main venues in downtown Vancouver, The Cinematheque, Vancity Theatre and SFU Woodward's.
The creative team at VLAFF has curated a lineup of films from across Latin America that are original, groundbreaking and historic in its content. This year, festival-goers can look forward to 69 films, from 17 countries, including 31 feature-length films and 38 short films. The festival screenings have been organized in 8 feature sections including: Cuban Classics, International Hits, Women in ¡Activismo!, New Directors, Short Film Competition, Canada Looks South and Indigenous Film from BC & Beyond, among others.
This year's opening film, THE DISTINGUISHED CITIZEN (El ciudadano ilustre) by directors Gastón Duprat and Mariano Cohn is an Argentinian Film that won the 2017 Goya Award for Best Iberoamerican Film. As part of this year's guest country programing, VLAFF will be presenting an homage to Cuba's distinguished EICTV (International School of Film and Television) Short Film program, by showcasing a retrospective on five short films. VLAFF is honoured to have the award winning Cuban Film SANTA & ANDRES by director Carlos Lechuga, as this year's closing film. The political drama is rather controversial as it was removed from competition at the Havana Film Festival New York, and completely pulled from the festival by the filmmaker as a result.
"Having Cuba as a guest country this year is very significant, as the country has been in the spotlight and going through a lot of change since Castro's death," said Festival Director Christian Sida-Valenzuela. "Cuba is a country that has heavily contributed to Latin American film culture and production, as it has one of the most renowned international film schools in the world, EICTV. It's an honour to host Cuba this year and focus on the talent from the region."
This will be the sixth year VLAFF hosts the New Directors Competition, and the first year where there is an equal number of films by male and female directors. The Short Film Competition will be boasting 16 films with a $500 dollar cash prize for the winner. The festival is hosting the Canada Looks South program for the seventh year, highlighting film collaborations between Latin America and Canada. THE STRAWBERRY TREE and CEIBA are two films directed by SFU Professors, filmed in Cuba.
The section on Indigenous Film from BC & Beyond includes a short film program entitled Rhythms of Resistance, showcasing films by Indigenous filmmakers from Canada alongside Indigenous filmmakers from Latin America that explore music as an act of resistance. The section also includes the feature film BAD INFLUENCE (Mala junta), one of the first fiction films ever made by a Mapuche director who also happens to be female, director Claudia Huaiquimilla.
This year marks the festival's 15th anniversary, also known as the "Quinceañera," which is a common celebration in Latin American countries, as a right of passage for girls from childhood to adulthood. The "Quinceañera" celebration is symbolized on this year's festival poster by the dress that is traditionally worn on these occasions. VLAFF takes this opportunity to place a focus on women leaders in film with the new section Women in ¡Activismo! that showcases films that discuss activism and dissent with strong female directors and protagonists.
VLAFF provides a unique opportunity for film lovers to experience the talent of Latin American filmmakers, as 98% of these films will not be commercially released in Canada. All films are subtitled in English and are open to the general public.
VLAFF is excited to announce its newest partnership with Scotiabank as a donor. Scotiabank will match all sales of the Festival Super Pass, which includes access to all film screenings for one person (early bird pricing Aug 1-15 at $120, regular price, after Aug 16, $140). Regular tickets will go on sale online on August 12 at www.vlaff.org.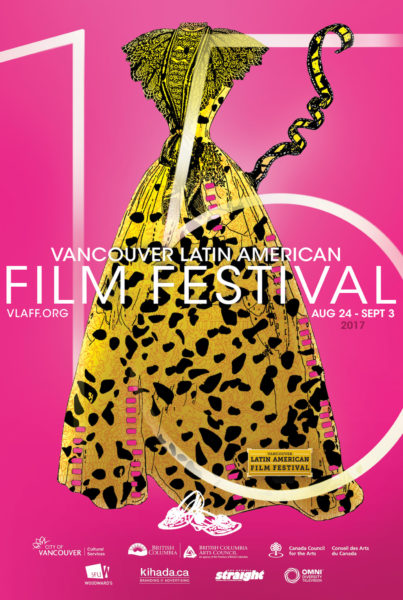 VLAFF 2017 Complete Film Listings:
Opening Night
THE DISTINGUISHED CITIZEN (El ciudadano ilustre)
Dir. Gastón Duprat & Mariano Cohn | Argentina
Closing Night
SANTA & ANDRES
Dir. Carlos Lechuga | Cuba
Guest Country: Cuba
EICTV SHORT FILM RETROSPECTIVE | Cuba
•THE DAMNED CIRCUMSTANCE (La maldita circunstancia), Dir. Eduardo Eimil
•TIDE (Marea), Dir. Adam Breier
•FUCKING LIFE (Pucha vida), Dir. Nazly López Díaz
•A PARADISE (Un paraíso), Dir. Jayisha Patel
•THE ENEMY (El enemigo), Dir. Aldemar Matias
PLAYING LECUONA
Dir. Pavel Giroud & JuanMa Villar Betancort | Cuba/Spain
TWENTY YEARS (Vinte anos)
Dir. Alice de Andrade | Brazil/Cuba
Cuban Classics
LUCÍA
Dir. Humberto Solás | Cuba
MEMORIES OF UNDERDEVELOPMENT (Memorias del subdesarrollo) | Cuba
Dir. Tomás Gutiérrez Alea
STRAWBERRY & CHOCOLATE (Fresa y chocolate) | Cuba
Dir. Tomás Gutiérrez Alea & Juan Carlos Tabío
IMCINE Film Archive Screening & Presentation
THE CASTLE OF PURITY (El castillo de la pureza)
Dir. Arturo Ripstein | Mexico
International Hits
AQUARIUS
Dir. Kleber Mendonça Filho | Brazil
NERUDA
Dir. Pablo Larraín | Chile
THE UNTAMED (La región salvaje)
Dir. Amat Escalante | Mexico
WHIRLPOOL (Redemoinho)
Dir. José Luiz Villamarim | Brazil
YOU'RE KILLING ME SUSANA (Me estás matando Susana)
Dir. Roberto Sneider | Mexico
Documentary
ALL ABOUT ASADO (Todo sobre el asado)
Dir. Gastón Duprat & Mariano Cohn | Argentina
JEFFREY
Dir. Yanillys Pérez | Dominican Republic
New Directors Competition
ALBA
Dir. Ana Cristina Barragán | Ecuador
BAD INFLUENCE (Mala junta)
Dir. Claudia Huaiquimilla | Chile
EL AMPARO
Rober Calzadilla | Venezuela/Colombia
THE FUTURE PERFECT (El futuro perfecto)
Dir. Nele Wohlatz | Argentina
KILL ME PLEASE (Mate-me por favor)
Dir. Anita Rocha da Silveira | Brazil
PANAMERICAN MACHINERY (Maquinaria Panamericana)
Dir. Joaquín del Paso | Mexico
TIME WAS ENDLESS (Antes o tempo não acabava)
Dir. Sérgio Andrade & Fábio Baldo | Brazil
X500 (X Quinientos)
Dir. Juan Andrés Arango | Canada/Colombia/Mexico
Women in ¡Activismo!
ADRIANA'S PACT (El pacto de Adriana)
Dir. Lissette Orozco | Chile
THE CAMBRIDGE SQUATTER (Era o Hotel Cambridge)
Dir. Eliane Caffé | Brazil
DOLORES
Dir. Peter Bratt | USA
TEMPESTAD
Dir. Tatiana Huezo | Mexico
Indigenous Film from BC & Beyond
BAD INFLUENCE (Mala junta) – also in New Directors Competition
Dir. Claudia Huaiquimilla | Mapuche/Chile
MARA'AKAME'S DREAM (El sueño de Mara'akame)
Dir. Federico Cecchetti | Wixáritari/Mexico
TIME WAS ENDLESS (Antes o tempo não acabava) — also in New Directors Competition
Dir. Sérgio Andrade & Fábio Baldo | Tikuna/Brazil
Mid-length and short films:
NATIVE PLANET – Season 2, Episode Durango, Mexico
Dir. Carmen Henríquez & Denis Paquette | O'Dam/Mexicaneros/Wirrarika
TEKOHA – SOUND OF THE EARTH (Tekoha – Som da Terra)
Dir. Rodrigo Arajeju & Valdelice Veron | Guarani-Kaiowá/Brazil
Rhythms of Resilience: Shorts Program
•FEAST OF THE ENCHANTED (A Festa dos Encantados) by Masanori Ohashy
•THE GRANDFATHER DRUM by Michelle Deroiser
•HILA by Adam Bentley and Tiffany Ayalik
•REGALIA: PRIDE IN TWO SPIRITS by Love Intersections
•WAY OF GIANTS (Caminho dos Gigantes) by Alois Di Leo
Videoteca de las Culturas  – Participatory Films from Peru
Canada Looks South
Canada Looks South: Short Films
•CEIBA by Noé Rodríguez | Canada/Cuba
•CLOSE-UP by Yoel Ortega | Canada
•THE ROSETTI STREET MASSACRE by Ana María Tonso | Canada/Argentina
•THE SPACE SHUTTLE CHALLENGER by Cecilia Araneda | Canada/Chile
RESURRECTING HASSAN
Dir. Carlo Guillermo Proto | Quebec
THE STRAWBERRY TREE (El árbol de las fresas)
Dir. Simone Rapisarda Casanova | Canada/Cuba
Short Films in Competition
PROGRAM 1
1THE DIVER (El buzo) by Esteban Arrangoiz | Mexico
2AYA by Francesca Canepa Sarmiento | Peru
3LANDSCAPE FOR A PERSON (Paisaje para una persona) by Florencia Levy | Argentina
4CÅSUCKA by Dalia Huerta Cano & Iván Puig | Mexico
5CENTAUR (Centauro) by Nicolás Suárez | Argentina
6THE HOMICIDE (El Homicida) by Maysel Bello | Cuba
7THE CATS (Los gatos) by Alejandro Ríos | Mexico
8THE SWEDISH COUSIN (La prima sueca) by Inés Barrionuevo & Agustina San Martín | Argentina
PROGRAM 2
1TAILOR by Calí dos Anjos | Brazil
2GUAMUCHIL SEEDS (Semillas de Guamúchil) by Carolina Corral Paredes | Mexico
3TIMELESS (Tiempo va) by Raúl Zendejas Escandón | Mexico
4GRIEF (Un alud) by Cecilia Cartasegna | Argentina
5MISSING (Desaparecido) by Carlos Trujano | Mexico
6MOTHER (Madre) by Simón Mesa Soto | Colombia
7THE FUTURE IS IRREVOCABLE (El porvenir es tan irrevocable) by Silvina Estévez | Argentina
8ROSINHA by Gui Campos | Brazil
About the Vancouver Latin American Film Festival:
VLAFF is a registered not-for-profit charitable organization and the largest annual festival of Latin American film in Canada. The festival promotes dialogue among cultures and explores the art of contemporary Latin American cinema through the eyes of its filmmakers. Since 2003, VLAFF has provided audiences with the unique opportunity to watch inspiring films and interact with guest filmmakers from across Latin America and the diaspora. For more information please visit: http://www.vlaff.org.